Building Community Benefits in Construction for Good
Date Published:
May 25, 2023
Every purchase has a social, economic, cultural, and environmental impact. Social procurement is about using your existing purchasing to capture those impacts to achieve overarching institutional, governmental, or individual goals that helps shape inclusive, vibrant and healthy communities.
Construction and infrastructure projects represent a major opportunity area for social procurement implementation. One way to add social procurement goals and outcomes construction projects is through a Community Benefit Agreement (CBA).
A CBA is a legal agreement or contractual requirement on construction, infrastructure and development projects for specific social value outcomes like hiring, training, or procurement that ensures projects enhance social, cultural, environmental, and economic opportunities for and with community.
CBA in action: City of Vancouver
The New St. Paul's Hospital is the first project to trigger the City of Vancouver's Community Benefit Agreement (CBA) policy, designed to create additional community benefits in the neighbourhoods surrounding the project and the city more broadly.
The hospital is owned by Providence Health Care, and PCL Construction is the general contractor on the project. Construction of the new hospital and learning campus began in Spring 2021. The project has a budget of $2.17 billion and the new hospital is set to open to the public in the Summer of 2027.
Under the City's CBA policy, the New St. Paul's Hospital project owner, general contractor, and select sub-contractors are required to report on three targets:
10% of new employees voluntarily self-identify as a member of an equity-seeking group, with priority going to those that are equity-seeking and live locally to the job-site

10% local procurement

10% social procurement from third party certified social enterprises, or social impact or equity-seeking-owned businesses
Based on reported data from September 2021 to January 2023, the project is currently meeting and exceeding all three Community Benefit Agreement targets.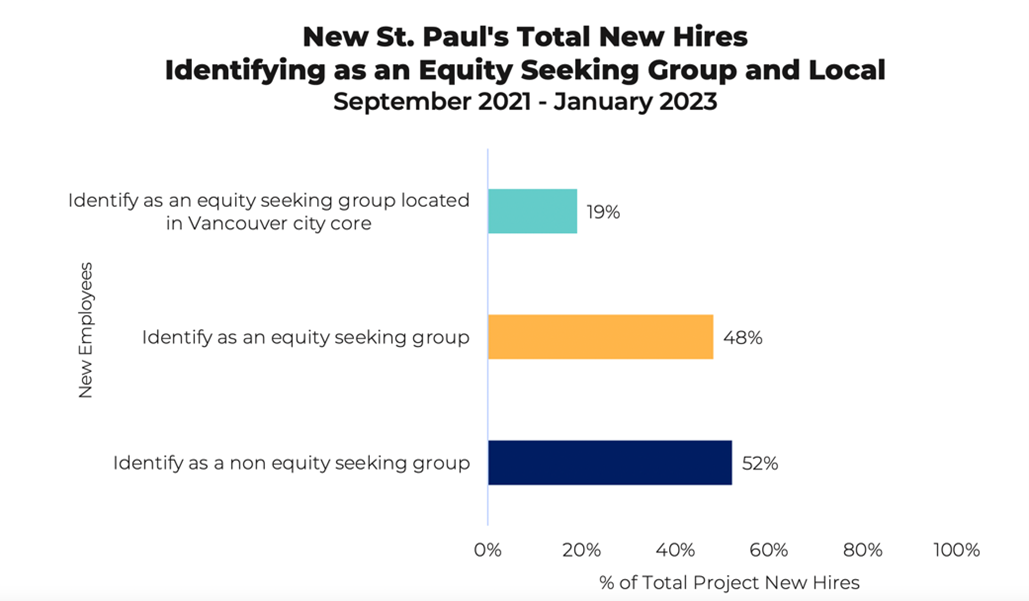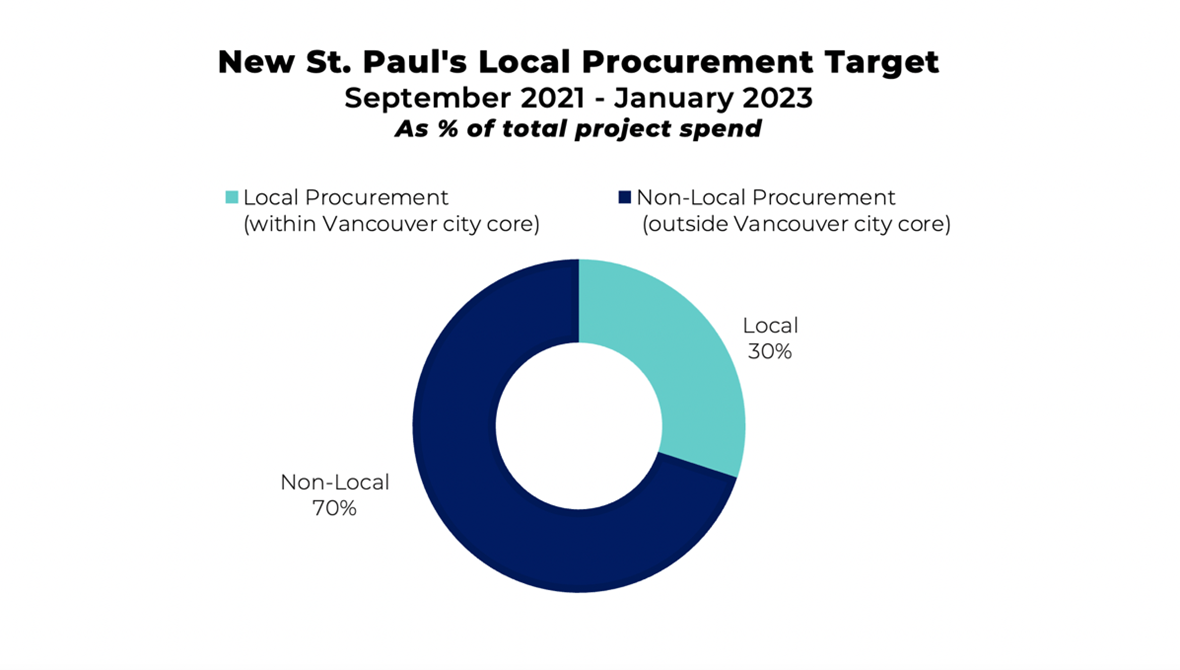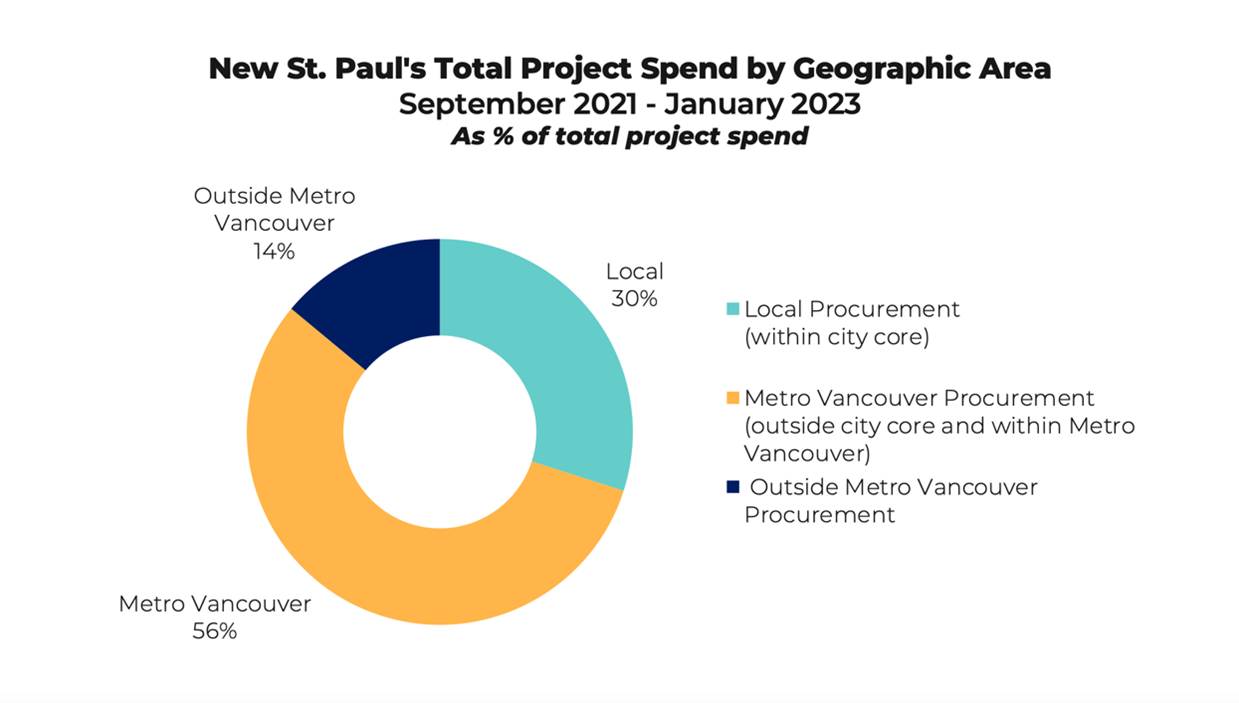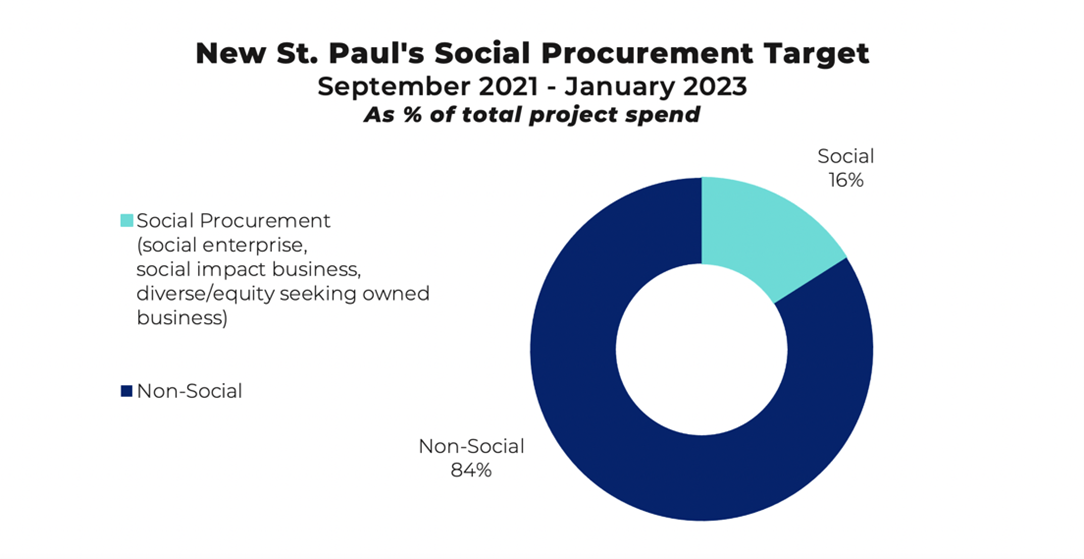 The benefits from CBAs are much more than a set of numbers. There are several stories of impact from social procurement with local social enterprises that show how even one new hire opportunity can change lives and contribute to community economic development.
EMBERS, the Eastside Movement for Business and Economic Renewal Society, is a social enterprise and registered community economic development charity located in Vancouver's Downtown Eastside, one of Canada's poorest neighbourhoods. EMBERS has provided day labour and staffing solutions for PCL since July 2021. Some staff were originally contracted on site as security guards or gatekeepers.
In addition to working with EMBERS, PCL has purchased catering for their staff from Potluck Catering, a local social enterprise that employs and trains people with barriers. Potluck's mission is to transform lives by creating jobs and providing healthy food for people living in Vancouver's Downtown Eastside.
PCL is not the only contractor on site working with social enterprises. Several subcontractors on the project have contracted with CleanStart Property Services, a local social enterprise and supportive employer in Vancouver's Downtown Eastside. CleanStart provides regular janitorial cleaning to on-site trailers. For over a year, this opportunity continues to provide an estimated 75 hours per month of work for the social enterprise's staff.
Other subcontractors used the CBA to redirect spending to local businesses, and purchase orange t-shirts from Circle of Eagles Trading Post, a local Indigenous social enterprise.
Continued momentum
Social procurement is a growing movement across Canada, and purchasers are increasingly adding social procurement tactics like CBAs, to their construction projects to gain additional benefits from existing spending.
Interested in learning more about how to implement a CBA and what to consider?
The Cardus report "A Framework for Implementing Community Benefits Agreements" outlines key trends and challenges as they explore practical considerations for implementation. The Buy Social Canada report "Voices of Industry: A Paradigm Shift in CBAs" delves deeper into industry and stakeholder perspectives on CBAs; including three case studies of different CBA models and best practice learnings.
Want hands on support implementing social procurement in your construction and infrastructure projects? Explore Buy Social Canada's services.
Back to blog