Accessible design is future proof w/ Sean Crump
Date Published:
August 23, 2022
Did you know a water fountain is a form of accessible design? It's not just ramps, automatic doors, and escalators. Thinking about accessibility from the ground up makes the spaces we create easier and more beautiful for everyone who uses them. Sean Crump, CEO of Universal Access, spends his time fighting to make the AEC sector more accessible, both in its workplaces and in the buildings we create. 
Jen Hancook:
How inclusive is the architecture, engineering, and construction industry really? This season we're uncovering the AEC sector's role in building an inclusive economy. How do we make sure everyone can get through the door? In this episode we mean that literally.
[music]
Jen Hancock:
This is Building Good. I'm Jen Hancock.
[music]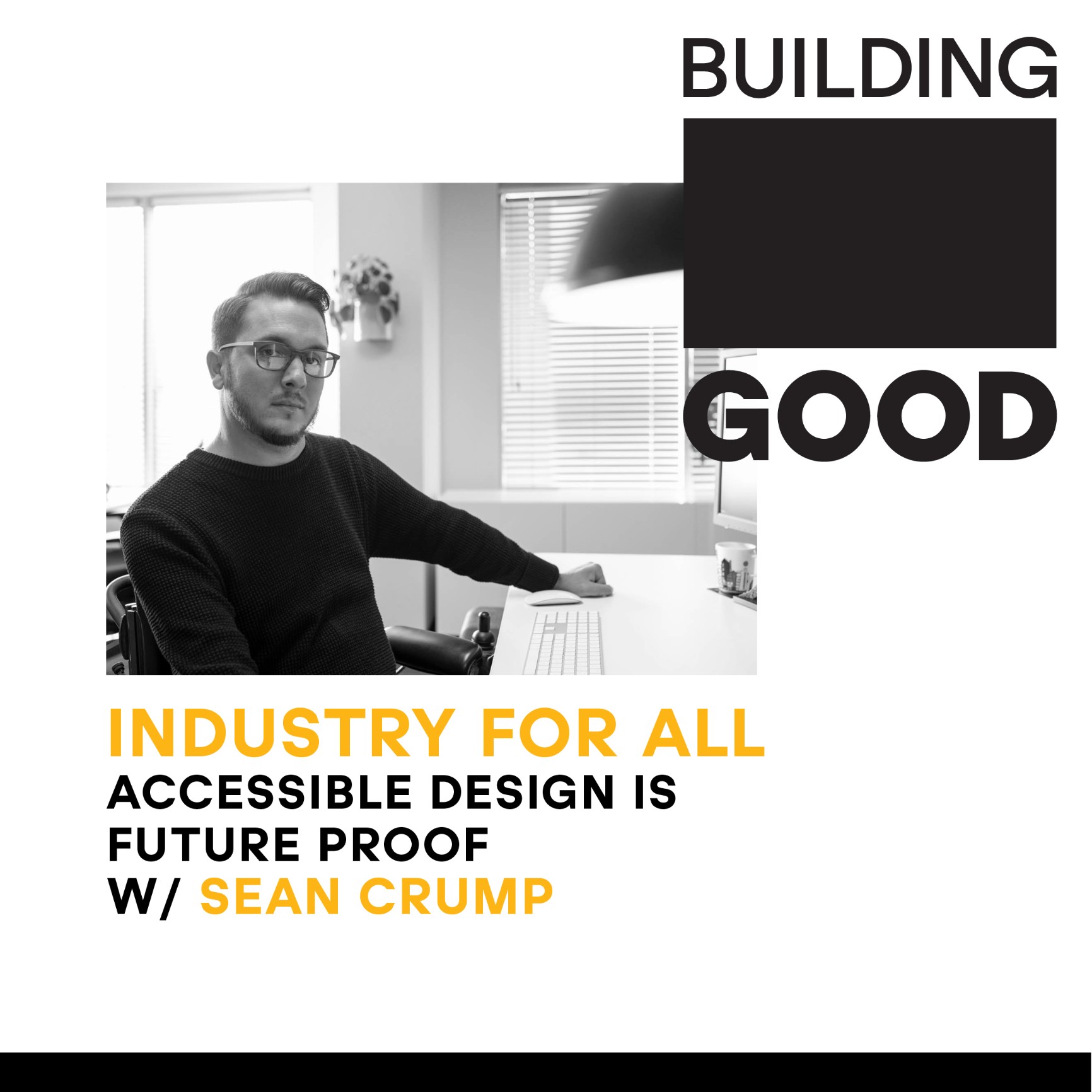 Jen Hancock:
You might be listening to this on public transit or in your car, after rushing out of your apartment building this morning. If you're a few floors up, you likely took the elevator down. When the elevator's broken, that's annoying; you take the stairs. But an inconvenience for some is an unassailable barrier for others.
[music fades]
Jen Hancock:
The built environment can be pretty unforgiving for our human nuances. For people with disabilities—visible and invisible—that can be unbearable, even inhumane. If the elevator is broken and taking the stairs isn't an option for you, you're stuck.
[music]
Jen Hancock:
Things like elevators, automatic doors, curb drops—these are all accessibility solutions that actually make everyone's lives easier. But for someone with a disability, smart accessible design can mean the difference between living a full life as a productive member of society or not. That means the AEC sector too. Not just in the buildings we create but in our own workspaces.
[music]
Jen Hancock:
I should be able to convince you that an accessible workplace is important because it is the right thing to do. But with the current labour shortage it's also good business. Removing artificial barriers to employment sometimes, literally, will help us hire the best candidates.
Sean Crump:
Disability is the largest minority demographic that everyone will become a part of at some point in their life. As we get older, our bodies are starting to wear. Something that if we build for now, if we can make it applicable to everyone it becomes not a nice-to-have but a need-to-have.
Jen Hancock:
That's Sean Crump, CEO at Universal Access. He's been leading the fight to make accessibility the standard in the AEC industry: how we can make our world comfortable, practical, and just plain easy for everyone to move through. I'm talking to him to find out about how our industry can push the boundaries of the built environment.
It's a bit of a scary conversation to have, to be honest. Because it means I need to face a brutal mortal truth as an able-bodied person; which is that I won't always be able-bodied. It could happen as a natural part of ageing or, like Sean, it could be an accident.
Sean Crump:
So. When I was 19, I, ah, ended up going out camping with some friends, back in 2004. During that camping trip, I actually ran into the lake to go swimming. When I kind of did a bit of a dolphin dive in, ah, I hit a sandbank that I couldn't see and unfortunately broke my neck and drowned.
Jen Hancock:
The reality is that accessibility is everyone's business. Take a look at your own home. Do you have any friends with disabilities? And could your space accommodate them?
[music]
Sean Crump:
Travelling became a lot harder, and I started doing it far less frequently. Going to people's houses almost became non-existent, because it was just very challenging to get in or—or do things like that.
Jen Hancock:
It's an exciting proposition to imagine an accessible world for all—and that we could be the ones to build it. The construction industry plays a massive part in impacting how accessible our world could be. And it's so much more than ramps and automatic doors. So why is it so hard to talk about?
[music fades]
Sean Crump:
One of the main things is: stop looking at it as accessible adaptations to a space, and then looking at it more as a universal adaptation or—or incorporation to that space. So you're not building for the 20 per cent of people living with disabilities; you're now actually building for the 100 per cent of people visiting your space. And, you know, the more universal it is, or the more accessible and adapted it is for people living with disabilities to utilize, those living without a disability it only is easier for them as well.
There's a number of for-instances. People use their phones more and more. I mean, when I'm walking around down—or rolling around downtown, I see a lot of people buried in their phones. Having colour-contrasting, you know, sound alerts for crosswalks, all of those cues as people rely on their peripheral vision and—and other elements to help guide them, those were originally considered, you know, designs for people with disabilities; but they're becoming fundamental for just society as a whole.
And so I think if that's the way we look at it, it becomes a lot easier, (a), to institute but also to help with everybody kind of living within the environment.
Jen Hancock:
Can we just talk for a moment, as we get started, about the language around disability? So different people have different approaches. What language do you use to describe your disability? And any thoughts on how people should approach that language and conversation overall?
Sean Crump:
Yeah. For me, I'm rather generic. So "disability" is fine by me. I'm a quadraplegic; you know, that's my diagnosis. It—I take no offence to it. But the way you approached it here is probably the best way in—in most circumstances, because everybody varies. Everybody's going to be different on how they prefer to be referred. And so I think just asking the question simply and plainly is—is usually the best way to go.
Jen Hancock:
Can you give some other examples of what we would, you know, call accessible design but actually is a huge benefit to—to anyone?
Sean Crump:
For sure. I mean, we look at automatic doors. It's kind of a cliché one, because I think it's been used so much. But automatic doors, I—I really don't think need to have the accessible insignia on the button because so many other people—ah, whether it's mothers with kids, or people with their arms full of coffees for the morning or their cellphones, as we had already mentioned—ah, utilizing those buttons quite often. Ah, we saw that with COVID as well; people not wanting to touch door handles and door openers were, you know, using their knee or their elbow to hit the button to open the automatic door and get in kind of from a more sanitary perspective as well. Those types of elements.
Wayfinding: using insignias and images to represent space. Ah, you start gapping kind of language barriers, and literacy, and different things like that, that also again help further accommodate new immigrants into Canada or those that, you know, maybe haven't learned to read English quite as well. They still, then, aren't, ah, feeling isolated or not included in a space; they can navigate that independently as well.
Jen Hancock:
You are so right. And like, the doors have the symbol on them but really I've used them a number of times: pushing a stroller, having a kid in an arm, carrying a box, any number of things. That is accessibility for all. And it's all—but I think because we constantly position it that way, we don't see it as universal design.
Sean Crump:
Yeah, it's funny. I'll—I'll approach my building, ah, going to my office, and there'll be someone going up to the accessible door or the automatic door and they'll see me rolling up, and then they'll quickly jump over to the revolving door. And you know, in my mind I'm like, "You know I don't mind if you hit the button. I'll just roll in behind you." It's not just for people living with disabilities. So.
[music]
Jen Hancock:
The acronym "TABS"—do you want to talk about that and connecting people to universal design?
Sean Crump:
Of course. Yeah, it's—it's becoming more commonplace as a—as a reference, especially when talking about universal design or people with disabilities. But it's "Temporarily Able-Bodied." And it's referring to everybody kind of in our society now, looking at themselves as an able-bodied individual. Umm, and that's a fleeting element. 
As we get older, our bodies are starting to wear. Ah, we notice that even in recovery it's not as easy to recover as a 40-year-old as it was when you were 20, from any given injury or activity. People get injured. People have to go in for surgery. People have all of these circumstances within their life that lend to living with a disability or a hindrance, at some point.
And as we see them getting further along in life and becoming, you know, an elderly adult, more of those disabilities become prominent in life. Something that if we build for now, it accommodates later when maybe you need it and don't realize or hadn't planned for that injury or surgery to be necessary, but you'll be happy that it's there when it does.
If we can make it applicable to everyone, it becomes not a nice-to-have but a need-to-have.
Jen Hancock:
Let's look at accessibility in the whole ACE architectural-engineering community, and construction community. When we think about current accessibility standards and requirements for buildings in North America, are these standards enough right now?
Sean Crump:
The easy answer is—is no. They're absolutely not. Umm, I think we're a little behind in accommodating for all. And I think that's representative in the number of people living with disabilities and how that's represented in our communities and public spaces. The discrepancy that exists in those numbers are quite vast.
And a lot of that has to do with the fact that the built environment isn't set up to accommodate everyone equally. And so with that disparity existing, it's easy to say, then, that opportunity and comfort aren't really there.
And so how can we evolve building code standards and the built environment to create that environment that is truly inclusive and feels that way for anybody and everybody.
Jen Hancock:
Architects when—maybe when they think about accessibility ramps, they might be viewing that as just an obligation. Like a thing we need to do because Code tells us. How can we make accessibility beautiful? How can we get builders and architects to actually be excited about this and think about it as an opportunity, versus just an obligation?
Sean Crump:
Yeah. I think the interesting thing is it's starting to come. Umm, I think from a global sense there's a lot of spaces, and architects, that are creating universal environments that are really beautiful. I think that there's something inviting about universal design, as it stands.
When you look at approaching a space, if you then have to go up a staircase or it's just a beautiful open space with a broad ramp leading up to a big grand entry into a building, there's two different kind of feelings of that. And I think whether you're disabled or not, there's, you know, a lean towards barrier-less entry, that barrier-less approach.
So I think really trying to emphasize the opportunity that it holds. And that ability to—to speak to it as well: not only did we create this beautiful new building, or event centre, or whatever it may be, park, but we did it so that everybody's welcome and there is no back entry for some and—and this entry for others.
And I think that taking advantage of the way that we can speak to spaces and showcase them—universal elements and universal design really need to, you know, carry the forefront of that conversation as well.
[music]
Jen Hancock:
How many people that are not out and about accessing buildings because they're not designed in a way that makes it easy to access or even possible, does that become a hidden problem that's in the background that most of us aren't seeing in the same way?
Sean Crump:
Of course it is. There's kind of this social narrative of, you know, if people are not engaging in the public environment and—and, and community, they're then isolated. Ah, we know, from COVID, isolation and the mental harm that comes from it is immense. It—it carries a very heavy weight. We've only experienced a snapshot of that, and look at the effect it's now having and the outcomes that are coming from it.
Imagine this lasted a decade. Imagine you, you know, you lived in isolation for 10 years, 20 years. You know, like on—extrapolate that for a lifetime. The toll and hardship that would come from that is horrifying and—and unfortunate.
But you know, from that economic side or from that opportunistic side, we're talking about work shortages. We're talking about a—a workplace gap. Meanwhile, 80 per cent of the disabled population are unemployed. I—I'm sure there's a number of people that would be happy to fill those gaps, as long as the (garbled, 13:17) environment was conducive to meet their needs. Ah, and that's not a far bench from where we stand right now. That's not, you know, a huge investment to make those accommodations available to people, umm, especially now that we're seeing remote work.
Universal design is coming a long way. And—and by, you know, furthering that we can see kind of that shift of people feeling more comfortable because spaces are more inclusive. And then we can see some of that Social IQ change where people become more comfortable engaging and speaking with people with disabilities—that language aspect becomes less of a, you know, consideration or—or—or subject or maybe barrier for even people approaching individuals with disabilities.
We normalize an existence of different types of bodies, different types of people, different types of shapes. People with disabilities just need to be part of that inclusive approach.
Jen Hancock:
Yeah. So on that note, how do you feel about retrofitting older buildings? And how do we get owners to want to actually retrofit them thinking about that and the opportunity that's there?
Sean Crump:
If it's not legislated then it has to become an economic value. It needs to become something that has an ROI that can lead a—umm, a value to that space. But also looking at kind of that sustainable metric that these building codes are evolving. These things are coming; why not do it now? Why not take advantage of these economic elements before you're just forced to it and you just become another space that's following minimum code.
It's going to be a lot more expensive when you go to do a bathroom renovation and all of a sudden you have to adhere to some standard, and your $50,000 facelift became a $250,000 major reno. Whereas, if you plan to do it and you're strategic about it, you can create a budgetary plan, a forecasting of, to improve these spaces to meet these types of needs. And therefore have that sustainability within it as well, where you're not being surprised with unexpected costs down the road.
Jen Hancock:
Part of that is because we—we likely don't have as many people sitting at—at the table with us at the table in the conversations.
Sean Crump:
It's probably because they can't get to the table. I—I think we see boards ageing as well. We see people that are wanting to be a part of their business still—that they spent their life building—and contribute into it one way—facet or another. And they're not even able to make it into their own boardroom because they've gotten to a place in their own life that maybe they need a mobility aid or some other support because of whatever ailment or disability they may now be living with. And so they're forced into, you know, a—a limited contributive role.
You know, I—I do think there's a place for succession, but I also think that there's value in history and that perspective that the later generations that we have can still provide. Looking at that it's—it's—it's gotta be something that we really try and prioritize at some point.
[music]
Jen Hancock:
You have mentioned to me before: intuitive wayfinding. Can you share some examples of what that is? It's—to me it's really interesting and pretty fascinating—that many people aren't probably thinking about or haven't even thought about.
Sean Crump:
Yeah, absolutely. Intuitive wayfinding is really the use of all your senses to intuitively navigate a space without the reliance of signage and direction, but really having the ability to interpret where places are leading you to and where things are—are located.
You know, having live water features in a lobby allows you to use the sound of running water to identify a front entrance.
Having different effects or different materials on the floor allow you to kind of intuitively tell what part of the building you're in—whether you're in a primary hallway or a secondary kind of space—because of those materials.
Ah, colour-coding and indexing, or—or even just the overall hue of a space, can lead to, you know, a cue of your memory, "Oh, I remember this because it's the kitchen or lounge as opposed to, you know, these other spaces."
And creating a flow of the space and utilizing multiple senses within kind of the human to help guide and—and—and direct people through it.
Jen Hancock:
And even in those examples, like I can imagine for myself how all of those things would be helpful. You know, things even like a water feature, the calming nature of that for anyone walking through. And amazing to think about that as an auditory clue of where you might be in a space, and give you some level of sort of place perception, I guess. I—that's incredible.
Sean Crump:
And easy if you're meeting someone: "Meet me at the waterfall."
Jen Hancock:
Some firms and groups are going to be well ahead of this. But many haven't maybe been diving into this nearly as much. So was it—what are your thoughts about where to start?
Sean Crump:
I—I—I think moving towards universal design optimization, instead of building to minimums. I think we saw it with LEED, where they were able to get buildings to build beyond, you know, environmental minimum code. This is really trying to create an incentive and driver to not just build to something that says you have to, but build to something that is practical, and usable, and—and sustainable for the entire population. And—and kind of leading with those types of forethoughts.
Bringing in experts that are able to help kind of guide that design. You know, making sure that we try and—and do that from a new-build perspective but also from that renovation and—and especially major-renovation perspective as well.
When we look at the Net Zero initiatives by 2050, ah, I think it's something like 78 per cent of the buildings that, you know, need to achieve this Net Zero already exist today. So if that's the case, then if we want to create a world or a community that's usable by all, a lot of those buildings exist now, and so it's going to rely on renovation.
It's going to rely on modification and creativity, to be honest, to really make sure that those spaces can—can be adapted. And accessibility isn't just for the disabled. Universal design is really creating space that accommodates everyone, umm, at some point in their life. Disability is the largest minority demographic that everyone will become a part of at some point in their life. So creating environments that allow us to start moving towards that social inclusion, umm, of all people, it'll create some pretty cool opportunities.
[music]
Jen Hancock:
Thanks for checking out the first episode of the new season of Building Good. Throughout this season, we'll be digging into how an inclusive AEC space can change our world for the better. From the supply chain and indigenous partnership, to women on job sites, and what the next generation expects for the construction space.
If this episode hit home, please be sure to tell a friend about the show. And make sure you're subscribed on your favourite podcast app.
Building Good is a Vocal Fry Studios production, supported by Chandos Construction and Bird Construction. The executive producer is Jay Cockburn. And our producer is Kattie Laur, with production assistance from Jessica Loughlin. I'm Jen Hancock, thanks for listening.
Back to podcasts