Communities are the best builders w/ Jodee Dick
Date Published:
September 13, 2022
Our host Tim Coldwell is not OK with the industry standard. There aren't enough Indigenous partnerships and communities often aren't involved in decisions around projects that affect them. That's not just morally wrong, it's a missed opportunity. Our guest Jodee Dick is CEO at Khowutzun Development Corporation and for her Indigenous partnership isn't optional, it's mandatory - and, it's overdue. She's been working with First Nations for over 30 years so she has plenty of thoughts on how we should be working together, because that will help us build good for settlers and Indigenous peoples alike. 
This is Building Good. I'm Tim Coldwell.
I have a personal connection to indigenous practices. I'm in the process of discovering my own roots as a First Nations person. I didn't grow up in community but I'm a member of the Mohawks of The Bay of Quinte. In fact, my many times great-grandfather was John Deseronto, the Mohawk war chief who founded Deseronto, Ontario. All of this has impacted the way I want to do business. And right now I'm not okay with the industry standard.
Jodee Dick [preview]:
In the construction industry, anybody can just plunk a building on a piece of land and call it a day. But when you can actually build something that represents the land and the people, then you're creating something that people are already attached to.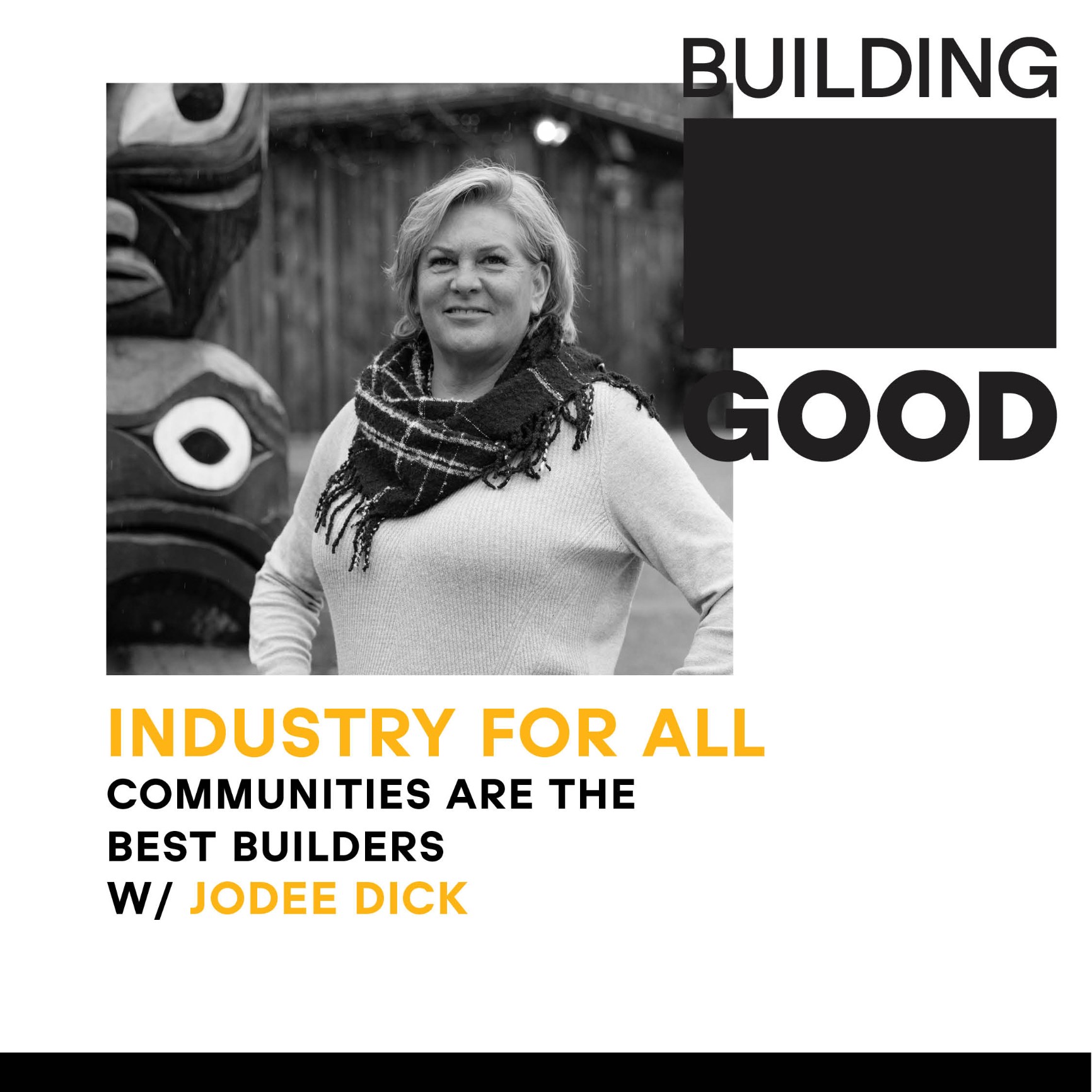 Tim Coldwell:
By not creating meaningful partnerships with indigenous communities, our industry is harming us all—indigenous and settlers alike. We're missing out on a ton of opportunities—not just for the success of our businesses but for the greater good.
[music]
Tim Coldwell:
A meaningful partnership with an indigenous community is not just the construction project; it extends beyond that. It includes jobs and capacity-building with the local community. It includes long-term careers. It includes purchasing from local indigenous-owned businesses. It includes respect for land and tradition. And it's simply about smarter long term.
And let's not forget: we're on stolen land. I can talk until the cows come home—about the economy and the environment—but this is stuff that's just morally right. If we're serious about Reconciliation, we need to include indigenous communities in our decision-making, and boost indigenous candidates in our hiring processes.
But is it too late? Is Reconciliation dead?
Jodee Dick [preview]:
Truth and Reconciliation, it is just verbage. They make it sound like First Nations are asking for a handout to participate in the business sector. And there's actually a concrete action plan that has been signed off by our indigenous leadership groups and the Province. And I haven't seen any positive action, at all.
[music]
Tim Coldwell:
That's Jodee Dick, CEO at Khowutzun Development Corporation, and a member of the Wei Wai Kum First Nation in Campbell River. She's been working in First Nations' lands and economic development for over 30 years. And for Jodee, indigenous partnership isn't optional; it's mandatory. And it's overdue.
Through the KDC, Jodee has taken things into her own hands and created a new standard for building better across Canada. That standard honours tradition and it honours the land.
Jodee Dick:
One of the key things that I would see in the communities that I would go in and do training with is the First Nations that had members that had skills or companies were competing against each other to get work. And when I came to Khowutzun, as their Land Manager, I always thought about the embracing of coming together. I believe, even in treaty, what I see is the government is that divide-and-conquer. Right? And business and development were the same thing: it's throw a few at a First Nation for participation in construction or civil work, those companies are like, "Oh my god, we've got work now," and then they would start bidding against each other.
So I brought all of our members together than had a company or had a skill—our monitors, our environmental monitors, our flaggers, our civil operators, truck drivers, labourers that were around—and said, "Look it. We're going to sit at this table. And we're going to call it a 'roundtable.' And I call it a 'roundtable' because a roundtable, to me, is the concept of everybody being equal. We're all equal, and we're all going to work through this together." And I started changing how Khowutzun tribes and our members were going to look at doing business. "We are now going to get contracts by pulling together—not by bidding against each other." 
So in that, a contract would come up or, let's just say, the removal of gravel in the river. We would have our engineering team put the scope-of-work together. We would pull a roundtable together. We'd put the scope in front of them. We'd go through the scope-of-work. And then we would have those that are sitting at the table discuss, "Which one of you should be the primary contractor?" And from there, "Whose equipment are we going to use?" 
And on smaller projects, of course you know they're not all huge projects, those that had to sit out would agree that they would be the first guys in on the next one.
And we really worked as a collective, and over the years have been extremely successful with that.
The collaboration and understanding of the land is another thing that was just amazing. Right on the ground they're able to troubleshoot and say, "You know, you can't put that there because this is what happens with this, and the river moves this way," and just really been pulling that whole concept together.
And when I moved over as the CEO to the Economic Development Group, we wanted to bring the roundtable over there, and we wanted to explore opportunities in the construction world—civil opportunities—and get a meaningful participation within the industry. Even though the government is really promoting industry to partner with First Nations they aren't making that move forward to partner with First Nations.
So I really took it upon myself to work with my leadership and my Board to create our own protocol for Reconciliation. And we established what we felt was a very meaningful Memorandum Of Understanding that spoke to our rights, our title, and Reconciliation, and what Khowutzun tribes is expecting of industry and government if they're coming to our territory: that they will be respectful; they will notify our Economic Development Department first; we will sit down, and we will discuss opportunities, meaningful opportunities.
We have just decided that this is going to happen—whether anybody likes it or not. And in part of that protocol is about reaching out to industry and saying this is what we're doing internally and in this partnership this could be a true win-win situation for all and create that certainty.
[music]
Tim Coldwell:
We know that indigenous relationships to the land are a huge part of the conversation. Let's start with first principles. Where do land negotiations fit into the picture?
Jodee Dick:
Absolutely. So, what we see is, in the construction industry, is anybody can just plunk a building on a piece of land and call it a day. But when you can actually build something, from the ground up, that represents the land and the people, then you're creating something that people are already attached to—that there's already, you know, a buy-in by the community at-large.
And understanding the land is an extremely important factor when we're building on it. Really getting our leaders and our elders involved in the design of these buildings: to talk about the colours, and the materials, and the style that really represented those lands; understanding facing east what are you looking at, what were they looking at 100 years ago? And what was the significance of that area, I think, is truly important to know. So that when you're building something and it comes from the land and really is developed and designed from the community at-large, you really have a project and a building that is part of the community (laughs a little), I guess, more so than just a building to house people or a hospital to cure people.
Tim Coldwell:
Yeah. And there's going to be local indigenous knowledge is certainly going to be helpful for contractors and folks that are working in the community. You mentioned a little bit about knowledge about how the gravel gets deposited in a river. I'm sure you have other great examples of how the knowledge that's passed down from generation to generation can add benefit.
Jodee Dick:
Oh yeah, absolutely. And you know, you think, "Okay, it's just land." And our team is like, "Hey, well this area needs more gravel. We need to do this. We need to pull this in. This isn't the right type of material to be using in here because, predominantly years ago, you know, this is where it flooded."
And so on the ground, our members are already just they can see stuff happening and they just start reacting, saying, "Hey, wait a second. Like, I know this is what the scope and design is but I think we need to do this, this, and this."
And we also have our archaeological expertise and environmental expertise in Khowutzun. Our environmental expert, Ken Elliott, is actually well known. He is hired by all environmental companies up and down the Island. His ability to understand the environment, and what can be planted where to create the best outcome. Like especially when we do river work, about the side banks and how do we manage erosion. It's a concept that, you know, you take an engineer would go, "Okay, we're going to put a dike in there," "We're going to put a rock bluff in here," "We're going to put riprap there." And then you have Ken going, "But you know what? If we go up further here and we do this, this, and this, it'll force the river to go this way and it'll naturally enhance these plants and trees to grow, which will then alleviate the pressure on these points."
So we've had times where our engineering company has come with the design and our roundtable guys have said, "Nope. Not working."
Tim Coldwell:
(laughing)
Jodee Dick:
And he's like, "No, no, no. I've done the engineering. It's going to work." And they're like, "No, it's not. This is how it needs to be." And literally on the fly changing that design and realizing after that whole winter has passed that that absolutely held up, and it was the right move to do.
So it just makes me so excited to see that our expertise that comes from the knowledge of the land and the area, if people are listening can really benefit from it. And we can get a better build, better project out of that.
Tim Coldwell:
Yeah, one of the, ah…. One of our early conversations was around this idea of integrated project delivery. And for me as an indigenous person, what we've been talking about is very much aligned with this idea to get all the right people around the table; there is no hierarchy; they make decisions together. You do what's right for the project. You know, that's exactly what you're doing with your roundtable. I think that's super-cool.
[music]
Tim Coldwell:
So there's so many benefits that come from involving indigenous communities from the get-go. Let's unpack that a little bit. And I think the place I'd like to start is, in your words, what does a great relationship between developers and local indigenous communities look like? Can you share some examples? And let's focus it a little bit: there's, you know, it's one thing to build a hospital in an indigenous community or adjacent, but what if you're a straight-up condo developer and you want to build a condo across the street? What does that relationship look like? And what should it look like?
Jodee Dick:
Well, ah. Okay (laughs).
[laughter]
Jodee Dick:
That's a big one. Umm.
Tim Coldwell:
(laughs)
Jodee Dick:
But a good relationship. When you look at partnerships with First Nations, I think what first comes out is that, "First Nations haven't been heard. You've got to listen to the First Nation. You gotta understand the First Nation. And that's where you need to be." But a true partnership in a true relationship isn't one-sided. Right? It's not about understanding just the First Nations and the First Nations' barriers and understanding of land. It's about understanding your partner, and getting a better understanding of industry.
You know, "Who are you? What are you trying to achieve?" A true relationship is building this relationship.
And building careers. I'll use the hospital as an example. You know, the hospital has come in and they have said, "We've got an indigenous process that we see. We're going to have an indigenous committee. We're going to bring BCIB in, and they're going to do all the employment. And your First Nation people are going to go through this employment process, and we're going to get them a job." And I say, "Great on you. What I'm going to do is I'm going to partner with every one of those preferred contractors. I'm going to bring them into my community. I'm going to have a Lunch 'N Learn and I'm going to get my community members that want to understand what that part of that business is and maybe want a career in that business. I'm going to introduce those. And I'm going to promote a career."
So I am going to look at—I'll give you a prime example—Houle Electric. Houle Electric came in. That was one of my first partnerships. We talked about, "What does the relationship look like with Khowutzun, and Khowutzun Development Corporation?" And I said, "A true relationship is about us learning about each other. And it's about us growing together. And it's about my community getting to learn about you, and my community getting an opportunity to grow careers with you."
So we included the Construction Foundation in that discussion, and Khowutzun Tribes Employment and Training Department. And we had two members that had an interest to be an electrician but just finished high school, they've been out of school for years, doing other things. And one of our members was just caught on—was just thriving. The other member was a little bit—he was having a bit of problems. And so they came to me and they said, "You know, we're not sure what to do here." And I said, "So what we need to do is we need to talk to this individual, find out what's going on with him."
After taking that time to respect him, sit with him, and listen to him, and then realize that he just needed a little bit more guidance than the other one did, a little bit more mentoring than the other person did, he ended up, I think, ended up being one of the best employees they've ever had. They're both hired now, and they're both part of the union, and they're thriving—absolutely thriving.
I'm not looking to put somebody into a job for six years. I'm looking at putting somebody into a position that they can grow in, and they can build a career and be proud of themselves with.
And you know, that whole stigma of "First Nation people don't want to work" is not the case! It's scary getting into industry and work and careers—especially looking at industry right now. The construction and civil industry, like in 10 to 15 years we're going to lose, like what, almost 50 per cent are going to age out.
So by creating this foundation of trust and respect, letting everybody be curious with each other and get to know each other, ensuring that we just don't plunk people into a company and hope for the best, that we provide that support and so that we have that longevity. We have that retention. And we can celebrate their milestones within their career.
[music]
Tim Coldwell:
As a, you know, a leader in the construction industry—and what you mentioned is 100 per cent correct—you know, the last forecast I saw, RBC had it out earlier this year: 46 per cent in the construction industry is expected to retire by 2030. You know, when's the last time you talked to a 13-year-old kid who's excited about being a plumber or an electrician? We have a crisis, as an industry. We have so much infrastructure that this country needs. We need to do the clean energy transition. We need plumbers, electricians, millwrights, equipment operators for that work.
And so, I think, partnerships with indigenous communities is one of the greatest opportunities. You know, the indigenous population is the fastest growing in Canada. Huge opportunity there. And huge opportunity with more women in the construction industry; it's something like (laughing) nine per cent of the craftworkers out in the field are women. What if that was 40 per cent? It seems like an obvious solution.
[music]
Tim Coldwell:
KDC is really setting a standard in terms of how organizations foster these sorts of relationships. Where would other organizations and other communities start? What would your advice be to them, if they want to kind of do similar things?
Jodee Dick:
Well, one of the things that we're doing—and I guess one of the other priorities for KDC—is not just about creating alliances and partnerships with industry; it's about creating alliances and partnerships with our First Nations up and down the Island, sharing our experience and our expertise and how we're doing things. Building an alliance with each other so that we can—we don't have to re-invent the wheel. We can sit together. And as a First Nation, if we come together we're stronger. Right? And we have a lot of shared experiences where we can learn from each other.
I'm learning from industry, I'm learning from other Nations—every day. And I believe that if a Nation is looking to get involved and to figure out, "What are my first steps?" And companies like KDC. And there's other successful First Nation companies out there. Like, we're all open to having that dialogue and sharing knowledge, and working collectively.
You know, in Victoria, we've already reached out to a number of the First Nations down in Victoria. We're putting together a lunch where we can sit and talk about who we are, who they are, what skills and opportunities we can bring, what skills and opportunities do they have to contribute, and really help them be involved in anything they do.
When KDC is not working in our own territory and we're working in the territory of other Nations, we want to embrace that Nation. We want to bring them in. And we'll share our "secret sauce." Like, there's nothing, you know, that's behind the curtain that we wouldn't want to have other Nations be able to understand, and ask questions, and actually be able to help them.
So I think First Nations really just need to figure out themselves what does Reconciliation mean to them, and "What kind of protocols do you want to see within your territory when you're seeing industry and government working there?" And I think that's the key for me was just deciding that I'm not going to wait for Reconciliation with the Province, I'm going to create it myself. And I'm going to create it at the level it needs to be at: at our level, at industry. You know, regular people coming together to understand that we can work together, "This isn't us against you. We can pull together and really build something where we're all benefitting."
It's my feeling—and I live by this—is that a First Nation is where the money needs to be. Because in our economy, when the economy shifts and things go sideways—jobs are gone, businesses shut down—the only people that stay in a region is the First Nations because they're on reserves. Now, if we can strengthen every one of these reserves, then they have money and they start buying things outside the reserve. Then we start building economic stability for the community that lies around us. And then when that gets strong, they start building economic stability for the communities that live around them.
So, you know, I think it's vital that industry really look at this. If you're wanting longevity, First Nations can provide that because we're going nowhere. When the economy's bad, when it's good, we're here. And so by building us you're building yourself.
Tim Coldwell:
For me as a leader and for us as an organization, we want Chandos to be known as the organization that is authentic and real about Reconciliation; we actually do it. It's not just empty words.
Do you think that there's going to be more and more businesses in Canada, non-indigenous businesses, that come to that realization? Or do you think it will continue to be tough slogging?
Jodee Dick:
I'm hopeful. I've really seen a change since I started pushing our protocol. I've seen a change. I believe that corporate Canada needs and will have to come around because of the situation the government's got us in. You know, we need to take that roundtable approach with our corporations and share—make that pie bigger so that we can all share in it.
You know, I think the day of "My profits, my company" really needs to change to you're still going to build a solid company, still going to make solid money, but we're just going to do it together. Instead of just worrying about you, it's about worrying about the collective.
Listen to the people that are on the ground. Listen to us.
And if they won't then we need to listen to each other.
The collaboration with First Nations is not only because of the wrongs that have happened to First Nations. I think we have to open our hearts and our eyes to see that that has happened. But for certainty for all of us going forward, in order for us to create an environment and a world that our children are going to be able to survive in and have opportunities in, we need to come together. We need to do things in a meaningful way.
I really want to dispel this whole idea that First Nations are always looking for a handout. We aren't. We're looking for a hand up and we're willing to give one as well.
Where I come from, the highest ranking people at our Big House are those that give the most away.
[music]
Tim Coldwell:
Thanks for checking out this episode of Building Good. If this episode inspired you, in any way, please be sure to tell a friend about it. And make sure you're subscribed on your favourite podcast app.
Building Good is a Vocal Fry Studios production, supported by Chandos Construction and Bird Construction. The executive producer is Jay Cockburn. Our producer is Kattie Laur, with production assistance from Jessica Loughlin.
I'm Tim Coldwell. Thanks for listening.
Back to podcasts