Diverse suppliers work for all w/ Darrell Schuurman
Date Published:
September 6, 2022
Why does it matter if a construction project buys from diverse suppliers? If I'm a gay electrician, why should I be open about that? If an architect or carpenter is hiding their sexual orientation or gender identity, how will that affect the project? Geoff Capelle is our guest host and he's chatting with the CEO of Canada's LGBT+ Chamber of Commerce, Darrell Schuurman. They talk about creating safe spaces and why making your supply chain inclusive of LGBT+ and other diverse suppliers is better for business, how it can create a better workplace, and lead to more innovative teams.
Geoff Capelle:
This is Building Good. I'm Geoff Capelle.
You're probably wondering why it's my voice you're hearing, not Tim or Jen. Well, it's because this episode is about something that's personal to me. This season of Building Good is all about building an inclusive industry. And today I want to talk about what it's for LGBT+ people to work in construction, and how to make it better.
I've seen with my own eyes how much work the architecture, engineering, and construction sector needs to do to feel welcoming and inclusive.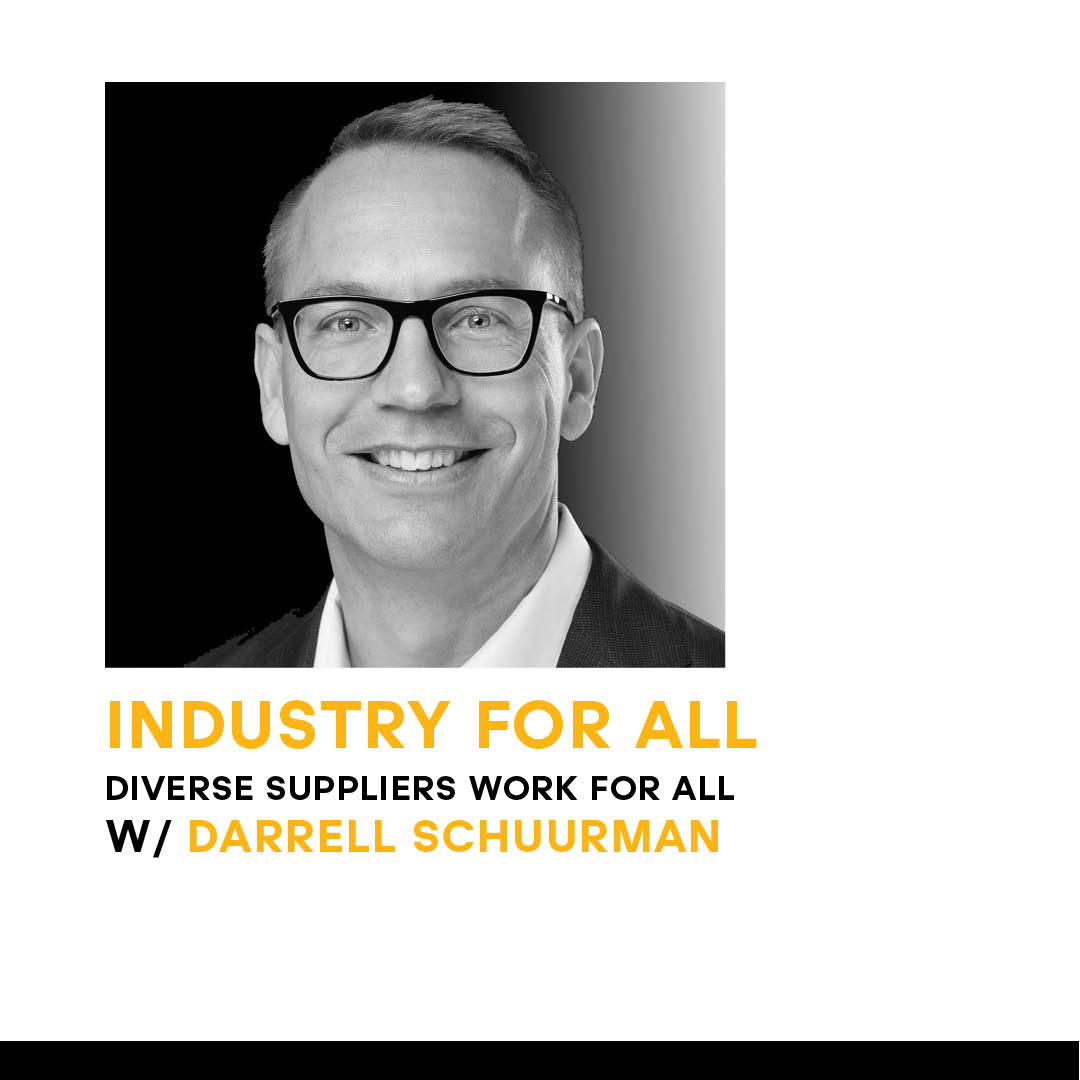 Geoff Capelle:
When I joined Bird, I was able to be pretty blunt about how much diversity, equity, and inclusion matters to me. I threw out the question in my interview. That's something that not every young person feels they can do. Sometimes you just need a job. So I want to have those conversations here, for the people who can't ask that question. Because there is still lots to be done in construction. And these conversations are really necessary.
For example, you might hear someone say something like, "Man up." The kind of thing that people might say every day without thinking about whether it's inclusive and if there's a better way.
As Tim and Jen have said so often on this show, there is a massive labour shortage in the construction industry. So this isn't just about doing the right thing. And don't get me wrong, that's absolutely a valid reason to work for a better industry.
Darrell Schuurman [preview]:
My sense is that we don't see a lot of diversity within the construction space. When we add in the LGBT+ diversity, I haven't seen a lot of representation. And I think that this is an area that this industry really needs to take a hard look at.
Geoff Capelle:
Darrell Schuurman is COO of the CGLCC, Canada's LGBT+ Chamber of Commerce, and a friend of mine. So I know that he's working to create a more inclusive economy, every single day.
Darrell Schuurman [preview]:
When we start to look at what diversity brings to our organizations, we know that there's value in diversifying who we're working with and who we're employing—bringing in innovation, bringing in different perspectives to the organization and new ways to do things.
Geoff Capelle:
The CGLCC exists because there already is a thriving economy of LGBT+ entrepreneurs and businesses in Canada. So I wanted to tap into Darrell's knowledge and see how we can bring that vibrancy to architecture, engineering, and construction.
But before vibrancy, we need to start with safety. We talk a lot about safety in the construction sector. So I'll clarify. I mean psychological safety. So that's where I start with Darrell.
How do we make the AEC sector a safe place for a young LGBT+ person who might want to work in the industry?
Darrell Schuurman:
The first and most important thing is that whatever actions you're doing, whatever actions the industry is doing, is that they're authentic. We kind of say in our community here, you don't slap the rainbow flag on—on your window and you think then all of a sudden you're an LGBT-inclusive company or—or business.
And that only comes from having it top down. And so we need that kind of senior executive leadership that's really committed to ensuring that the organization is committed to diversity-equity-inclusion at all times. And really communicate the value and the importance of these efforts and these initiatives. If it's not communicated to mid-level management then the impact is going to be a lot less.
Geoff Capelle:
So when I think about construction sites, they're small cultures. You know, you build up a team. And you're on one location. And you work really closely together with individuals. What can a project manager or a site superintendent do to create a really inclusive site? Ah, are there things that they would post on the walls? Different trainings? Like what can we do?
Darrell Schuurman:
Creating that inclusive and—and welcoming culture is so critical. And—and it's not an easy thing to do. You know, making sure that your colleagues are using inclusive language, using pronouns appropriately.
You know, even things like there used to be gendered porta-potties. And so how are we making sure that we don't have to have gendered washrooms or gendered porta-toilets. You know, they can be gender-neutral.
Creating an opportunity that all employees feel that they are part of it. And you know, and what's great is—and we quite often see it over Pride—but on certain job sites you'll see that they'll be flying the rainbow flag.
And I think that those are great examples of showing to any employees that might be on the site that, hey, that they're welcome, that they're part of this. And even beyond those employees that are on the site, it speaks volumes to other employees across the company but also to the community. And it's showing that, hey, these companies are truly engaging and—and embracing their LGBT employees.
Geoff Capelle:
Hardhat stickers is one that we've tried at points. And I—I think that that can be really good from an imagery perspective.
Darrell Schuurman:
That's a great example. You know, having the rainbow flag on your hardhat, you know, in your office. And we quite see that in, you know, other corporations where they'll have, you know, those stickers or some type of symbol on their desk, on their windows, that really help to identify them, perhaps, as somebody that is also—is an advocate for them. And it creates that connection. And it creates that—that sense of security and safety.
But I think what's also important—and you know, I go back to the overall culture of the organization—is that this needs to—it needs to be kind of fed throughout. It's great that if it's happening on one site or in one office but, you know, how do we ensure that it is kind of across the entire company? And so that's really where it does take that senior leadership, that senior executive team, to help to make sure that we have that sense of importance—that culture that is really embracing, ah, diversity, equity, and inclusion.
Geoff Capelle:
Speaking about language and how we use language on construction sites and so on. When I think back years ago, ah, there were a lot of statements I heard when I was—was younger. "That's so gay" or "Man up" or things like that, that are they become part of your—your dialogue but really don't create an inclusive space.
How do we speak to people who might use language like that and just explain how it can marginalize others, without making them feel ostracized and outside? Like how do we educate everyone to use better language here?
Darrell Schuurman:
It's not an easy thing, is it? I think, you know, people have to feel comfortable and empowered to be able to speak up.
I guess I'll go back to that sense of culture within the organization. If it really is something that is being talked about, and that they're seeing that this is engrained within the DNA of the company, it makes it easier for somebody to speak up. But it's not always.
And so sometimes you have to create those—those opportunities for safe spaces, for those safe opportunities for somebody if they're experiencing negative or derogatory language is there an avenue, is there a forum for them to raise these concerns? Do they feel comfortable going to their manager or the site superintendent?
But then I think there's also things that the company can proactively do, as well, in terms of through education and through training. Do we offer training for our employees around—again around the use of language, what's kind of appropriate, what's not appropriate?
Language also, it resonates across other diverse community groups. And so if you have a group of people that might be talking derogatory about women, what does that message say about the broader diverse group? So if—if there is an individual that does identify as LGBT and they hear these remarks being made about other marginalized community groups, they may feel that much more hesitant to then self-identify and to feel comfortable being gay or being part of the LGBT community.
That's certainly a challenge and—and something that we need to keep in mind. That it's—it's certainly not just, you know, from an LGBT language but I think it's broader than that. It's around how are we making sure that our worksites, our workplaces are inclusive of all?
Geoff Capelle:
I'm going to move on to some of the supply chain stuff, because I know that's an area that you really do a lot of work in. It catches your interest. Diversity matters because it's representative of society, and so on. But my sense is that diversity also makes economic sense. Can you talk us through how diversity can improve your bottom line as a company?
Darrell Schuurman:
When you start to look at suppliers that have different lived experiences, different perspectives, they're going to be bringing in different solutions to how you can do business. That could be beneficial to you. So they're bringing in innovation, which then can help to improve efficiency. It can help to lower operating costs.
So there's that kind of that bottom line. But I think there's also, when we start to look at what that is—the messaging that that's doing to the broader community and to your employees when your internal employees are realizing that this is a commitment that our company is making to ensure that we're including and—and purchasing from diverse companies. We have research that shows this. It helps to not only attract but retain talent. You know, it's strengthening that awareness within the community of what you're doing to support those marginalized community groups.
Because, at the end of the day, when you're using diverse suppliers, it's helping to economically empower them. It's bringing more money. It's creating jobs within those communities and helping to uplift them. There's an entire Corporate Social Responsibility aspect to this, as well, that you're really supporting these communities and—and helping to improve their opportunities.
[music]
Geoff Capelle:
Let's say I'm an electrician, and I've been running my own business for 20 years. And I have never really disclosed that I'm LGBT+ or—or anything like that. Ah, what would you say to them as we're looking to get a more diverse supplier group? Ah, why should they disclose? What could it add to their business? And—and how can they advance their business as a result of doing that?
Darrell Schuurman:
So, it's certainly not an easy decision for somebody to self-identify and to come out publicly about their sexual orientation or gender identity. You hear this quite often within the internal workforce. You want your employees to feel comfortable in being out, so that they can bring their whole selves to work, because we know that then productivity is going to—to be improved.
And the same can be said around from a supplier perspective. And so if you're an LGBT electrician, being able to kind of come out and be comfortable in—in your business, you're redirecting those energies that you were—in hiding who you were—and you're—you're redirecting those into your business itself. So it's helping you to grow your business and—and to focus on really what should be important. And—and that is the success of your own business.
What we're seeing now within business broadly is that there's more and more focus from organizations, from companies, from governments to really look at diversifying their supply chain and want to do business with diverse-owned businesses. There's opportunities that are created that haven't been there before.
And that's what this is about. This is about how are we creating those opportunities. And to be honest, it's really equal access to these opportunities for you to self-identify and to come out and indicate that you are an LGBT business. It's not only helping you grow your own business but it's helping you to gain access to procurement opportunities.
Geoff Capelle:
So, what's one thing a construction company could do to lead to more inclusive businesses as suppliers? Let's take myself. I really wish there were more LGBT+-identified electricians out there or—or other trades. We're—we're looking for a broad supplier base. Ah, what is one thing a construction company could do to encourage this?
Darrell Schuurman:
I was going to be cheeky and say, "Join CGLCC," but I won't say that.
Geoff Capelle:
(laughs)
Darrell Schuurman:
Well, I guess I did just say that.
Geoff Capelle:
That's a good answer.
Darrell Schuurman:
It's really about getting involved and putting yourself out there, and making yourself seen as a company that is inclusive, and that embraces this diversity that we've been talking about, and understands the value that diverse businesses bring to your company.
That sounds easy but I think that there's a lot that has to go on behind that, right? To be able to support that. It's one thing to say, "Yes, we want you to work with us," but do you actually have a program, do you have policies that can—to actually support those efforts?
You need the meat behind it to make sure that it's sustained. And that it's, you know, it goes back to that authenticity point that I made earlier. It's about how are we making sure that everything that we're doing, that you're doing within the LGBT space is truly authentic? And so you need these programs to be able to support that.
Geoff Capelle:
Let's talk about that from an owner's perspective. If I'm an owner, say I'm a university, and I would like to build a new building. How do I go about making sure that I have diversity amongst my supplier base, amongst my constructor, architect, engineer, and ah—and—and their subcontractors?
Darrell Schuurman:
So, I think that there's a few ways. Probably the easiest—and this is self-serving, I guess, in one respect.
Geoff Capelle:
(laughs)
Darrell Schuurman:
But you know, that there are organizations out there—like the CGLCC—that can help you in creating those connections. So we work with other organizations that certify women-owned businesses, that certify indigenous, ah, minority, peoples with disabilities. So there are a lot of other organizations, like ours, that really work to connect those diverse-owned businesses to you, to our corporate partners.
It's again, I think it's putting yourself out there and really showcasing that you're looking for diverse businesses.
Geoff Capelle:
So maybe some level of including it in the procurement framework?
Darrell Schuurman:
Yeah. So I quite often will see, umm, you know, so if you're a university or, you know, other corporations, they'll have policies in place that actually will dictate what the—the procurement process needs to look like.
And so that may be that a certain number of diverse suppliers have to be included in the bid process. That you have to be reaching out to a certain number of diverse businesses. Or there are mechanisms in place that help to encourage diverse-owned businesses to bid on this.
So I think when we start to look at the policies that you're building out, and the—and the processes that you're going through, there's lots of key elements in there that need to be kind of factored in and built into this.
[music]
Geoff Capelle:
When I'm thinking about building up a broad group of certified suppliers, what kind of steps do we take to get those suppliers to disclose? What steps do we take to get that woman-owned business, that LGBT+-owned business, and so on to disclose and certify? How—how do we get there?
Darrell Schuurman:
So, I think one of the—the first things you do is just look at your existing suppliers. And look at surveying your existing suppliers. Have a conversation with them to see are any of those existing suppliers, do they identify as diverse. You know, so whether LGBT, women.
And so—so I think that that's the first step is just finding out who within your existing supplier base might be diverse. And that's not an easy process either. So you need to, when you're surveying your suppliers, there can be mistrust and hesitation for any business to self-identify as diverse. They might not fully understand why you, as a company, is asking for that.
So when you're doing that, you know, it—it's really about communicating the value for them to self-identify. So why are you, as a company, asking them to self-identify. And explain to them kind of the process that you're doing, what you're doing, and why it's important to you and of value to them from an external perspective.
It's really engaging with the broader communities and making sure that you're visible within those community groups and participating in opportunities to connect with diverse-owned, ah, businesses.
So a lot of it is building that trust factor and—and showcasing to suppliers that, hey, this is a company that is truly committed to diversity-equity-inclusion and—and truly wants to do business with me.
Geoff Capelle:
Let's take a look at specific construction sites. So let's say I am a site superintendent. I've been doing this job for 30 years. I have worked on some incredibly successful projects. Why would I, as a site superintendent, care that my electrician is LGBT+, or my plumber is from a woman-owned business? Why is diversity important in that level?
Darrell Schuurman:
There's a couple reasons. And I think one of them is certainly around you want them to be focused on their job. You want them to be committed to what they're doing. And if they're spending energy losing focus because they're concerned about having to hide their sexuality, their gender identity, that's taking away from their focus, which should be on—on that job.
But I think it's also when you're looking at what can they bring to the job site in terms of innovation and—and different ways to look at the job that needs to be done, they have different perspectives. And so bringing in that diversity of thought might find a solution or a better way to—to do that job than if they had just used, you know, the same contractor that they've always used for the last two decades.
Geoff Capelle:
I like that idea around innovation and diversity. The—the change in thought and—and kind of how we need to advance the sector. Because, as a sector, as broadly speaking, there is a lot of opportunity for advancement and for improvements. And—and if we can bring in that level of diverse thought, that inclusive thought, I think that can be really helpful.
[music]
Geoff Capelle:
One thing I sometimes hear is that there is a fear that opening up the door to more diversity leads to fewer spaces for people who are—are already in the industry. And I think one thing that really strikes me there is that the industry is just growing so rapidly and there is such a challenge resourcing things—getting enough people and so on—so creating a safe space for people often leads to better economic outcomes for—for everyone, versus restricting the number of people that, ah, that—that we have in the space.
Darrell Schuurman:
I think just the reality—to your point—is that every industry and—and certainly the construction industry is—is no exception—is—is facing massive labour challenges and—and labour shortages. And so it's also just out of an necessity that we need to be looking at where are we recruiting from and how are we finding more talent and, in some cases, better talent from pools that we perhaps haven't looked at before.
So you know, our trans community, our indigenous community, our women communities. We need to start looking at them as an opportunity to meet our deliverables. But also then it brings back then to bringing in and engaging these diverse communities are—are helping to find innovative ways to approach the work that we're doing.
Geoff Capelle:
So, let's talk about the future. So 2040, we walk onto a construction site. What does it look like?
Darrell Schuurman:
Wow. Okay. So if I had that crystal ball. One of our certified suppliers that we work with is a women-owned construction company, and she identifies as lesbian. So I think I—I'd hear her voice in my head. It would be a sea of women out there, and diverse individuals out there working away. Because you know, that is—she has been somebody that's been a true advocate for diversifying the construction industry.
Geoff Capelle:
How do we get to that point? What do we say to the trade colleges? What do we say to youth? If I have dinner with a friend tomorrow and their—then their kids are there, what am I communicating to their kids around the construction sector, the architecture sector, the engineering sector?
Darrell Schuurman:
And that's where we're—we need to focus on is how do we excite, how do we attract the younger generation. And I think a big thing is changing the kind of preconceived notions around this industry.
And so we need to be showing that this industry, and broadly, it's not just at a—at a company level but it's the industry broadly is committed to diversity, equity, and inclusion. And that's where it's going to start to change those preconceived notions and—and start to intrigue people.
At the end of the day, we're finding—and I'm sure it's no exception for you—is that younger people and new employees are—are looking to work with companies that have shared values and—and aligned values. And so if we're not demonstrating shared values, they're not going to work with us or they're going to, you know, they're going to walk at any opportunity.
And so we need to be able to truly demonstrate the—the value, ah, and that commitment to diversity, equity, and inclusion.
Geoff Capelle:
As far as take-aways. So if there was one thing that someone could take away from this conversation, what would it be?
Darrell Schuurman:
Just one thing. I don't know. Does—this may seem over-simplified. But I think diversity matters.
And if I can say a second thing?
Geoff Capelle:
Yes. Two things, absolutely.
Darrell Schuurman:
We're all responsible. We all have a responsibility and a commitment to make sure that we are living and demonstrating a world that embraces diversity, equity, and inclusion. We all have a role in this.
[music]
Geoff Capelle:
Thanks for taking the time to listen to this episode of Building Good. It's the first time I've hosted a podcast, so I'm really grateful you hung out with me for half-an-hour.
We have more coming on building a more inclusive industry. So hit the Follow or Subscribe button to stay with us and find out how an inclusive AEC space can change our world for the better.
Next week: how the industry can partner with indigenous communities to create better spaces for everyone.
[music]
Geoff Capelle:
Building Good is a Vocal Fry Studios production, supported by Chandos Construction and Bird Construction. The executive producer is Jay Cockburn. Our producer is Kattie Laur, with production assistance from Jessica Loughlin. I'm Geoff Capelle, thanks for listening.
Back to podcasts