Financing a Better Future with Jay-Ann Gilfoy
Date Published:
October 19, 2021
In the last year, we've seen sustainable and purpose-driven financing policy skyrocket. Vancity Community Investment Bank has built its business around values-based investment, committing to a more sustainable future using the tools of finance. Jay-Ann Gilfoy discusses the unique opportunity Canada has right now to lead its economy with values-based banking and investment, in order to create a more sustainable future.
We speak with Jay-Ann Gilfoy about the opportunity for Canada to lead the way in community-centric financing and investment in order to create a more sustainable future. Jay-Ann joined Vancity Community Investment Bank as a CEO in early 2017 after nearly four years in senior leadership roles at Vancity Credit Union as Senior Vice President of Digital Solutions and Business Technology. Vancity's mandate is a unique business model and they want to bring it to the rest of Canada. They work to make sure that money is being put to good use for organizations doing well in their communities. Jay-Ann leads the startup of this initiative in the Greater Toronto region and Ontario. It is a natural place to go because the mandate in Ontario, there's a lot more social-environmental community change going on. They're leading the market there. Welcome to the program, Jan-Ann.
Thank you, Jen. It's nice to be here.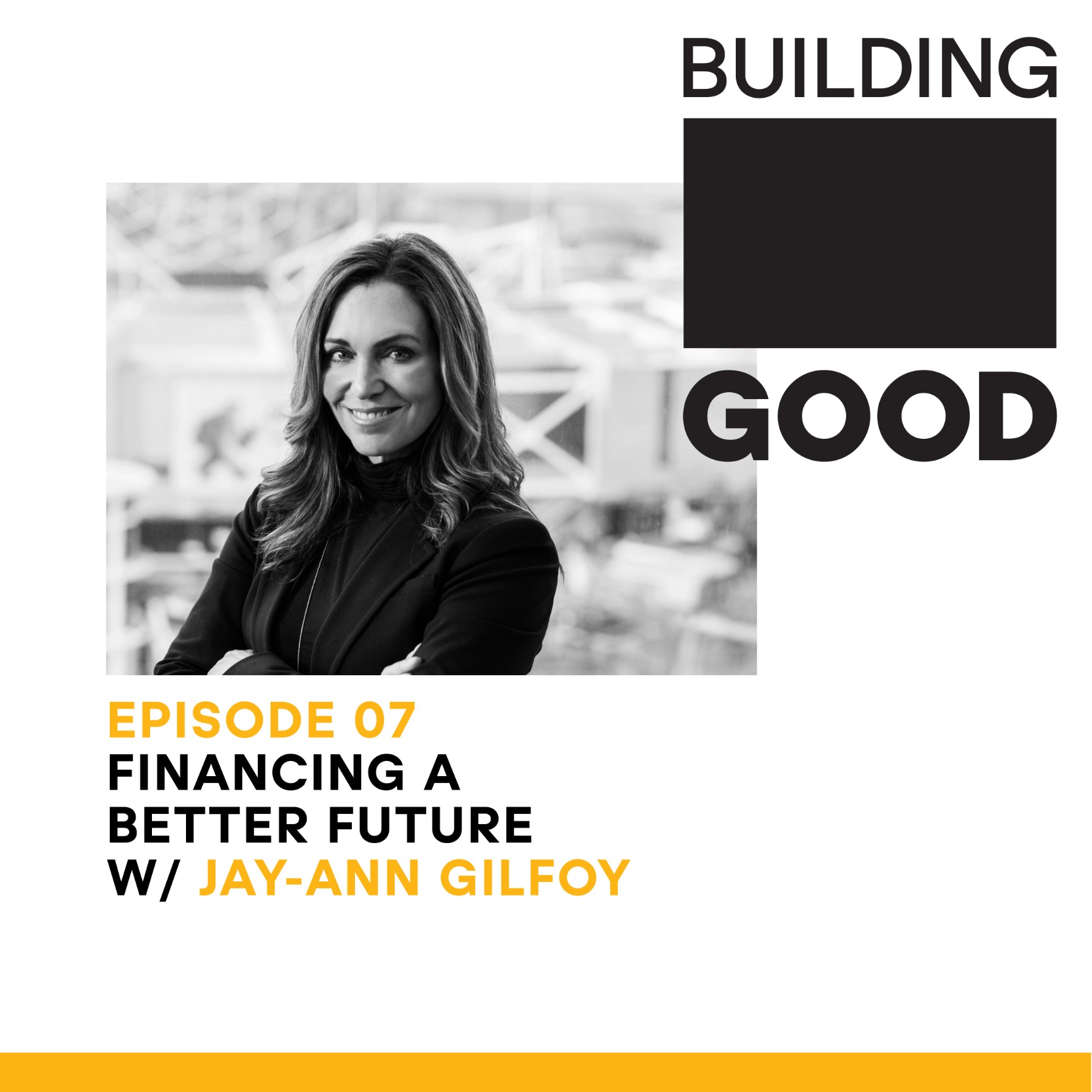 B Corp has this business as a force for good mantra, and we both know that. Both our organizations are B Corps. In 2018, Laurence Fink signaled the shift to balance with purpose and profit at BlackRock, which is one of the world's largest investment firms. This 2020, David Solomon of Goldman Sachs also announced that their company would no longer help companies go public unless they had at least one diverse board member. Vancity Community Investment Bank has built its business around values-based investment and is committed to wanting to have a more sustainable future using tools of finance. Vancity Credit Union and VCIB are not the same thing. What's the distinction between Vancity and Vancity Community Investment Bank?
Vancity is the parent organization of VCIB. It's a credit union in British Columbia. Lots of people will know who they are and a pioneer a lot around environmental change and social justice. It goes back to the roots of the credit union. A few years ago, we had a national bank license that used to be called Citizens Bank. It was wound down in the financial crisis of 2007, 2008. It stood as a vessel of possibility to take the work that Vancity was doing in British Columbia in the lower mainland predominantly, and think about where we could do that in other parts of the country.
The model around bringing in deposits to serve local community needs and to help communities thrive and prosper, which is the purpose of Vancity, that translated into the bank to be able to do the work that we're doing. The difference is that Vancity Credit Union has both personal and business relationships and the bank is a commercial entity. We're out there working on how do you increase the velocity of financing that goes to organizations that are doing something good for people and the planet.
The Vancity Credit Union is the primary driver behind VCIB for things like carbon neutrality or an organization that's carbon neutral. Can we talk a little bit about that? What are some drivers behind that and the history around the thought around being carbon neutral?
Vancity's history if you go back to the '80s and '90s in British Columbia, it was one of the first organizations that's talking about the mantra of environmental sustainability. A lot of work has been done inside the organization over those years, things like encouraging employees to ride their bike or walk to work, retooling the facilities that were owned by the organization so that we have the elevators propel the heat and air conditioning in the building by itself.
As we grew our assets, we're looking at how do we make sure we're thinking about carbon neutrality and socially responsible investment funds. We have an investment management firm that manages all of the funds for IA Clarington. We're the first to do fossil fuel free. As we look at the climate crisis out there. We're focusing on not just carbon neutrality as an organization. We have electric vehicles. We're doing all the right things as an organization, but also focusing on the assets in the organization. How do we make sure they're carbon neutral?
For the bank, what we're doing is we've lifted a lot of those same practices and principles to the team and the footprint that we have in Ontario. We've also provided financing to organizations that are doing something around clean energy like solar wind, biogas, and geothermal. We're making sure that money is going towards those projects that are $20 million, $30 million, and lower to start advancing the new energy sector. We're looking at the footprint of all of our assets across the Vancity group.
In some ways, I would have to think that's a bit of a differentiator for banking group in the market. It's no surprise to me in a way that VC has been leading the country in terms of sustainability and sustainable buildings in particular carbon conversation. How do you feel from a business standpoint? Is that a major differentiator for you and other both on the investment side and even the personal banking side?
If you look at all the green buildings in British Columbia, Vancity has probably financed the majority of those for sure. It was part of all of the municipal conversations and all of the government changes at the provincial level and the local level to try, encourage, and took a stand on the book of the credit union at the time and said, "We want our assets to be solely in green clean." A lot of that work was done and paved the way so that when we went into Ontario, we've been in the process of changing over any assets that aren't like that. We've been encouraging that transition through retrofits and other things and looking for opportunities where those types of buildings need to be financed. We are first in, so we financed the first timber frame office buildings in Toronto. We are deeply rooted in trying to work with the construction industry and business people who own businesses and commercial property around that transition to a cleaner and greener future.
We see the opportunity to be a lot more purposeful in that space. If you're going to build anything, you should be building it up to the standards that I think we're now going to be pushing. We'll add into that things around the health and safety of people because of COVID. It's not just about the lighting and the concrete that you're using and the windows. It's now also about the systems that you're using to keep the air clean, purify the water, keep people safe and all that stuff. The construction industry emits about 30% of the overall GHG in Canada. The opportunity is massive to move to that new future.
You transitioned to the idea of values-based banking, which probably most people haven't thought about or heard about. You've given a lot of great examples in terms of how you choose projects and financing around clients who want to go forward with especially on the green building side of life and thinking about human health. VCIB also has strong diversity policy at your organization. What about diversity and equity inclusion?
Diversity and inclusion are part of the overall values of the credit unions. The credit union is a cooperative. Part of the cooperative spirit and cooperative values are around a democratically run organization, diversity and inclusion. They were the first to profile thinking through and profiling of how you support LBGTQ+ communities years ago. They adopted reconciliation as a core value. With the bank, we've taken those values and transplanted them. They're similar but the words are different because we're at a different market. Both boards are diverse from all levels. It starts at the board level. We have a diverse board of directors for both organizations. That translates down into the rest of the organization.
We consciously are always looking to make sure that we're moving to an organization that looks and feels like it does in the community. We've got policy around that. We've got practices around that. We're purposeful about it and in this time that we're in right now with COVID and the anti-racism issue, I'm trying to figure out how to check my biases all the time to make sure that we are continuing to move down that path. It's the right thing to do, but there are also good reasons to do that from a business perspective because even though we're in COVID, talent is a problem. The lack of talent in many industries. We've been talking about it for years.
The generation gap between the Boomers are all leaving, the little tiny Xers and the Millennial generations are coming up, and the need for an influx of immigrants to keep our economy going. If we're not looking in all those communities around looking for talent, we're missing a huge opportunity to create a more sustainable future. Diversity and inclusion are core to our organization. I'm certainly super passionate about it. I'm on a learning journey. I'm a privileged white woman who's happened to be able to ride that curve of gender equality. We're not anywhere near that where we should be. I'm also aware that women aren't the only disadvantaged groups and we need to make sure we continue down that path.
VCIB has got a strong sustainability, diversity and equity inclusion focus both external and internal. What about in terms of employee retention and attraction in the first place? We want our businesses to look like the society around us. We are missing pools of talent out there because we're not looking at them enough. What about that employee attraction and retention piece? Because of the values that you have as an organization, have you noticed any differences there in terms of who you're attracting and how you keep them?
I've got a small team but if I needed to grow the team, I would have no problem. We've got a lot of ex-bankers who were tired of wanting to do the right thing, looking at deals that were coming across their desk, wanting to do those deals and going, "We can't. We don't have the right mind shift. We don't have the right policies. We don't have the right procedures to allow me to look at how do I finance a not for profit affordable housing provider whose revenue comes from a combination of grants and government money. I can't get my head around, is this organization going to be successful? Is the risk higher?"
They want to do it but they can't. They come to us and they're like, "That's what you do? That is cool. I want to do that." If I have to grow the organization significantly fast, I would have pretty good talent pool. It's the more of that Millennial generation. I'm an Xer on the cusp of a Boomer, but I think that Millennials are super young. The majority of them are in their 30s and 40s. This is the prime talent pool. They're driven so much more by purpose. I did a talk about this. It's like 30% to 40% of the Y-generation or the ones after the Millennial are saying no to job. They're like, "That culture doesn't fit with me. The values don't fit with me. I don't see a purpose."
There are also the future consumer. It's important that you have that. You demonstrate through your attraction and retention practices that diversity is important. That translates into making sure that all voices get heard within your organization. You can only make great decisions if you have great people putting in their perspective and feeling like they have the confidence and the environment around them to make that happen.
With values-based banking, does that deliver the same returns as traditional investing?
I would say that the risk-return is as good as other investments. You'll see that play out as it relates to everybody as you said from BlackRock to the big banks, the shifting economy, and people start to retool that. The reality is that organizations that have a purpose, are mission-led, and make sure that they're doing that within the organization, they are more sustainable through hard times. You'll see B Corps survived well through the period of economic crisis. You'll see us come out on the other side. I don't know how you are doing but we're doing fine. You're going to see that sustainable growth is a good thing, to have not just be profit-oriented. Everybody needs to be profitable. We need to be profitable. You need to be profitable, but you can do that in a way that also is inclusive, that also thinks about the footprint that you're leaving on the world, that also rallies your customers and your people to something of a higher power.
It's hard to get away from talking about COVID right now. It's something that's going to be part of our lives for a little while in terms of conversation. In terms of VCIB using financial tools to help build communities which is a big part of what you do, do you have some specific stories of some of your clients in this economic shock that we've all experienced? How have you seen some of the clients you've worked with? How are they functioning in this? What have you seen on the side of clients in terms of COVID and response to it?
The first thing I would say is many of the clients that we have are born out of a not-for-profit. They could be a social enterprise, or they could be a set of entrepreneurs who wanted to use a different structure versus that corporate structure. They tend to be resilient, innovative, and have a great passion for the work that they do. We certainly had clients who had some challenges because their business model was about bringing people together. If you can't bring people together, what are you going to do?
They all pivoted and are doing okay. They've been able to find a way through this to look at how they serve their constituents in new ways and they're fine. There's a sense of resiliency in the sense that they're going to come out of that and still be okay. A couple of examples would be we've financed an organization in Toronto called Artscape. It does a couple of things. They provide affordable housing to artists. Artists are key to cities thriving and prospering. If your artists leave the city, it starts to have an impact on a whole bunch of the social fabric of your city. You could buy a condo and then the condo next door could be a subsidized condo for artists. We also have a couple of facilities that allow for artists to increase their business. They have done some things for this to make sure that they're on solid footing and they're fine.
Another organization that we're working with is Parkdale Land Trust. It's one of my little pet projects. I love what they're doing. They're a community land trust who is trying to buy property in the area of Parkdale which is an area that was traditionally West of the downtown core but a lot of rooming houses. There are a lot of people there who have to live in these rooming houses, otherwise, they'd be out on the street. Through the fact that Toronto is the fastest growing city in Canada and everybody wants to live there, these rooming houses have been bought up by people who want to fix them up, turn them over and become in a regular rental property.
You've got people who are being displaced because they are paying $300 a month, and this house gets renovated and it goes to $1,100 a month. This land trust wants to buy more land and some of these rooming houses to keep them in the community so that people have places to live. They believe that everybody should have a place to live. Homelessness is an outcome of us having systems that fail. We've been able to help finance them, and other investors want to deposit their money so that they can finance the land trust, buying more land to keep the land for the community.
They are also thriving through this time because people see the need, and investors see a return in terms of their deposits that they bring to us. We're then able to take that money and deploy it into the community. We just provide the money but they're doing the amazing work. It's satisfying and gratifying to know that. Otherwise, it would be hard for them to get capital. The big banks are not going to look at that. They don't have the capacity or the time or the interest. We feel fortunate to be able to have the capability to deploy money in that way.
I love that you don't always associate with investment and banking. To be able to have that glowing feeling with the work that your money is doing in the community, that's amazing. I would have to think too from an employee retention standpoint the connection that the people who work for VCIB and what they see as the impact surrounding them must be huge retention factor.
They're doing great things like helping finance little business that has pivoted. They used to be in the textile business and now they're making gowns. We finance the Argonaut Rowing Club to put in equipment so they could have people with physical disabilities learn to row. The types of things that we're doing are inspiring from a local perspective. We've got some great other large organizations that are doing cool things around technology and retrofitting large green buildings or running solar farms. We're starting to talk about how do we support the food sector and get into agriculture and local organic food or services, distribution, and how do we do more around like you guys with purpose-led organizations, providing them financing to grow their business.
The opportunity is huge and coming out of this back to COVID, the idea that the federal government has about building a better future, we're primed to be able to do that. We can do it because our board believes it's the right way to do it. I believe it's the right way to do it. The organization that we are a subsidiary believes it's the right way to do it. We have it all lined up in terms of being able to take advantage of the situation in a good way and drive positive change.
You are already doing amazing things. Is there anything on the horizon for VCIB? Is there anything else interesting coming up for you in terms of direction?
We haven't ventured into the technology space. I do think that whether it's health tech, reg tech, working with organizations around building tech that creates and helps to make sure that systems are monitored and all that stuff. There's something there for us to be thinking about because as we're all learning, working from home or working remotely is going to be the new way. I went on to Shopify and poke around. They have a statement when you go into their website saying, "We are not returning to the office." There are some good things happening in technology. You often hear about all the bad stuff happening in technology, but there are some good things. There's something around the innovation economy that connects to technology and organizations that want to put technology to good use. That's a space for us.
We see more local on how do you take manufacturing and retool it like you guys are talking about changing the construction industry. You'll see a resurgence of local manufacturing start to emerge hopefully, in a new way where it is about providing employment. It also is about how do you do that in a way that's environmentally sensitive. Conservation financing is a big one for us and not just financing those new technologies, but also how are we preserving and conserving our green spaces on our land and all that stuff. Those are the areas that we're going to think about in the next couple of years. Affordability has been one of our key pillars and that's not going to be anywhere anytime soon. Clean energy and environmental sustainability are going to grow.
The impact you've had on businesses and nonprofits is clear. With the way that you run VCIB and Vancity Credit Union, have you seen any changes in the investment and banking industry in Canada because of the work you're doing? Have you seen any other financing groups or banks do different work?
Our organizations like all the credit unions come from the cooperative roots. Other credit unions are B Corps. There's something in that second-tier financial space that there's more opportunity there and they think about the same things we think about. If you can grow that local infrastructure to be more purposeful about where they put their money, that's going to be helpful. The scale of the change that we need is massive. I don't know if you read that article about the ice shelf and the Arctic. They are real and they're on us, whether it's fires, crazy rainstorms, or vulnerable populations who are being displaced.
If we're going to work even within the guidelines of the Paris Accord, if we're going to move to carbon-neutral, it's going to require all capital to move to provide financing. You're seeing investors saying, "I want my money going to socially responsible things." That's a great trend. I saw a stat where 30% or 40% of Canadians are saying, "I'm going to take my money out of these other things and I'm going to invest it over here." That's a positive. You are seeing the big banks say the right things and want to put money into these spaces. We're going to need them. We're going to need big banks. We're going to need the pension funds. We're going to need everybody to help us transition from an economy that was primarily related to oil and gas and extraction to the new world that we need to go to.
For me, success years from now looks like everybody is doing it this way. I think we've won the game. I hope it happens and I hope new partnerships come out of that. The social finance space in Canada is small and fragmented and has a lot of momentum. It's hard to see because it's community connected. Getting to that next level where pension funds are saying, "I'm putting money into these projects." Banks are saying, "I'm not financing that anymore. We're going here." That's something that you see happening in Europe and other parts of the world. We're on the cusp of it changing fundamentally. It will be run by consumers and people looking for financing starting to walk with their money.
A lot of what I've heard from you and learned about VCIB and Vancity Credit Union, which is your parent organization, is that as a B Corp, one of the key things that I've heard from your success is that the company is authentically living that mission. You have diversity from your two boards, all the way down through your organization. It's been a priority, that diversity, equity and inclusion piece. Environmental sustainability is hugely important not only in projects you invest in but how you run your business and the types of offices that you build and lease.
You're thoughtful across the board. You're thinking about that community piece also of what kinds of nonprofits you're working with and financing groups that would not be able to get maybe money and financing in other places. As a company, you are not only out there financing those groups, but you're living it inside and out. That to me is the place that many organizations want to move into that social purpose space. It's hard to live it inside and out. It's one of the things I find most inspiring about VCIB is that inside and out piece.
A theme for me that is in my life, not just in the work I do is everybody is on a journey. It's not like we figured it all out. Our intentions are there. I think you're right. The thing about Vancity more than the bank is we were set up to be purpose-driven. It's been a bit easier for us. We didn't have to transition our business from something to something. We were already there. If you authentically live it, then the stories that you can then tell out of it are real stories. The challenge with many organizations that are trying to figure out, "How do I address this new wave of customer trends around purpose and look like I'm enough there that people think I am?" The real work as you said has to come from inside the organization. If you don't do that real work, you get called out. It is a standard to which you have to constantly reflect and respect. You have to respect that you're on the journey and the standards keep getting higher. That's the message to those that want to retool. You have to look at every piece on how you do procurement. You've got to look at your hiring practices and your marketing efforts. You've got to look at all those components of how your organization operates to be authentic. Authenticity is one of the key pieces around the Vancity value proposition.
As you said, it's the journey. No B Corp can stand up and say, "We're doing everything perfectly." You're constantly trying to improve. The key is to want and to truly believe the work that you're doing is the right work. That's evident from your base as a cooperative and how you've grown and your success, that you can be successful as a business with a social purpose underpinning. You have to live it and breathe it and have it hit all parts of your organization. That's the key and I'm impressed. Thank you so much, Jay-Ann, for spending the time with us.
Back to podcasts