Raising Sustainability with Tim Faveri
Date Published:
September 22, 2020
In 2019 Maple Leaf Foods announced it was the first global protein producer to be carbon neutral – an incredible achievement that took the dedication and input of its entire organization. Vice President in Sustainability, Tim Faveri, speaks about the focus on environmental protection, animal welfare, employee engagement, and digital transformation. And how the team at Maple Leaf Foods set out to redefine the way protein is produced and become the most sustainable protein company on earth. 
We're going to explore sustainability. In a world that's faced with climate change as a key issue, there are some companies leading the market. If you're not already exploring this topic in your own business, it's hard to imagine that you won't be or that it won't be a key concern for you in the near future. The idea that business can be a force for good for people planet and while still making a profit is not a myth. Maple Leaf Foods is a household name in Canada. They're a leading consumer protein company. We're going to talk about Maple Leaf's journey to becoming carbon neutral. They are one of the first major food companies in the world to achieve this, which is amazing. On that note, I'm excited to speak with my guest, Tim Faveri. He's the Vice President in Sustainability and Shared Value in Maple Leaf Foods.
Jen, it's good to be here.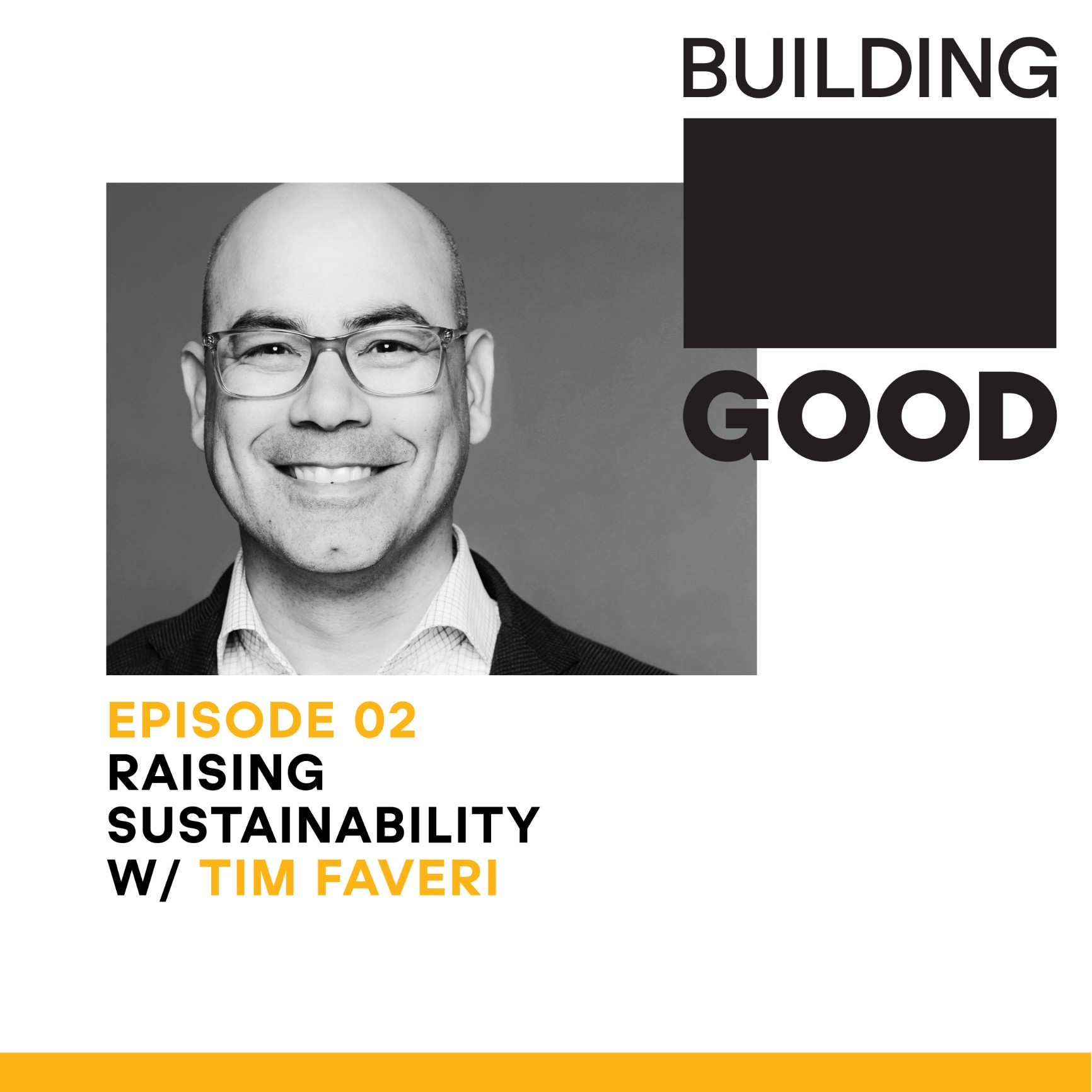 Tim, as the Vice President in Sustainability and Shared Value, talk to us a little bit about what your role is and your history at Maple Leaf?
My role at the company is leading the sustainability strategy for the organization, not only the development and ongoing evolution of our sustainability strategy, but also corporate reporting and to embed sustainability across all aspects of our business. It's become a very straightforward process for us because we're a purposeful organization. Back in 2017, we launched Raise the Good in Food, which is our social purpose. The very framework of Raise the Good in Food is sustainability. The vision for our purpose and our company is to be the most sustainable protein company on Earth. We've elevated sustainability to that level. That's a powerful way to engage employees to embed programs right across the company.
It sounds like an amazing job. There are not too many people out there who would have the same title as you have. On the side of Maple Leaf, although it's a household name, do you want to give us a little bit of an idea of market share, operation space, company history? You talked a little bit about that in your bio but give us a little further context.
Maple Leaf Foods were over 100 years old. We're a protein company. Our proteins are pork, poultry and plant-based protein. We have about 13,000 to 14,000 employees across Canada and the United States. We're a dominant market share with our products at grocery retail. We have about 30 operating plant facilities across Canada, two in the United States which are plant-based protein facilities. We're a farm to pork supply chain as well. On the pork side of our business, we have pork barns in Manitoba, many of them have processing facilities right through to distribution and branded products on the shelves. What a lot of people don't realize as well is we're a big supplier to retailers and foodservice. We manufacture their private label products that you might see on grocery shelves, food service in quick-service restaurants, and other restaurant companies the protein products behind the scene.
Before we dig in on the sustainability side, there's something that I've found fascinating when you're talking about Maple Leaf and the direction you've gone. Without looking at your website, I've always thought about Maple Leaf as a meat company, but you guys are a protein company. I find that such an interesting pathway. I know there are a few other meat companies that have gone the direction of using the word protein, but can you talk a little bit about that?
We made a pivot to broaden our reach into other forms of protein, again aligned with our purpose. When an organization develops its purpose, the first aspect is defining a why and the why your company exists. That's important. We looked at what society needs and what our company can do to influence social good. When we did that, we looked at the importance of food and the food system in society. You could put food at the nexus of any major societal issue, whether it's climate change, food insecurity, soil health or water. Food is extremely important in all aspects of society.
When you look at some of the disconnects that are happening or what we would see as challenges for the food system on the planet, there are over 800 million people that are undernourished, yet over a billion people that are overweight. Society wastes 1/3 of their food. These disconnects were quite telling in our strategy development process. As a big company in Maple Leaf with scale in the Canadian food system, we feel that we have an ability to lead and change that food system to become more sustainable. It started there as us looking at the why, what society needs, and it comes together with our purpose, Raise The Good In Food. Raise is a very action-oriented word. It means to lift, to elevate, to continuously improve. Good food is sustainable food, safe food, healthy food, culturally appropriate, and it resonated with our people right across the board.
The approach you've taken gives your company not only this big S sustainability by moving into a broader protein base, looking at that. It also gives you the small S business sustainability because you've broadened what you can provide as a company by switching from that primary meat focus to other proteins from all aspects. It's impressive.
The move to plant-based protein is directly linked to that. It's a commonplace that, let's say, if we take an animal out of the protein supply chain, it's going to be less environmentally impactful than focusing on plants. Animal agriculture and agriculture in general accounts for about 30% of global greenhouse gas emissions. There are also impacts of land and water, etc. When we looked at the protein side of our business and realized we want to be part of the solution, not part of the problem on a big issue like climate change then that opens up new opportunities for us to look at it. A number of years ago when we started looking at alternative protein, plant-based protein in particular, and looking at opportunities how we can broaden our reach to gain market share, alter and change our products to be more sustainable.
What I'm hearing is that you guys have taken the approach of not that either/or, so it's not meat or plant protein, it's and/also. You're taking that balanced approach of both, which is to the benefit of your consumers and also environmentally makes a ton of sense. It's something to anyone reading, whatever your business model is, to take a look at the base of the problem you're solving. You guys have done looking at it like protein instead of meat and suddenly, it opens the door to a much broader conversation. It allows for more innovation and gives you better product diversity if you choose to have that. If you're digging into the same sustainability conversation, you almost need to have that and thinking instead of that either/or. It doesn't work.
That's part of our strategy in terms of how we're executing on our purpose. The strategy we've chosen is a shared value and shared value is a business strategy. It's a disruptive strategy not designed by Maple Leaf in any way, but originally coined and developed by the smart academics at Harvard Business School. If you look at what shared value means, it means being a very competitive and profitable company. How do you do that? You focus your business on addressing social and/or environmental needs of society. It's a perfect overlay on the Venn diagram of purpose. When you think about a food company and how we can execute on shared value, it starts with our products. We have to look at our products in a different way of how we can deliver shared value or social and environmental improvements of our products for society and consumers.
We can reconfigure those products to be healthier. We can move into plant-based protein like we've talked about. We can explore other alternative proteins as well. That's the essence of shared value. At the same time, we look at being very efficient in our business, reducing our environmental footprint, eliminating waste, the communities where we operate and looking at core causes of social issues. For us, we are very passionate and have developed a not-for-profit charitable organization called The Maple Leaf Centre For Action. That is working on core cause issues of food insecurity for Canadians.
We're in the middle of the pandemic and that has an issue that's on many Canadians and many people's minds around the world. That's great that you guys are tackling that. This idea of shared value, have you always thought like that as a company? What was the catalyst to change to move into that idea of shared value and moving into this push for carbon neutrality?
Every company is different, and if I go back even before when I was with the company, the company over the last decade has gone through some transformational changes. It was 2008 when the Canadian listeriosis crisis impacted Maple Leaf Foods, and that tragedy caused the company to reflect and reinvest with respect to our technology, our facilities, our people, our focus on food safety, and it was all hands on deck. We had the development of an emerging sustainability program back then but that was put on hold until the company could get it right with respect to food safety and become a leader in that space. Over the years, that development transformation and reinvestment of about $1 billion in the Canadian plants allowed us to fix the business for one and then decide how we're going to grow the business again.
In around 2014, the company sold off non-protein assets. We sold off Canada bread, international global bread business and bakery. In our past business, we sold off the rendering business and came back to core protein. Once we're at that level, we can say, "How are we going to grow the business?" When we do a bunch of benchmarking, analysis and strategy on your core business which is protein, it became very easy to see that the world, as the population grows, is going to demand a significant amount of protein over the next 50 years.
That's going to be meat protein and that's going to be alternative forms of protein. That's how that grew and shared value is aligned to our purpose. Once we wanted to grow the business, it was decided we're going to do it in a different way. It's the biggest opportunity for us. These headwinds that I described like food insecurity and climate change also are a great opportunity for the food industry. We looked at it through that lens and raise the good in food and our vision to be the most sustainable protein company on Earth evolved from there.
As you've developed and refocused in years, everything we've talked and everything I've read, the people in your company are very important especially it went forth with this shared value and you need everyone on board. Who was involved in your process of building out some of the strategy and then some of the action plans after? How did you get people aligned on that?
Before we're about to finalize Raise the Good In Food on our purpose, we thought it was important to get input from our employees. We use an external consultant to facilitate what we called ideation sessions across all the functional departments of our business. I believe we held around 17 to 20 ideation sessions and we ask our employees directly in a workshop setting, "How can you, as an accountant, plant manager, line supervisor or salesperson, raise the good in food? How can you do your job to help us be the most sustainable protein company on Earth?"
Ask them for feedback, their impressions and ask them to identify how the company is going to live and breathe its purpose. It was fascinating. We ended up with over 200 unique initiatives for us to look at. We prioritize those and we whittled it down to about 35 key priorities for the organization to work on. Those priorities that were identified from the ground-up become key to our six core business strategies and all have senior leadership, accountability, KPIs and scorecard on a monthly basis right to our COO and our CEO. It is truly embedded that way. It's fascinating the amount of passion that we saw from our people of how we're going to live and breathe our purpose.
We also had a very strong base. We're a very values-driven organization to begin with even before our purpose. Michael McCain, our CEO, has been at the helm for 25 years. When you do have a passionate leader for that long, a culture can thrive with many publicly traded companies the size of Maple Leaf. The average tenure of the CEO is 18 to 24 months. When that happens, a new CEO comes in, new priorities, new team around that individual, priorities change, culture changes, and it would be much more difficult to maintain a purpose, existing strategies and a focus on sustainability.
What I'm hearing from you is strong, consistent leadership and someone who in particular values culture, people and communities. That's evidenced through the way that your CEO manages that you had strong direction from your management team, involvement of people from across the organization, developing further that message so that they had a part in how they saw themselves fitting into that, embedding some of those outcomes and people's accountability agreement. From a success standpoint, you made sure that you hit all parts of the organization, and involve them in the conversation. It was important enough to make it part of accountability. It wasn't just, "We're going to do this," and then not make it part of anyone's accountability. That's a huge part of your success going forward.
There are definitely pieces of that that many companies fall down on. Part of the accountability piece, sometimes we make plans and we may involve talking to people but then we get the rubber to hit the road. You've got to have something there that makes people want to do and that's the accountability agreement where you might have some bonuses tied to or metrics that you're gauging right through the year. How are you tracking on that to manage what you measure idea? That's a great message for any other company looking to go forward with that. From the size of your organization and all the work you've been doing, I'm also fascinated because we are looking at setting some climate-carbon neutral targets for ourselves. It's a daunting task. You go to announced science-based targets and becoming carbon neutral. Can you talk a little bit about how you got to that place? For many companies, they look at it and it's a huge task to try to get your head wrapped around and to implement.
Let me go back to those ideation sessions. In 2014, we set some of the boldest environmental aspirational goals for the protein industry. Those were to reduce our environmental impact by 50% by 2025. We've been tracking and still tracking against those goals. We were making great progress. When we were in the ideation sessions on our purpose, with a vision, it could be the most sustainable protein company on Earth. One of the most common pieces of feedback that we received from employees was, "If we want to be the most sustainable protein company on Earth, how come our environmental goals are only set at 50% reduction?" That resonated with us on the strategy development teams like, "They're right. We've got to be bolder."
That's what started this catalyzed look at science-based targets and carbon neutrality. The science-based target is I consider the most ambitious and credible climate change targets out there. They're mapped with current climate science. They give each company skin in the game to reduce our share of our impact with respect to climate change. They're also validated and facilitated by Carbon Disclosure Project, World Wildlife Fund globally, World Resources Institute, and The Global Compact. I can't think of more credible organizations to validate your climate goals and your climate targets. We knew we wanted to go there and that's a long process that starts with a deep data dive on your carbon inventory and your greenhouse gas inventory.
For any company, that is big because normally, with consumer-facing companies, most of our footprint is in our supply chain. It's not with our core operations and that's certainly the case for us. Carbon neutral came about to help again, live and breathe shared value, our purpose, differentiate ourselves as well, address what could be society's biggest crisis, and that is climate change. When we saw and did our benchmarking of other companies and not protein companies at this stage, it was other big companies that have bold climate goals like the CPG companies. Everyone was talking about net-zero or striving towards carbon neutrality by 2040 or by 2050. When we looked at that, the climate crisis is happening.
"Why should we set our goals way out that way? Don't you think we can do this? Isn't there a mechanism or a system that we can activate to become carbon neutral now and then every day moving forward?" We were able to do that. We had a lot of strong strategic partners along the way but it did take quite some time to get there. For any company that is looking at science-based targets, you're looking at about an 18-month to 24-month turnaround for development and then approval of those targets by the science-based targets initiative.
Initially, what I heard from you is you said a ten-year out. You started in 2014 and you were looking at 20 to 25-ish or so as your initial, which is common to look at that ten-year out goal. I also love that your people came to you and said, "If we're going to be a sustainable protein company." What that indicates is that the culture that you have with all of your employees believes in here are involved in, otherwise you wouldn't get those comments. That's great that they pushed that further and pushed you guys further to think about more than where you were at.
One of our challenges and with any organization that goes down the road, the bold climate goals and science-based targets are educating our employees and our people of what that means because it's complex. It's not a simple journey to get on. There's a lot of complexity that you need to our business model and our supply chain as well as for an organization like Chandos and your supply chain. It becomes a very important communication exercise as well to keep your employees updated on your path, your direction. Once you get there, continually educate on how the company is making progress, what employees and everyone can do to keep going and keep the momentum.
You can't go ahead and do that without educating because not everyone is in the same place understanding that, but also the complex connections with the supply chain. The impact that you have as a company goes much broader and your employees also broadens out quite a bit with other companies that you connect with out and making sure that you're communicating clearly the directions you're going, not only to inspire them but also help them change or have them think about being a carbon-neutral at some point in time. You've got a huge reach as a company. Coming from a construction company, I know that you guys are building a few facilities. How are you keeping the sustainability carbon neutrality component? How are you keeping that in mind as you build these new facilities? What does that mean?
It's a great example of how we're embedding sustainability into the business and particularly from a carbon strategy side of things. The very first aspect of a carbon management program or carbon management strategy that you need to look at is avoidance right from the get-go of greenhouse gas emissions. When we're a growing company and we're building new facilities or acquiring new companies, that becomes a very important conversation. What we need to do is right off the bat avoid as many greenhouse gas emissions as possible through the site selection process, the building design, process design, and then operations of that new facility. I'll talk about our London poultry facility as an example, we are consolidating three plants into one larger plant and that's going to gain a massive amount of efficiency with respect to energy-water waste per kilogram of production.
The facilities that we have are dated technology, although it's been upgraded, it isn't at scale. By bringing all that together, we're going to become much more efficient. Two of them are located in the Greater Toronto area. The vast majority of poultry producers that we depend on are in Southwestern Ontario. Locating the new plant in Southwestern Ontario saves millions of truck kilometers by shipping birds back and forth to the processing facility. There's an avoidance of greenhouse gas emissions right there. When you think about process design and building design, we scoured lead certification and a whole bunch of other initiatives to look at the greatest opportunities to reduce our impact. Inputting those into the process in the building design, it's become key. Lots of great initiatives like keep recovery, variable speed fans, LED lights, sub-metering, high-efficiency water heaters and recycling. The list goes on and on.
We also have to look at how we can influence not only efficiency but replacing energy to be more renewable. We're scoping in onsite solar, battery technology and other aspects that we can make a difference from a renewable energy side of things. That's a whole show in itself, Jen, when you think of construction and sustainability. It's such an important aspect of our society too when you think of the environmental impact that construction services and construction and building materials have as our population grows, as our cities grow, as infrastructure gets upgraded. It's a very important part of society.
We have all these existing buildings, existing operations, the only way forward is to do what you guys are doing, to think about how we can make our buildings more efficient, reducing GHGs right off the hop, if you can help it. There's some thought around the greenest building is the one you don't build, but when you're operating, you have to function, and working in plants that are older by you being able to consolidate. I'll be interested to see what the impact when you guys can track that after. I love that you're thinking broad-based how the closeness of some of your facilities, how they are, and then the energy operation. It's going to be better for your employees on top of that as well working in a newer well-thought-out facility. You think about things like air quality and some of those things that are factored in and thought about in a different way now. It's great that it's in existing operations and going forward thinking about how it impacts any further construction or new projects that you're working on.
We're going to have a society as a whole. We're going to have to rethink construction, building design and layout with respect to COVID and the impacts of this pandemic. It's going to be an interesting "new normal" of how all industry society adapts.
Is COVID coming up with your new builds? Are you beyond the point of even factoring that into where you're going with new facilities?
If there were design elements or process elements that we can modify on the fly, we're definitely going to have to take a look again. We're at an earlier stage of design of our new plant-based protein facility that's slate open in the United States and that's part of the discussion for sure.
On that note, do you have any final advice to any other companies that might be looking to build more sustainable business operations and embed a more values-based approach? Do you have any advice after what you've seen in the last few years for the company wanting to go forward?
I've been doing sustainability for many years now, and I've seen an evolution in North America that has gone from managing elements of sustainability that we would include in a sustainability program like a big S sustainability as you described in silos. HR, environment, community giving and whatnot to the coming together under over more strategic program that companies are typically calling Corporate Social Responsibility or CSR. If you have a good CSR program, that's fantastic. The challenge is that if leadership changes or the sustainability lead moves on, who's going to take up that strategy or those initiatives within the company could very well disappear or not be very successful.
Companies that dig deep and look at a social purpose that builds in these cultural aspects for the organization. You can embed sustainability right into the very fabric and culture of your business, you have a high level of success that's going to live on for years to come. That might not be for every organization, but for those companies that are values-driven already, it's something that should be looked at very closely. Social purpose or purpose is the next evolution of classic corporate social responsibility. It embeds very well. It allows organizations as well to look very broadly within the organization and stop talking about technical terms like sustainability. Everyone has a different definition of what sustainability means. With the purpose, we can say Raise The Good In Food. That's why we're here. That's a conversation that companies are going to start to need to have about purpose and how their companies are going to be successful moving forward.
What I'm hearing is if a company wants to authentically and be successful in moving forward, if your vision is a big S sustainability, having a shared value platform looking at the purpose. Your statement Raise The Good In Food, you can attach and do so many things with that purpose with thinking about that from a shared values standpoint. It allows not only you as an organization but your people. It's authentic, they can connect with it and they're part of it. To embed those whatever metrics you decide as a company and what you guys have decided gets trickled all the way through the organization. Participation from all parts of the organization, from all people, it's embedded in accountabilities across the board from middle to upper management. You get this strong aligned group moving forward with the same vision.
Remember, purpose is about a journey and continuously improving. That's an important aspect to consider. Our vision is to be the most sustainable protein company on Earth. We know we're not there right now, but that's being held above us as a guiding star for us to continually improve. What we're working on now might not even be considered sustainable in five years. We're big believers in continuous improvement, progress, not necessarily perfection at this time, and that's a very powerful aspect to consider.
The continuous improvement, the idea that you're on a journey is not absolute. You're constantly trying to work towards getting to that goal and setting yourself a target. That North star that's out of reach, the way to do it is to know that you're not there but you have to set it, otherwise, you won't reach for it, you won't stretch yourself. That's a good message for ourselves and for all companies out there. Tim, it's been a pleasure talking with you. I've learned a ton about Maple Leaf much I did not know prior.
One of the things I've been most impressed with is your company's move to be a purpose-based company, looking at value for employees, for the community and that shared value model. I'm impressed with the way that you approach your core business of protein. That is something I cannot stress enough how much I'm interested in the innovation around that, that you've gone to this instead of this either/or meat or plant, you've gone to this and/also, which is great from a business model standpoint. You're helping all of your consumers who have an interest in many of those things and it's a great impact on the sustainability component of your company. Thank you so much for spending time with us and sharing that message. It's inspiring not only for us but for many other companies. Thank you.
Thanks for having me.
Back to podcasts