Caution: Men at work with Natasha Fritz
Date Published:
September 1, 2021
Construction is rife with sexism. It's not just catcalls on building sites, it's tradeswomen being passed over for contracts. It's being told you'll never be as good as a man. It's bad jokes… and sometimes it's abuse. When construction and trades are this difficult for women then of course they are less likely to want to work in the industry, and on the occasions that they do they are far more likely to leave it. 
Natasha Fritz [preview]:
In order to be considered an equal, you actually have to be better. I feel much less able to make mistakes. You feel like, "Well, I'm going to ruin it for all the women." 
Jen Hancock:
This is Building Good. I'm Jen Hancock.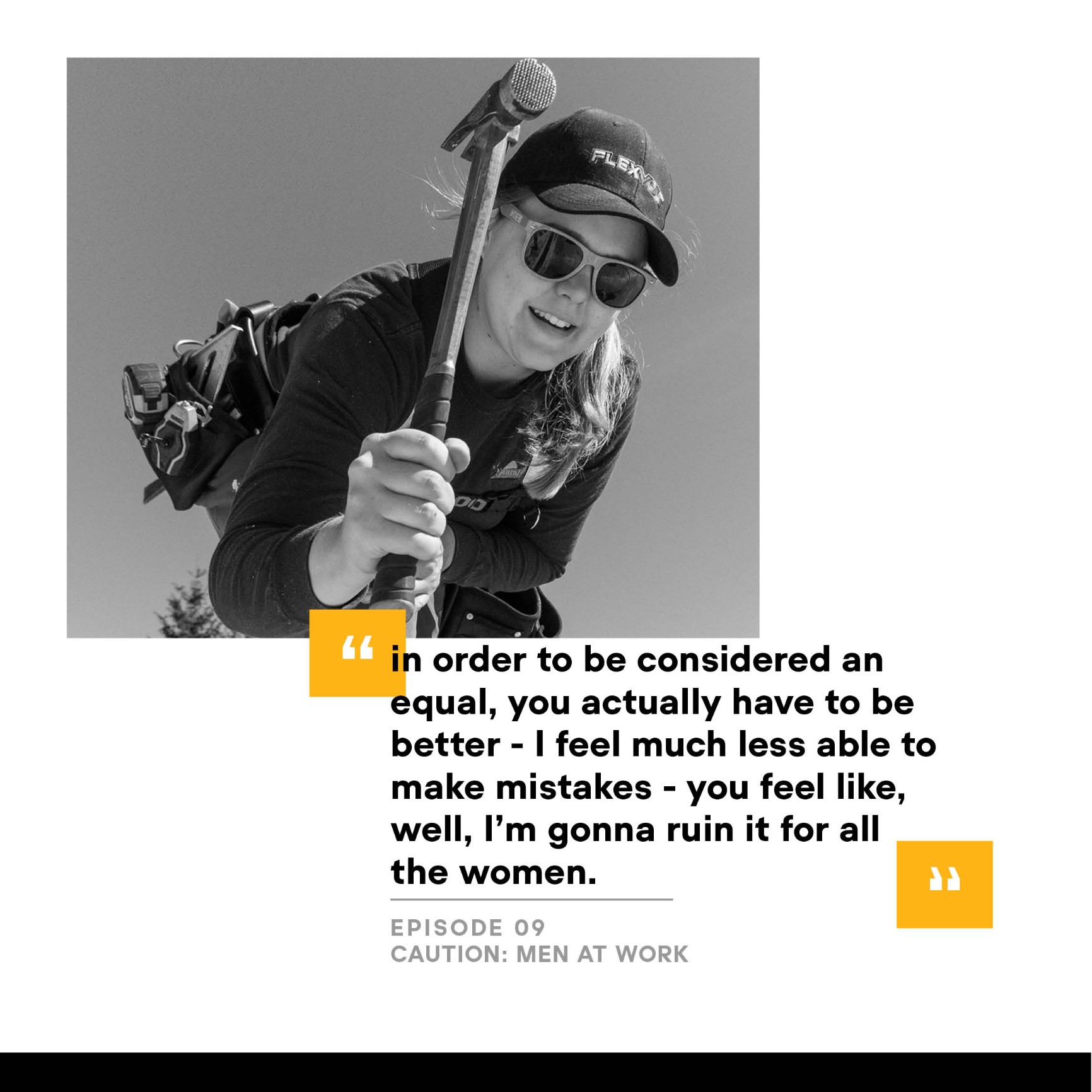 Jen Hancock:
Women make up half of, well, everyone. But they're still underrepresented in the construction industry. This is an oversight that we can't afford in a space that's already seeing a massive labour shortage. But tackling this problem isn't as simple as just inviting more women onto job sites. There's an entire culture in the construction world that is in dire need of a renovation. Abusive management styles and locker-room talk are just some of the factors that are not only keeping women away but men too.
Talking about inclusivity in the workplace isn't just a societal shift that's happened over the last few years. And it's not just a conversation, either. It's a huge part of the bottom line for organizations across all industries. Higher employee morale means lower turnover, more innovation, and even the potential to tap into new clients.
So how much longer will construction be stuck in the past? Today, I'm talking to one carpenter who's taking things into her own hands, and believes that inclusivity is changing job sites for good.
[music]
Jen Hancock:
Natasha Fritz is a carpenter, and the owner of Natural Carpentry, a Toronto-based construction company. She's calling out sexism and catcalling in the construction industry, any time she sees it, because she's experienced her fair share of industry toxicity too. If you Google her name, you'll see news articles about the clashes she's gotten into.
But despite all this, a career where she gets to work with her hands has never not been an option for Natasha. And she's doing everything she can to protect that and make it more inclusive for everyone. And it all started with a man with a workshop and a belief in her talent for carpentry—her grandfather.
[music]
Natasha Fritz:
I remember doing, like, little projects. Like I—one of the things was we made a doghouse for, like, the stuffed animal dog that I had, or like little birdhouses, and stuff like that. It was kind of, I guess, just something that was always part of my life but more so, I would say, like on the peripherals until I got a bit older.
Jen Hancock:
So from high school to college, you have spoken before about how it's kind of difficult to make trades an interesting career route for people. Can trades compete with university from the eye of someone looking to make that career path decision?
Natasha Fritz:
I think so, ah, for a lot of reasons. Ah, number one it's cheaper. Alot of the times, if you're going through like an apprenticeship, a lot of the times you're getting paid while you're working and learning. I think the other thing that's kind of undersold in the trades is that it's actually highly technical—and not just carpentry but lots of other trades. Like if you're doing gas-fitting or electrical, like, those can be highly technical, especially if you get into like industrial, electrical, or, you know, major hydronic systems and things like that. Like those are highly technical. You need to be quite good at math. You need to be great at problem-solving. So I think that it requires a higher level of intelligence than most people realize, in a lot of ways.
If you want it, there's constantly an opportunity to progress—like your skill set or your knowledge—ah, because it's a constantly changing industry. People are always trying to do new things in architecture and building, trying to push the envelope, as opposed to the sort of stagnation that, from what I hear, some people can experience in more so their like office jobs, etc.
Jen Hancock:
I would think, also, that the satisfaction you must get from looking at finished product of your work is different than if you're working an office job. Being able to tangibly see the work around you is something I would think is very cool to drive by and say, "I worked on that project. And I finished that."
Can you talk a little bit, then, about how did you get your business started?
Natasha Fritz:
It was kind of just a decision like "I'm tired of working for other people, so I'm going to do this." Which was not a great idea.
Jen Hancock:
(laughs)
Natasha Fritz:
I definitely should've thought about it more. The thing that I really didn't realize is like you're still working for other people; they're just directly your clients. It wasn't like there was less amounts of like b.s., it was just like a different type.
Jen Hancock:
Right. (laughs). When we were chatting prior to this, you mentioned that one thing you discovered along the way is that you didn't have to say "yes" to all of the work that you got—that you actually could vet some of your clients. Talk about that a little bit.
Natasha Fritz:
Yeah. That was life-changing when I finally realized that. I think that it's, honestly, quite indicative of the industry. People have all this stuff printed on their truck, being like, oh, "free quotes" and all this stuff, when, like the reality is no one should be doing free quotes. Like, we should all be charging for our quotes because it's our time.
And so some of the things that I learned were: if somebody contacts you for work, immediately give them a task. So if you were to contact me and say, "Hey, I want to rebuild my deck because it looks like crap," then I would say, "Okay. Send me some pictures of your existing deck. And if you have any inspo photos from pinterest, or instagram, or whatever, send those along as well." And then, you'd be surprised how many people won't even, like, do that one little thing of, like, sending the pictures.
And then another big thing, you actually really should discuss budgets as early as possible in that stage. It's really difficult to, like, compare what one person is pricing to another person. So instead of focusing on like competing on cost, I would just focus on, "Okay, how much can I reasonably do this job for."
Over time, I've sort of compiled a list of kind of like red flags that I've come across. There'll be certain things that people will say, or the way that they present something, and it's just like, okay, that's a red flag.
Jen Hancock:
So, I just want to shift gears for a minute and talk about gender diversity, because you are part of a really small minority in the industry being a woman. Why do you think women are so outnumbered in this industry?
Natasha Fritz:
It's a difficult industry to get started in, honestly, for anyone. Like, it is shifting and changing. When I first started, it was definitely still very much so this, like, old-school mentality, which—let's just be blunt about it—like, it is inherently a toxic work environment. It is about like shut up, get it done, don't complain, because it kinda has to be. Like, at a certain point it's like, "Yep, this sucks." Like, "This thing that we're doing is really heavy." Or like, "We're crawling into like a three-foot crawlspace." Or whatever. Like sometimes it just sucks, and you do have to just get it done; and that's it. But you don't have to do something unsafe, necessarily, to, like, get it done.
The way that most bosses, when I was coming up, would react was like angry: "I'm going to yell at you;" "I'm going to swear at you;" "I'm going to say that you're an idiot;" "I'm going to say like you suck because you're taking so long." Like minimal positive-reinforcement. Depending on who your boss was, they wouldn't even want you to ask questions. Like you're just expected to understand what they said the first time and just go and do it.
So that makes it difficult for anyone. And then throw on top of that, like, being a woman, you know, if someone is going to verbally berate you, expect that that's going to be part of it. Or people just straight up not even wanting to hire you. I remember when I was first trying to find jobs, people would ask me the weirdest questions, like "Are you planning on getting pregnant?"
Jen Hancock:
Wow.
Natasha Fritz:
Yeah. Like, "What? Is this dude that works for you, is he planning on getting someone pregnant? Did you ask him that question? No you didn't."
"How many 2x4s can you carry? Do you think you can do this? Do you think you can do that?" Like very kind of almost conditional. Like if you can do these things, and if you don't get pregnant, and if you never talk about your period, then maybe we'll consider hiring you. Whatever thing they have contrived in their mind about how you should be as a woman in the industry.
I remember, even, I had one guy tell me, just straight up told me, "I am not going to hire you for this job because you're a woman." And I was just like, "But why did you even call me back?"
Jen Hancock:
Have you noticed—in your time running your business and prior, have you noticed a change in those stereotypes, misogyny? Have you noticed a difference in that in the last, you know, in your career?
Natasha Fritz:
It's kind of hard to say. It's one of those things where would I say it's happening less to me? Probably. Is that because it's getting better? I don't know.
Jen Hancock:
Perhaps also because you're running your business, as well.
Natasha Fritz:
That was sort of my expectation. Ah, and then I remember one of the first—it might've been the first time that someone said something like really, really sexist to me after starting a business, and I got so upset. I yelled at the guy. I told him that he had to leave the site. I kicked him off this site that was not even my site. And I was like, "If you do not leave, I am leaving. And I will tell you, right now, what I am doing today is more important than what you're doing today. So you better leave." But I really, like, lost it on him—like yelling, like screaming yelling.
After he left, and I had sort of de-escalated myself, I had to go take a break. And I went and, like, cried in my van, by myself, and called my mum. Because I was upset that I got so upset. Because then I was like, "Okay, great. Like now this guy is going to leave site, and he's going to be like, 'I worked with this woman, and I said this thing to her and she was so sensitive about it, and she got so hysterical, and this is why no one should ever work with women.'" And you know, like I created this whole—this whole story in my mind, which, I mean, may or may not be true. I feel like it's probably true. This guy was probably like, "Yeah, working with women is the worst. Like, I worked with one woman, one time for a few hours, and this is what happened."
Jen Hancock:
You've said that you feel that women sometimes need to be perfect in the trades. Like almost that you—you hold yourself to a higher standard. Can you explain that?
Natasha Fritz:
Yeah. It's kinda of this thing of like in order to be considered an equal, you actually have to be better. And then the other side of that is: I feel much less able to make mistakes. You feel like, "Well, I'm going to ruin it for all the women." Like me getting upset because I got so upset, now this plumber is going to think, "Well, this is what it's like working with women in the trades." Like he's going to put all women in the trades into this box. Which is ridiculous, because they're—like he's not doing that to men that he's worked with.
Jen Hancock:
Right.
Natasha Fritz:
It's really stupid. Like it's really stupid to think that way. And it ultimately makes no sense. But it's a very difficult thing to unlearn, especially when I have been shown that, like, this is the mentality of a lot of people also within the industry.
Jen Hancock:
So what's next? Like how are we going to build more gender equity in the industry?
Natasha Fritz:
I think that the—the culture of the industry really fundamentally needs to change. I, personally, think that, like, the reason why there is such a massive labour shortage currently in the industry is because they're not getting treated that well or, like, the environment is not, like, necessarily a great working environment. Like it's very difficult to find like a solid employer. Even just, you know, when you first start out there's a lot of like razzing that'll happen.
Jen Hancock:
Right.
Natasha Fritz:
But I would say that some of it is pretty bad, like sort of like hockey locker room kind of vibe—like those kind of stories that we hear, where you're like, "That doesn't sound like a funny joke. Like, that sounds like you're abusing this other person who's—who's new."
Jen Hancock:
Right. And the attrition rate is both men and women. But then if you're a woman and you are definitely one of very few, the likelihood if there's attrition happening on both sides, it's even probably going to hit the women even harder, because you're already a minority as it is, and then throw all of that toxic work environment in.
Natasha Fritz:
Absolutely. I was actually talking to a friend of mine about this the other day. And she said the thing that probably describes it the best. So, she was speaking to this guy that's an electrician that she has worked with on a few jobs. And he was talking about how he's always having these problems with employees, etc. And she said to him, "Have you considered treating them better?" And he kind of just looked at her and like laughed, like, "Ha. Good one." And she sort of like left it.
But we were talking about it after. And she was like, "They're—it's like they're blinded by their own experience." You know, this electrician—I don't know how old this guy is, but whatever—when he started, he was treated however he was treated. And instead of looking at it and being like, "I did not enjoy that, so I'm not going to do that," he's just like, "Well, that's how I was treated, so you've got to put up with it to get to where I am in this industry, or to get to where you want to be." Like instead of looking at it from the perspective of "Hey let's—I hated that, so I'm not going to do it," it's just this idea of "Well, that's the way it is." And it's like, well, you make it the way it is.
Jen Hancock:
One thing that I think you have, that I'm hearing from you, is empathy. So you understand what you went through, and as you work in your business you were attempting to apply that and change, and add a level of leadership and professional development to your people and to how you manage your people. And if we could do anything in the industry, is to help companies think about their employees with actually a professional development plan. Providing leadership training right to the foremen, and superintendents, and people who are leaders, actually providing them leadership training, if we were to do that and change the culture—this toxic culture—that that would have a huge impact on the industry, and probably make it a safer space for both men and women. Would you agree with that?
Natasha Fritz:
Absolutely. Let's get some, like, training for harassment. And like let's just at least attempt to be politically correct. I understand it's construction, people are swearing and stuff—fine. But like let's try not to say homophobic things. Like let's just—let's just attempt that and see if it changes things. Because I think it would for sure.
[music]
Jen Hancock:
That was Natasha Fritz, carpenter and owner of Natural Carpentry. Thanks for checking out this episode with Natasha. It made a real impact on me, and I hope it did for you too.
We've got plenty more more Building Good to come, so hit the "Follow" button. And if you like what we're doing here and want to help us build good, leave a rating or a review, or just tell a friend about the show. It helps other people find us, and we love reading your reviews.
Building Good is a Vocal Fry Studios production. The executive producer is Jay Cockburn. Our associate producer is Kattie Laur, with production assistance from Jessica Loughlin. I'm Jen Hancock. Thanks for listening.
Back to podcasts