Mental health supports are load-bearing - with Dr. David Goldbloom
Date Published:
July 7, 2021
Looking after our minds is not something that's just nice to have, it's a crucial part of our occupational health. People work better when they have that support. So where do we start? Psychiatrist Dr David Goldbloom walks us through how we build good environments and good jobs that look after everyone's mental health… and it starts at home. Specifically, it starts with everyone having a home.
David Goldbloom [preview]:
In many workplaces, where people's greatest contribution comes from to their workplace is from between their ears. And we have done relatively little to protect that structure between your ears, compared to everything south of your Adam's apple.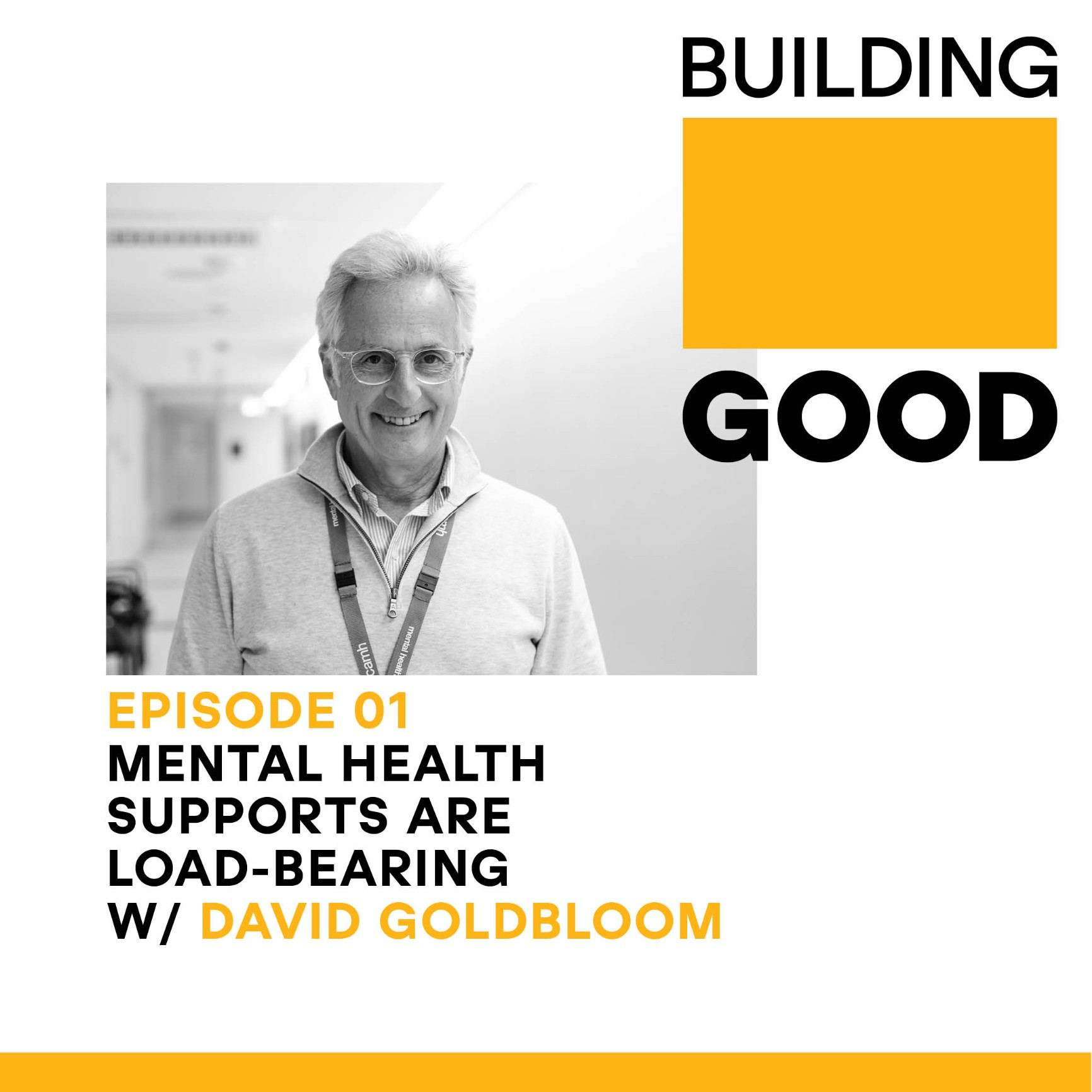 Jen Hancock:
Welcome back to Building Good. I'm Jen Hancock.
This show is about finding ways to build good. Because when it comes to driving real change, there isn't another option. It's time to build more sustainably and more inclusively.
Today, I'm focusing on building an inclusive world, because there is a group of people who are literally excluded from the spaces we build: people experiencing homelessness. It's difficult to say which comes first, homelessness or mental illness, but study after study shows that people who don't have a home are far more likely to be living with a severe mental health condition.
There are so many reasons this could be. If you don't have a safe place to sleep, if you're constantly anxious about your next meal, that could easily exacerbate a tendency towards anxiety or depression. If you have a condition that prevents you from working, making rent isn't going to be easy.
We're not just talking about that extreme end of mental health problems today, though. We also want to look at how we can build good places to work. Because for employers, adequate support isn't just a nice-to-have. Workplaces that support their employees' mental health are more productive with lower absenteeism.
There has been a huge change in the way we approach mental health, in the last couple of decades. It's something we actually talk about now. But there is still so much room for improvement. We have to look after everyone better, including ourselves. So where do we start?
Jen Hancock:
Dr. David Goldbloom thinks about mental health way more than most people. He is, after all, a psychiatrist. OK, he's a bit more than a psychiatrist. He's the Senior Medical Advisor of the Centre For Addiction and Mental Health in Toronto. He was also the Chair of the Mental Health Commission, where he worked directly with people experiencing homelessness. He's going to help us imagine a world where we look after everyone's mental health, because Dr. Goldbloom has seen, firsthand, how helping people into housing helps them recover. He also has plenty of thoughts on how the spaces and workplaces we exist in affect our own mental health.
So let's start with the spaces he existed in as a child.
David Goldbloom:
People might sometimes think that if you grow up in a family of doctors, you're going to acquire some kind of medical knowledge just by virtue of osmosis. And I really didn't. All I knew was that my father, and my uncle, and my grandfather, and my brother—all pediatricians—derived tremendous joy from their work. They looked forward to going to work each day. And that probably, more than anything else, propelled me ultimately into following a career in medicine. But then as to where I got sidetracked from medicine into psychiatry was the influence of my father-in-law, who was for many years a very influential and charismatic psychiatrist in Canadian and American psychiatry. And he was a big role model for me in finding a path into psychiatry.
Jen Hancock:
Also, you've been practicing now for 35-ish years. What's the biggest change that you've seen in how mental health is treated, from the time when you started to now?
David Goldbloom:
In some ways, the biggest cultural shift is the kind of public acknowledgement that now exists for the widespread nature of mental health problems and illnesses. People were ashamed to get help. People were embarrassed that a family member was struggling with mental illness. There was something very noble about acknowledging cancer or heart disease, and everybody would rally around the family, and run up and down the highway, or climb the CN Tower to raise money. But when it came to mental illness, both supporting the people who were struggling, and supporting their families, as well as more broadly supporting the cause was nowhere to be seen.
Jen Hancock:
I imagine this year with COVID the topic has been elevated even more. And I think each one of us has probably taken a harder look at our mental health, if we haven't prior. Is there anything you do, in particular, to look after your own mental health?
David Goldbloom:
You know, that's a great question, because, you know, doctors are notorious for giving advice to other people that they completely ignore themselves. I've been doing a lot of clinical care from the comfort of my "bat cave" in my house, where I'm currently situated. And for me, it has meant learning to establish structure when structure doesn't exist, and making sure—and this is not "rocket science"—that I get physical activity every day, just to clear my head. And suddenly I discover I'm noticing the architecture of a neighbourhood I haven't really looked at properly in the 30 years I've been living in it.
I think the other things that are helpful are: learning some new skills, whether it's a recipe, a language, an instrument, it doesn't matter what, but those things make a difference; and finding some way to feel like you're contributing, feel like you're making a difference for other people, and it doesn't have to be a big thing, it can be a small thing. One of the highlights of my week now is working in a vaccine clinic, injecting people. And it's a far cry from my normal workday as a psychiatrist, but it's so gratifying, and people are so appreciative. And it's fun.
Jen Hancock:
That's some great advice. I know, in particular, I've—the walk component was not something I was doing prior to COVID, and it's been amazing for my mental health. And now I work inside all day, and it's absolutely—I completely concur on just clearing your head, giving yourself some space, find I'm much more productive and just generally happier when I can get outside and have that walk.
David Goldbloom:
And you know, there's this myth of productivity that the longer we work the more we will get done. The reality is, you kind of get to the flat part of the curve and then you may be logging time in your workplace, or staring at your terminal, but your productivity drops way off. And part of it is the myth that you need to be always there—you need to always be answering that email, taking that call. I used to say to lawyers who I would meet with around their mental health, "Look. Nobody has on their tombstone, 'I wish I had built one more house,' 'I wish I had written one more scientific paper.'" At the end of the day, those are not the things that define you or the things that you cherish, or the things you miss.
Jen Hancock:
So Building Good is really a podcast about building a better world. So from a literal sense, about building houses, I want to talk a little bit about the impact of housing on mental health. So, you were the Chair of the Mental Health Commission. And that meant you worked directly with people experiencing homelessness. Can you talk a little bit about your thoughts on the importance of housing as part of that solution, and just maybe a little bit of context around what you saw while working with the Commission?
David Goldbloom:
Well, look. Homelessness is a national problem in Canada. It's been with us for several decades in ways that it wasn't before. And all of us who live in major urban centres are all too painfully familiar with that person huddled in a sleeping bag on top of a heating grate at a busy downtown corner.
So way back in 2008, the Government of Canada—it was just prior to the global financial crisis—was flush with money. And the Mental Health Commission of Canada had been established a year earlier. And the government gave the Mental Health Commission of Canada a large amount of money—exactly $110 million—in one cheque, to conduct the largest study in the world on helping people who were homeless in the context of mental illness. This groundbreaking internationally-acclaimed study was run in five Canadian cities: Vancouver, Winnipeg, Toronto, Montreal, and Moncton. And it was testing out the idea that providing people who were homeless and mentally ill with immediate access to good quality, furnished, and supported housing would make a big difference—around the idea, you can't treat someone who is suffering from mental illness while they're sleeping on a grate.
And indeed, in this study, over 2,000 Canadians, homeless and mentally ill—the average duration of homelessness was 5 years prior to coming into the study—were randomly assigned to either, what's called, Housing First—housing before you do anything else—versus Treatment As Usual. And sad to say, Treatment As Usual is often a triangle between shelters, hospitals, and jails. And so, what the study demonstrated is that a Housing First initiative makes a palpable difference.
Jen Hancock:
When you talk about the intersection, there, of like hospitals and jails. And the cost of homelessness: there's a personal for the actual person; and then there's a real economic argument.
David Goldbloom:
There is a total economic argument then. I had the good fortune, once I became Chair of the Mental Health Commission, to meet with the then federal Finance Minister Jim Flaherty—the late Jim Flaherty—as he was preparing the Spring Budget in 2013. And at that point we had interim results from the homelessness project. And the results were quite clear that investing in homelessness, rent subsidies, and supports, it actually saved money. And that was all a Finance Minister needed to hear to then add another $600 million to the Homelessness Partnering Strategy. So this was a chance not only to do the right thing from a kind of social justice point of view, but it was to do the smart thing from an economic point of view.
Putting the dollars aside, there were two points of impact that really were quite moving for me. One of them was the occasions when participants in this study invited me into their new homes. And these were modest apartments where they had the dignity of a roof over their heads, a door that locked behind them, a kitchen, a bedroom, all those things. And what I saw was tremendous pride in what they had. So that's a win that's very hard to put a pricetag on.
Jen Hancock:
One of the important parts about that Housing First approach is that people have the ability then to work on whatever mental health issues they have to deal with. When you—if you're fighting for your just basic survival needs, you can't even deal with the mental health component of as a person. Right?
David Goldbloom:
And you know, the old way of thinking was, "Well, you have to commit to treatment. You have to abstain from drugs and alcohol. And then we can start to explore housing." And that study turned things on their head and saw that housing people led to better engagement in treatment services.
Jen Hancock:
When we think about providing more affordable housing for all sorts of families and people across the country, do you have any thoughts on what housing looks like from an ideal standpoint? From a mental health perspective, what should it look like? Do you have any thoughts on density, and just amenities and spaces, what you might have access to?
David Goldbloom:
Well you know, it's very interesting. At the Centre For Addiction and Mental Health, where I work, we spent a long period of time consulting with patients, with families, and with our surrounding neighbourhood when we underwent a massive redevelopment of a property that is 28 acres of downtown Toronto. And it's surrounded on all four sides by a residential neighbourhood. So we wanted to be able to integrate into our neighbourhood, architecturally but also socially. Because all too often there have been asylums or mental health institutions in various Canadian cities that are kind of walled off from the community; they're sort of dark and forboding places.
What we heard from patients and families about the architectural design was the need: to create home-like environments in what is still a hospital; to optimize access to fresh air and natural light. And those were some pretty key emphases in promoting dignity through architecture. It's not about building these super-highrises where people feel they're just in a cubicle. So you can be quite creative, architecturally, about creating unique and home-like environments. And we made sure that we preserved a lot of green space for people, and accessibility most broadly.
Jen Hancock:
There have been studies done that show, from just a health and healing standpoint, that patients who have access to just looking out a window and seeing trees—even if it was a fake setting—versus just having no window, there is noticeable difference in their healing times. And you know, your comment around access to fresh air and light, you know, the new building standards—WELL Standard and LEED—they speak to that all people need access to light and fresh air. It's important for all of our mental health, productivity, just general happiness.
David Goldbloom:
Well, in fact, with our newest hospital buildings, the architects have built in patios where people, on the sixth floor, the seventh floor, can go out for fresh air safely on a glassed-in patio with lots of fresh air. And that's really welcomed by our patients.
Jen Hancock:
It actually makes me think, just talking about this, going forward when we build affordable housing and we think about some of these units, we need to be looking at the density and finding the right balance, and we need to be looking at equitable access to green space for just general health and happiness.
David Goldbloom:
And I think also, you know, thinking about these housing initiatives as social networks, thinking about common space that is available for social engagement, for sports, but also for building a sense of community. Sometimes there may be resource centres where people who cannot afford things like computers can have access, much as you would in a library.
Jen Hancock:
So just thinking about, you know, most companies, we often talk about health but we talk about it from a company standpoint—it's relative to occupational health and safety. And many companies really focus on the safety component of that. Why should companies be thinking about the mental health piece of that conversation, which isn't often the focus of that occupational health and safety?
David Goldbloom:
Sure. And look, occupational health probably had its start in the Triangle Shirtwaist fire at the beginning of the last century, in New York city, where garment workers were killed. And so we started thinking about fire as an occupational health issue. And then we progressed to steel-toed boots, and helmets, and hernia trusses. But the reality is, in many workplaces, where people's greatest contribution comes from to their workplace is from between their ears. And we have done relatively little to protect that structure between your ears, compared to everything south of your Adam's apple. So I think the time is ripe to invest more in psychological health and wellbeing in the workplace. And once again the payoff is palpable.
Jen Hancock:
What's really been changing, I guess, is we've seen in the last probably 15 years the increase of electronics—so people attached to work because their emails are on all the time.
David Goldbloom:
You know, 2014 was a crucial year, Jen, because that's the year the number of smartphones surpassed the number of people on Earth. Look, these are not going away. These are tremendous tools. These give us all kinds of benefits. And we are at risk of becoming like lab rats in an experiment, responding to bells and other cues to get our "hit," our reward. And it creates a culture of immediacy. So somebody doesn't answer your text in 10 minutes, and you send them an email saying, "Did you get my text?" Or you call them. We use multiple formats in order to try to connect with one another.
I am not an advocate for throwing away your smartphone—far from it, I need it, I rely on it—but I also know that it has an "off" button. Because it disrupts our ability to focus and concentrate on a task at hand. And is it the last thing you look at at night and the first thing you look at in the morning? Do you get emails that have a timestamp of "2:30am"? And the answer is probably "yes." Why are we doing that?
So you have to build artificial walls. And that includes a wall between you and your device. I've had some patients surrender their phones to their partners for the evening, and have their partners put it away somewhere and not tell my patient where it is, until the morning. And you know, nothing bad happens, except that in that moment…. In fact, a patient who I saw yesterday told me her partner tells her that she is so much more present in their interaction in the evening when she's not glancing down at her phone or they both hear the vibrate sound and she feels urged to check.
Jen Hancock:
I'm interested. So you have now authored two books—one of them you co-authored and one you authored on your own. The first one you co-authored, it was called How Can I Help? A Week in My Life as a Psychiatrist. And then you just have recently released We Can Do Better: Urgent Innovations to Improve Mental Health. What was your primary motivator for writing the book, and what were you really hoping to pass along to those reading—and they're both different but?
David Goldbloom:
Yes, they're very different. The first book, that came out five years ago, was really taking people through one week of my professional life as a psychiatrist. Because I think we have a lot of misconceptions about what psychiatrists do, what they're like, as well as what people with psychiatric illness are like. And I also wanted to show the interplay between a week in my personal life and a week in my professional life. So lots of things happen in the six days covered by that book.
It was also an opportunity to try to teach a little bit about what mental illness is like in its various forms, what our treatments are like, and what the impact on a person is like of working with people with psychiatric illness. And you know, it seemed to have struck a fairly responsive chord, but, like so many Canadians, I know from personal as well as professional experience that our mental health system, as it is now, doesn't adequately meet the needs of Canadians.
Because I work in an academic teaching hospital, I get to see what's coming around the corner in terms of research and innovation. And I thought, "Well, wouldn't it be hopeful or uplifting for people to learn that there are really promising innovations, not for a generation from now but for a couple of years from now, that might serve to give people confidence and hope that the system will be better, because they already know it must be better?" And that really was the springboard for writing the book.
And I started to write it before the pandemic. I had no idea the pandemic was going to hit us. And while the pandemic has, I think, accentuated our awareness of mental health problems and illnesses, we were in a jam before the pandemic.
Jen Hancock:
So if I was to say, "Who should read your book?" Anyone should read your book; everyone should read your books.
David Goldbloom:
Well, put it this way. One in five Canadians, every year, experiences some form of mental illness or substance use. What that means is the real number of people affected in Canada every year is one in one. Because each one of us knows somebody in our orbit—whether it's our family, our friends, our work colleagues, our neighbourhood, our school—knows somebody who has struggled. And each one of us should want things to be better than they are now.
Jen Hancock:
And I think that's been one of the problems up to now is the empathy to connect with people who experience mental illness and addictions. It's been probably easy for people to sort of put that over there and not actually have a connection with it and understand it. And it is that ability to experience empathy that helps us make, you know, significant changes in the space.
David Goldbloom:
You know, the important point to make is that they—"they" being the mentally ill—are us. Our brother, our sister, aunt, uncle, parent, grandparent, child, spouse, self. To me, that's what makes it relevant. And you know, that's ironic in the time of COVID that we've been talking about social distance, which is a complete misnomer. It's the wrong term. The right term is "physical distance." And the thing that needs to go along with physical distance is social connection.
The term "social distance" was created many years ago, by sociologists, to refer to how little you'd like to be with somebody. So they would ask people, "How willing would you be to have someone in your family marry somebody with a mental illness? How willing would you be to have a family doctor with a mental illness? How willing would you be to have a landscaper with a mental illness?" And what's amazing is about a third of Canadians said they would be unwilling to have a landscaper with a mental illness. And you have to wonder what kind of screening do you do for the person who's laying out sod on your front lawn. Are you really screening for mental illness?
And that tells you how fearful people are of mental illness. And you know, I don't think the fear is exclusively around the idea that, "Well, you know, he might attack me." It's not that. I think the real issue is that mental illness feels like a threat to who we are. Because if you break your leg you're still you. If your mind is not working properly, if your brain is broken, are you still you in terms of how you see yourself and how others see you?
Jen Hancock:
So in terms of like thinking about all that, and you mentioned access, do you have some thoughts on policy-level stuff around what employers and governments actually could and should be doing for improving access to care?
David Goldbloom:
Well, I think they're quite separate: governments and employers. But the good news is there's room for everybody in this exercise. And people in government have control of different levers than people in the workplace.
But, you know, we went to a lot of work at the Mental Health Commission of Canada to create the world's first-ever set of standards for psychological health and safety in the Canadian workplace. And these have been hailed internationally as the world's leading standards for psychological health and safety.
They were created for free in Canada by the work of the Commission. They're available for free to any organization. And in terms of implementation, they've been implemented in organizations as small as 11 lawyers working in a law firm to organizations of 100,000 people working in a regional health authority, and everything in between. And there are freely available manuals about how to create not only the policy and procedure, which are important, but also the leadership and the culture change that's required for organizations to implement this in a meaningful way in their workplace. Every organization, every employer, needs to be asking, "Are we implementing these standards? And if not, why not?"
Jen Hancock:
So as an employer, no need to wait for anyone to mandate you to do it. Get going. There's resources out there. And did you have any comment on the government policy side? Is there anything you'd like to see changed there?
David Goldbloom:
Oh, sure. That would be an almost entire separate podcast. But, Jen, we called for the government to increase the percentage of its health spending that goes to mental health from seven per cent to nine per cent. We underspend on mental health, compared to the United Kingdom or Australia. And we underspend compared to the burden that mental health places financially on our society. So increasing the spending and then looking to innovative strategies, some of which I outline in the book, to improve both access and care.
Jen Hancock:
That was Dr. David Goldbloom, a professor of psychiatry at the University of Toronto, Senior Medical Advisor of the Centre For Addiction and Mental Health, and a practicing psychiatric consultant.
Thanks so much for spending half-an-hour with us here at Building Good. We'd love it if you could leave us a rating, a review, or hit the "Follow" button so you can stick around while we try to build a better world and maybe help a few other people join us too.
Building Good is a Vocal Fry Studios production. The executive producer is Jay Cockburn. Our associate producer is Kattie Laur, with production assistance from Jessica Loughlin. I'm Jen Hancock. Thanks for listening.
[music]
Back to podcasts