The future is battery powered- with Annette Verschuren
Date Published:
August 18, 2021
A lot of renewable energy sources, such as wind and solar, depend on the weather, making their power output fluctuate. We need to store energy at times of high output. That's where Annette Verschuren's company NRStore comes in. They're providing energy storage solutions (aka batteries) across Canada, and even installing microgrids in remote, fly-in locations. Annette is a true leader in sustainable power, so she knows that working with Indigenous communities is the best way to overhaul the energy grid in Canada, and that's what we're talking about with her. 
Annette Verschuren [preview]:
Number 92 of the recommendations on the Truth and Reconciliation Commission says the private sector really needs to develop a business relationship with the indigenous peoples. And I think this is an evolution. This is something that is stronger than just saying at the end of your project, "Oh, by the way, we're looking for Indigenous partners." That doesn't work.
Jen Hancock:
This is Building Good. I'm Jen Hancock.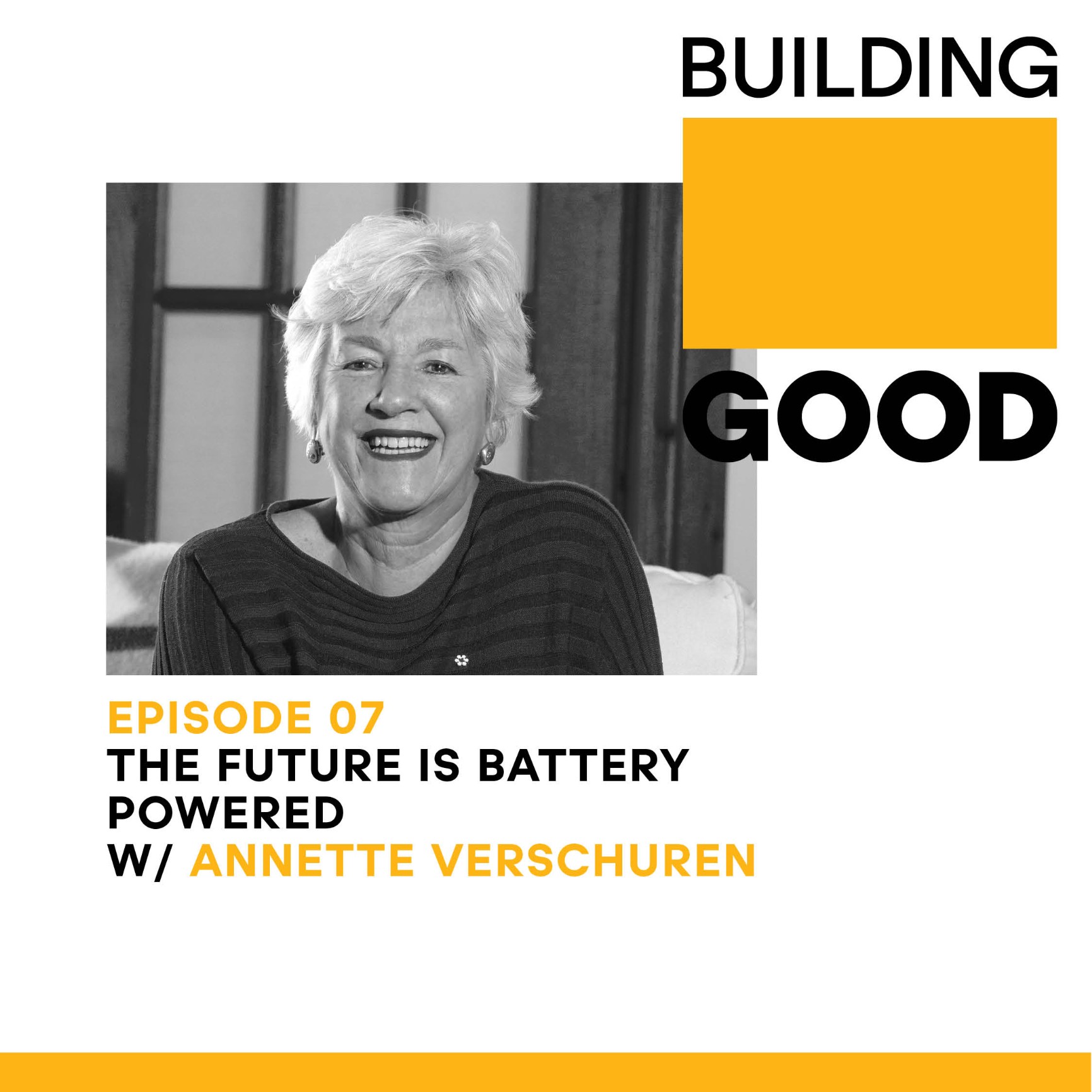 Jen Hancock:
Early this year, the entire state of Texas went through a major power crisis. As a result of severe winter storms, the entire state went black for two weeks. With a looming climate crisis, there's never been more pressure on our power systems. They just aren't cutting it anymore. It's not just Texas that suffers from a creaking power grid. California has similar problems. And Portland had to suspend streetcar service for a few days.
We need sustainable energy solutions that not only keep CO2 out of our air but also keep life going. Building entirely new power grids for major cities is one thing. And what about remote communities, who have been relying on diesel generators for decades? All this new energy infrastructure, from grids to storage, across North America—let's not forget it's being built on indigenous land. So in our efforts to protect the planet, and life as we know it, where do we start?
I'm talking to a CEO who's got an idea. And she's showing the world what it means to truly be a leader in sustainability.
[music]
Jen Hancock:
Annette Verschuren is the President and CEO at NRStor, an energy storage organization that is partnering with indigenous communities across the country to create sustainable energy solutions, and help Canada meet its 2050 targets. But Annette's story doesn't start here. If I ran through all her accolades, you'd be listening to this podcast for a while. Her history in leadership includes household names, like Michaels Crafts of Canada and Home Depot. What's really notable here is that, in both, Annette was also leading sustainability initiatives.
Today, she's guiding NRStor as they build energy storage facilities across Canada. They even built a community micro-grid in Arviat, Nunavut, a remote community accessible only by plane and barge. It's preventing more than 160,000 tons of CO2 emissions over the next 20 years. All of this has culminated in an unwavering quest to do more for the world. And with NRStor, Annette is creating a sustainable energy overhaul across the country but knows she needs indigenous support to do it right.
[music]
Annette Verschuren:
I saw, even when I was in the coal company, that (laughs) my mother would put out her sheets—white sheets and then in the evening when she took them down they'd be pink, and so I saw that it wasn't sustainable. I always believed in sustainability. My father, he was the first dairy farmer that spread manure on the land. So he replaced fertilizer, right? He was very driven by sustainabilities. Even when I was with Michaels. And in those years at Home Depot, I was a leader in sustainable development, and I chaired the first environmental committee. I convinced all our wood processers to get third-party certification, so that we could manage our woodlands better around the world. And I was always intuitively driven by caring about the planet, caring about what we're taking from the planet. And I—I really have always thought that the most successful companies are those companies that move harder on the environment, recognize that this is a circular economy.
And so finally the—the world's catching up with me (laughing) even though I've been in business over 40 years. But I'm finally seeing that the things that I've wanted and believed in and, you know, have been driven by are happening, in a very substantial way. And can you imagine, coming from coal to energy storage? I mean, think of that for a moment. And I was always fascinated by energy. But it wasn't until, you know, when I left Home Depot, I went around the world with my husband. And we went to 17 countries—many of them were developing countries. And so I saw water, food, and energy: the big issues that need to be solved in the world. And that's why I chose energy. I just said, "Look. You know, I can make an impact. I believe with the business experience that I have, I can build a company and really make an impact." And so that's what my team and I are doing at NRStor.
Jen Hancock:
Is there an interesting, cool project that NRStor is working on right now that gets you excited?
Annette Verschuren:
There's so many. There's so many. Well, we're working on one of the biggest projects in the world. It's a big 250-megawatt battery storage facility in Ontario. My partner is Six Nations of the Grand River. Matt Jamieson is the CEO of the development company there. Mark Hill is the Chief. And I'm really excited because it is a 50-50 partnership with a great indigenous partner. And it'll really modernize the grid and really introduce storage in a big way—to stabilize, to take that renewable energy that we're wasting now and curtailing, and using it, and storing it, and putting it on the grid when it's needed.
And I love the relationship we have with Six Nations of the Grand River. It started over three years ago. And we sat down—Matt, and I, and my team—and we said, "Look. We're going to do this differently. We want you at the decision-making table with us." He has made all the decisions with us, right through the whole development stage here. And he has also contributed to the development costs. So he's a true partner, right?
I'm very influenced by—I had the privilege of spending some time with Murray Sinclair, but—number 92 of the recommendations on the Truth and Reconciliation Commission says the private sector really needs to develop a business relationship with the indigenous peoples. And I think this is an evolution. This is something that is stronger than just saying at the end of your project, "Oh, by the way, we're looking for indigenous partners." That doesn't work. This project will put money into this community all the time that it's operating. It will allow the independence that the indigenous peoples across this country need. A true partnership is what I would describe this is. So that's a really cool project.
So, there are all kinds of interesting projects that we work on. Another one is that we're working to build a micro-grid in Arviat. Arviat is in Nunavut, and 2,500 people. You go in these communities and these diesel generators are in the middle of the town, the kids are playing around them, they're breathing the stuff. This is terrible. So we have to get off diesel. And so this micro-grid, which would be a combination wind-solar and battery technology, will take—will reduce the diesel generation by 50 per cent. Not there 100 per cent yet but, ah, these are projects that are important to our country, important to the world. That's some of the great work that NRStor is doing.
And the other interesting piece is that we're in the residential business. And so, we have—we distribute the Tesla Powerwall. And so we're helping small commercial companies, we're helping individuals, we're helping utilities now put these Powerwalls into areas that are difficult, that have challenges, when there are weather patterns that are—that are problems. And—and we'll use them as storage.
Jen Hancock:
Just on the Powerwall piece, what uptake is happening right now in that space? It's probably slow. What do you see coming down the line for, like, something like that in residential and maybe smaller commercial applications? If you had your crystal ball what would you see?
Annette Verschuren:
It's going to be big. People are wanting to control their power. People are wanting to get renewable power. I see enormous growth on the rooftops of Canada having a combination solar panels and battery technology. It's happening, right? It's happening. And—and part of the challenges is the grids aren't ready to receive some of this. But it's changing quickly. I just see an enormous demand. I see all farms, all small commercial operations really getting a lot of their energy from wind and—and solar power. And the way to maximize that performance is through battery technology.
So people are demanding it. You know, and I see that, as electric vehicles come on-stream too, I see that becoming a storage facility for—for solar energy. And so it's—it's all a little complicated but there are all kinds of innovation happening to solve for all these problems. But this is going to be big market.
Jen Hancock:
Yeah. I was going to say the electric vehicles, just we see all of the companies making the commitments. You can't have a bunch of electrification of vehicles and then not have, you know, solar to support. But the battery piece is a—is a…. And cars can function in as part of the battery solution but you will need more than that. So it all really ties together.
Annette Verschuren:
No, it really does tie together. And so one of the big challenges: people that operate electric vehicles want to buy clean energy too. Right? I think utilities are going to start to make that available. Now Canada, 80 per cent of its energy produced through electrification but electrification is going to expand. You know, like think of what all what we're talking about here. You've got to have an electric grid. Then the electric grid will supply the energy to manufacturing, to steel-making, to like to all these industries. And it's just…. And then transportation is enormous too. And hydrogen will play a role, as well, in some of these areas. But ah, it's all happening now. And it's all being planned for. In order for us to meet our 2050 targets, oh my god, there has to be an enormous (inaudible).
Jen Hancock:
So much work, yes. Yeah.
Annette Verschuren:
So much. Yeah.
Jen Hancock:
And interestingly, just as you were speaking, I was thinking that the importance of diversity within business, so that we have the most kind of creativity and innovation but diversity on the power grid or any—many, it's equally as important that we have diversity there, from a diversity of kind of power sources, so that that is the stabilizing factor there.
Annette Verschuren:
Yeah. Jen, I'm seeing what they call that "distributed energy," right? You know, an example I often use: Puerto Rico went down, and that whole system was a centralized system. Right? And the whole island went down, for a year.
Jen Hancock:
Yeah.
Annette Verschuren:
Can you imagine if they had three or four units—micro-grids etc.? That wouldn't have happened, right? It wouldn't have happened in such a disastrous way as it did. So I think places like Texas, everybody is looking at their overall capacity, how they can respond to, you know, these terrible weather patterns. And the way to do that is to not depend so much on a central facility. Broaden that distributed energy sources from, ah, different places. And—and you're going to see a lot more of that. Diversity in electricity is going to be big.
Jen Hancock:
So, I want to talk a little bit about your leadership. You have some very prominent leadership roles—from kicking off Michaels across Canada, to moving to Home Depot and expanding that from, I don't remember how many stores.
Annette Verschuren:
Yeah, 19 to 179, and $600 million in sales to $6 billion in sales.
Jen Hancock:
Amazing.
Annette Verschuren:
Yep.
Jen Hancock:
Amazing.
Annette Verschuren:
And what a—what a ride that was.
Jen Hancock:
Yeah. So that leadership drive and your work there, how do you think your leadership style, over the years—because you've been in leadership roles actually for a lot of your career—how have you seen that evolve over time, for yourself?
Annette Verschuren:
Look. My success has everything to do with creating an environment where leaders can lead. I'm a grower of leaders; that's what I am. And I'm clear; my teams are clear on where our companies are going and how they can participate and engage into the direction of this company. I built this company for profit and for purpose. Right? And I'll tell you, the people that are attracted to this organization are so dedicated. The—the purpose is bigger. The purpose is bigger. Ah, and we—we're going to make money and we're going to be very successful. And that's important. But also it's also important to really do bigger things—bigger things than just short-term profits.
And you know what I love? I love working with the indigenous peoples. I've worked with the Mi'kmaq here, ah, in my home of Cape Breton—U'nama'kik—for many, many, ah, years. And they look at things in a longer term. And so when I sit down with Matt, he cares about how to, at the end of the time that our battery facility is complete, how we manage those cells, how we reclaim that property—all things that I think are extraordinarily important that are sort of maybe not front thoughts but afterthoughts.
I see things happen before they happen. You know, sometimes, and I think in 2012, I started NRStor and I was a little bit early. And so, you know, we—we are technology-agnostic too. What I didn't tell you, Jen, is that we have a flywheel facility that works really well with the ISO. We built out a compressed-air facility…
Jen Hancock:
Oh, interesting.
Annette Verschuren:
… on top of a salt cavern. Longer duration energy storage. And so we…. And we've dealt with battery technologies. And so we're—we are working on many different approaches to storage, right? Different technologies, different approaches. Right way, lithium-ion battery is probably the most cost-effective and most ready. It's—it's competitive with gas plants today, probably cheaper and cleaner. You know, I think the timing is right. But I—I always go in a bit early (laughs). And it's like, I guess, surfing. You know, you start really far out there, you see a little ripple of a wave, and then…. So we're just trying to keep up with this wave. And ah, so it's the timing is right.
And we have a lot of knowledge. We have nine years of experience, where we made mistakes. And having that opportunity has just been terrific.
Jen Hancock:
So your book—you wrote a book called Bet On Me. That's something you speak about in your book, about the importance of mistakes and actually taking action instead of planning for perfection because otherwise you will never get anything done. You speak about, in there, great leaders don't fixate on being bad or good, they focus on getting better. But do you want to talk a little bit about how that—that seems like a something that you figured out in your career and has been a huge piece of your success?
Annette Verschuren:
So, Jen, let's take Home Depot. I was there for 15 years. And when I started, I started with a company that was $600 million in sales and was 4,500 people. When I left it was $6 billion in sales and it was 28,000 people. You have to reinvent yourself as a leader about six times during that era. And most people don't survive, ah, that growth. And the reason I survived that growth is that I constantly look to self-develop myself. I just never thought I was better than anybody else—to be brutally honest. And that's been a big advantage that I had. And—and I'm not. I—I think I can learn more from a 20-year-old or a park attendant than I can, in some cases, of other CEOs. So I—I'm a person that really gets engaged with the people around me. And I get out of them good information, good ways to become a better leader.
Jen Hancock:
And it's how you make progress. And it's how you've made progress in so many spaces in your life. From your time in your career, you've seen positive change in gender diversity, but we're nowhere near there yet.
Annette Verschuren:
Absolutely, Jen. And a lot of it's unconscious. But I'll tell you, it's being called out more. ESG, which is the environment, social, and governance issues on boards, that used to be the bottom of the agenda. Let me tell you, it has changed to the top of the agenda. And you know, when investors make investment decisions based upon the, ah, diversity of a board or of the senior leadership team—and that's what's happening now—it's going to go faster, Jen. And it's the institutions that need to change to adapt to this new customer of theirs. And we women are different.
Jen Hancock:
Yeah.
Annette Verschuren:
It's a—it's a different world. Different world.
Jen Hancock:
Yeah.
Annette Verschuren:
You know, Black Lives Matter, this indigenous situation in our country and the residential….
Jen Hancock:
Yeah.
Annette Verschuren:
Like people are just, "It's time."
Jen Hancock:
Yeah, it is time.
Annette Verschuren:
We're not going to wait anymore.
Jen Hancock:
No.
Annette Verschuren:
And we're not going to wait anymore.
Jen Hancock:
So as we are looking to create this more inclusive space for everybody, in the workforce and the world, what do you think will be key for future leaders?
Annette Verschuren:
I think the thing that will be key for future leaders is innovation in how to manage workforces, innovation in how to respond to under-represented needs of your organization. I truly believe diversity of thought around any decision-making table really does make a difference. You know, every board that I'm on, I've always been the first woman on the board, pretty well. And then there are two, then there are three, then there are four. And you know what? The whole filter system changes, right? The whole—it's more inclusive and it's more engaged. And you know, the pandemic has really got people to think about how they need to move forward. And—and it's going to introduce a lot more innovation. So, there's a lot of innovation happening in technology. And you can talk a lot about IT and all those emerging markets, but I think the innovation happening in how companies are run, I am in my element.
I'm at a point where I actually am running a company the way I really think it should be run. All the employees in my company are shareholders.
Jen Hancock:
Yeah.
Annette Verschuren:
And it's very exciting.
Jen Hancock:
That's amazing. It's funny, I was going to ask you about your transition from, you know, coal to now the work you're doing and that, you know, if your personal purpose has changed. What I'm hearing from you is you kind of you've had purpose and leadership, and in sustainability, threaded through your whole life, but what seems like now is you've actually landed. NRStor is sort of like the culmination of all those things, concentrated, where you were able to do work in those spaces—with your companies and careers—that you've really concentrated that here. Do you think purpose—personal purpose in your work, how important is that?
Annette Verschuren:
Look. I—I say to people now that I am in like, I'm in heaven. I'm at a place where all of my life I've worked to be. All of my life I've worked to really work with indigenous people, to really produce things for a planet that is improving it, to genuinely, you know, run the company the way I think it should be run. I am the major shareholder of NRStor. And so it is so cool to be at this space, this point in time, during this opportunity on our planet. I'm—I'm in heaven.
[music]
Jen Hancock:
That was Annette Verschuren, President and CEO at NRStor.
Thanks so much for listening to my conversation with Annette. I hope it gave you a bright vision for our future, as much as it did for me.
We've got plenty more more Building Good to come, so hit the "Follow" button. And if you like what we're doing here and want to help us build good, leave a rating or a review, or just tell a friend about the show. It helps other people find us, and we love reading your reviews.
Building Good is a Vocal Fry Studios production. The executive producer is Jay Cockburn. Our associate producer is Kattie Laur, with production assistance from Jessica Loughlin. I'm Jen Hancock. Thanks for listening.
[music]
[end of transcript]
Back to podcasts