The polymath's view of architecture- with Anthony Fieldman
Date Published:
August 10, 2021
Architecture is an intersection of art and science, but the art isn't just in a beautiful facade. The real artwork in architecture is in the space between. It's the experience, the livability and now, importantly, the sustainability of a space. Thinking in this way requires a creative mind, and the best of those minds are more than just architects - they are polymaths. Anthony Fieldman is a partner and architect at DIALOG, but he views his role as much more than that. He is someone who takes a broader, holistic approach to Architecture, so we're speaking to him about the nature of creativity and architecture's potential as a force for good.
Anthony Fieldman [preview]:
One of the oddest things to me about our profession is that we fill out time cards. Creativity has never followed a clock.
Tim Coldwell:
This is Building Good. I'm Tim Coldwell.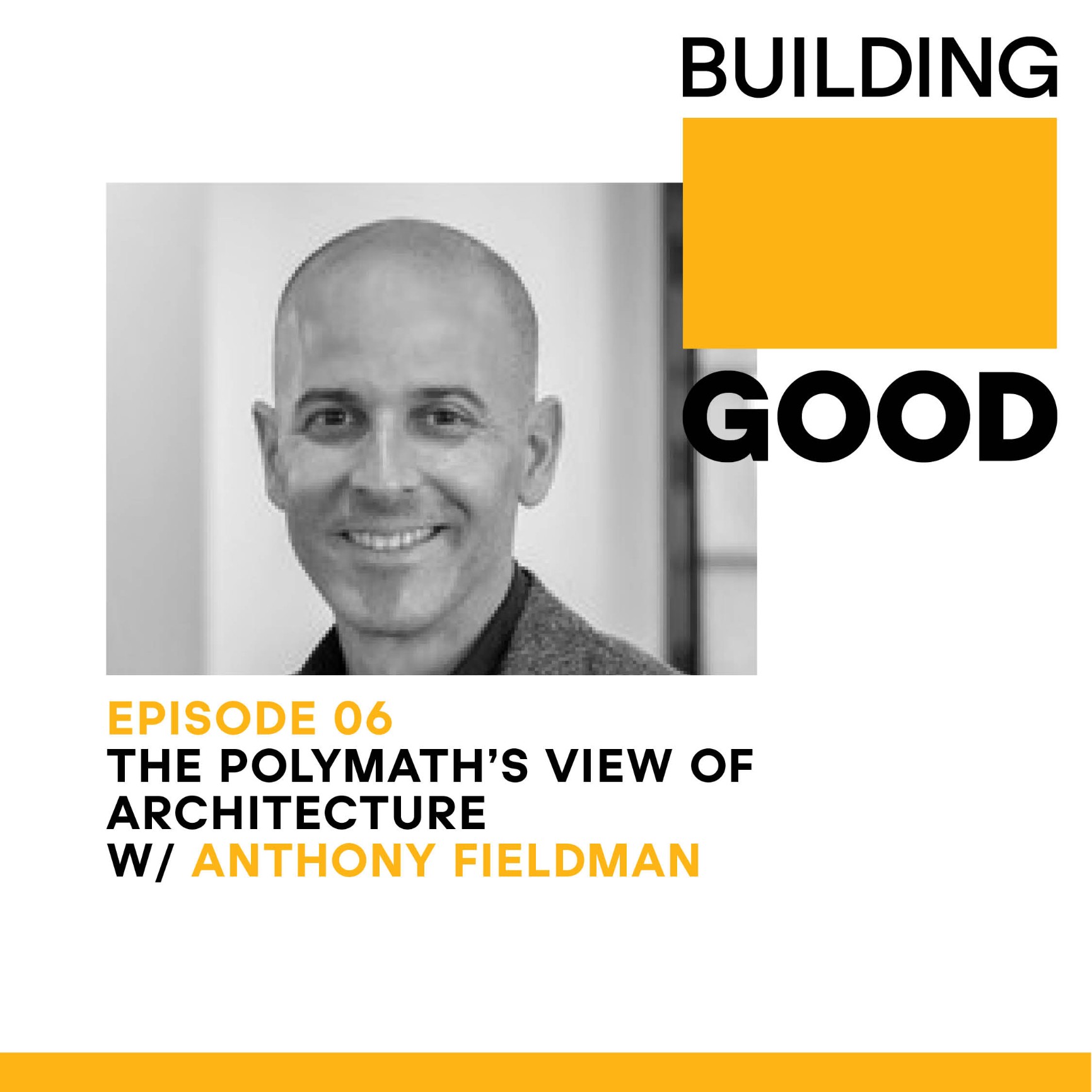 Tim Coldwell:
What is it that really makes a creative? Is it a knack for thinking outside of the box? Or maybe it's someone overflowing with ideas. But what if it's someone who's got a critical eye on the world, as we know it, and how we move through it. Creativity in architecture doesn't just look like a beautiful building. It's how a space feels. It's about creating something that people enjoy existing in and moving through. And good architecture isn't something we really notice; it fits seamlessly into our lives. We move in and out of it without a second thought.
And now architecture has had to assume a new responsibility: protecting humanity from our own wastefulness. Cities are bringing in ever more ambitious green building standards. So architects are being asked to get critical and to get creative.
So today we're talking to one architect with one incredibly creative mind.
[music]
Tim Coldwell:
Anthony Fieldman calls himself an art school kid and a polymath. He sees the world as a place full of opportunity and a place for humankind to continuously evolve. That's what he brings to his architecture.
Over the last 30 years, Anthony has become more than an esteemed architect. He has earned a reputation for looking past social norms and focusing on what's possible, through a design lens. And that's led him to winning 50 international design awards, seeing his photograph exhibited and published numerous times, and authoring multiple books and articles. Anthony sees his role as more than just an architect; he sees a huge amount of value in having broad knowledge across multiple fields.
[music]
Anthony Fieldman:
Architecture is one of those things that stitches the sciences and the arts. Right? There's this interesting shift in what architects were from the very first 'til about the Industrial Revolution in which this term "master builder" used to refer to, essentially, a jack-of-all-trades—somebody who knew a little bit about enough things that they could connect the threads between related but distinct skill sets.
That broad training really is the hallmark of polymaths, who are people that, by definition, are trained in multiple fields. The promise of the polymath is actually that you make lateral connections between even perhaps unrelated things in order to come up with new ways of seeing old problems. And I think the hallmark of creativity really resides in the breadth—that horizontal breadth—or polymathic thinking than it does in deep expertise. And that's not to knock expertise—because expertise has gotten us very far in a lot of fields—but expertise is a deepening of something that, almost by default, ends up with us turning our backs on, or excluding, things that are lateral to it in pursuit of this deep expertise. So I think expertise has a place in architecture but not as a driver of creativity.
Tim Coldwell:
I'm definitely a dot-connecter and kind of a voracious reader in lots of different interests and hobbies and stuff like that. So I've always found that the ability to connect the dots on two seemingly disparate things is there's value there. Seth Godin does this great riff on kind of the resistance and the creative process, and kind of overcoming a writer's block, and those sorts of things. Is there a parallel, or an analogy, in the creative process of architecture? Is there like you're stuck and you're trying to figure out what the solution is, and you've got to work at it? Or does it come?
Anthony Fieldman:
Well, one of the oddest things to me about our profession is that we fill out time cards. Creativity has never followed a clock. Creativity comes out of left field and, frankly, it's instantaneous. Right? An inspiration hits, an idea. You know, a friend of mine, Jamie Wheal, who wrote a book Stealing Fire, is really one of the world's foremost expert in flow state, where you are fully engaged in what you're doing and kind of in that "sweet spot" or "the zone"—there are all sorts of words for it. And the only thing we can do, other than cross-training your brain and broadening your exposure to things that could come in sideways and help unlock you if you're stuck, is to really practice what it is that puts you in flow state. Right?
Tim Coldwell:
Yeah.
Anthony Fieldman:
Because when you're in flow state, you are at your best insofar as accessing the most of your resources to bring to bear on a problem. And you know that old adage about how inspiration strikes in the shower? That's because actually when waterdrops hit your head, that is priming your brain into flow state in the same way that runners do it, or elite athletes, or people who are musicians, for example, is another way to put you into flow state. So things that we can do. We can try to engage in practices that put us in that liminal mindset, right—where we have forgone what we know but we aren't yet grabbing onto what it is we think we want to know—that primes your mind to be open to inputs that could lead to creativity.
Tim Coldwell:
Let's just apply this a little bit to the world of architecture. So like, what do you think are some of the main problems that creative architecture of the future should be solving for?
Anthony Fieldman:
One hundred and fifty years ago there was no such thing as an interior designer. There wasn't such thing as a—even a civil engineer or any kind of engineer. There, there was nothing that was a subset of everything that we've divided our profession into—the countless sub-specialities. And what that has done is it forced us into a paradigm where communication and integration of distinct streams of effort are paramount in order to come up with something that's holistically considered. In other words, there's a lot of room to get lost in translation.
Tim Coldwell:
Hmm.
Anthony Fieldman:
And when we each only know a part of what's going on and we can't keep our arms around the big picture, it becomes easier to make mistakes or for the design—the outcomes—to suffer.
One big problem facing our profession is: how do we integrate that? That's where the macro-creativity comes in, which is: can you keep yourself above the fray, can you hold onto the largest drivers of a process and articulate them in such a way that you bring other people along with you for the ride, ah, so that everybody is aligned behind one larger purpose, as a framework against which you can then measure how you're doing? And that's a discipline, in and of itself, that requires you to hold yourself out from that depth and—and keep the broader picture in mind.
Tim Coldwell:
You recently did a one-year adventure of writing every day. And I think what I'm picking up from that is that was your kind of creative discipline to put information in your head and make sense of it, so that you could create more connections. I think that's what I'm getting at. Creativity does—isn't a thing that just comes to you with a bolt of lightning; you have to work at it. Right?
Anthony Fieldman:
Well, but before you work at it, you need to expose yourself to things that impact you. The driver of everything, as far as I'm concerned, in the world of creativity is curiosity.
Tim Coldwell:
Yeah.
Anthony Fieldman:
And if you have deep curiosity—which really was ingrained in me mostly by my mother, and her forever asking about the "why" underneath the "what"—curiosity has driven everything. And curiosity is aimed at experiences. Right? Looking at things, experiencing them so that you can then try to understand what is it about that that's special. "What am I reacting to here that's fantastic?"
And so this kind of goes back to my first Burning Man experience, where it blew the doors off of what I actually thought society could be. So you've got 75,000 strangers co-locating for a week. And whatever you think you've heard about it, it's wrong. What it is, is people who come primed to be as open, as inclusive, as giving, and as creative as humans can be. And so it really renewed my faith in large collections of people. And what I wanted to do when I came was I wanted to understand what made it what it was.
And so I started researching. And I said to myself, "You know what? I'm going to take every single day, I'm going to write something. I'm going to take a topic that came to mind from that experience, explore it online, do some research, see what other people have done with this space, and try to make heads or tails out of it for myself, and maybe even come up with some insights. And that ended up translating into a 700,000-word exercise (laughs)…
Tim Coldwell:
(laughs)
Anthony Fieldman:
… by the time it was done. And so, yes, it was a mental meditation based on trying to unpack how we could thrive as a society and be partners in that thriving, and what ingredients went into bringing out the best in us, without losers in the equation. Right? No winners and losers. Things that are fundamental and common to all us, whether or not we've had equal access to them or have done deep dives into realizing things, we all still are the same in our roots.
Tim Coldwell:
When we first connected, kind of around, you know, architecture of the future—a little bit of a discussion around, you know, what a condo building or residential building in the future might look like. How can we think of the connection between how people will use buildings in the future and the design process that we go through now?
Anthony Fieldman:
Humans are humans, and our needs haven't really—our core needs haven't changed, you know, since we descended from the trees. So, you know, whether a residential building has this kind of amenity, or is open to this group of people, or is affordable is all one thing, but the fact is you need a place to sleep. Right? You need a place to repair and unplug. You need places to collaborate and to develop feelings of community. These are fundamental things—whether it's a workplace, or a bar, or a school. And so I think those things don't change. What's interesting to me is we've created a paradigm of societal governance and, ah, wellbeing that depends on ideas of competition and exclusivity.
And so if you think about what commercial capitalism is really, it's, ah, it's about extraction. Right? It's about extracting value. It's about maximizing, squeezing, increasing productivity and value in order to feed a bottom line. But the end-state of extraction is there's nothing left, and you get a lot of people being left by the wayside. So I think the biggest problem facing our profession right now is not so much about the functional details within any building, as long as they allow you to thrive, repair, collaborate, and find community. The bigger problem is the fact that more and more people are being held away from access to these things. And I think that is partly because of the for-profit, exclusive, win-lose, Game A, finite games that we play with one another. Because if we base our work on those ideas of inclusion, equity, sustainability, community—the things that lift all of us—then we actually stand a chance at bringing more people to the table and allowing them to thrive in whatever it is they choose to do.
So I think that's the biggest thing facing our profession isn't so much how can we create a better workplace, how can we create a better school? I have ideas for all of that stuff. But it's really how can we get more people to partake in the parts of society that allows them to thrive, and contribute?
Tim Coldwell:
Do you have a couple examples that you might want to throw?
Anthony Fieldman:
You know, you can look at how we organize space—if you want just some, some small quick architectural examples.
Tim Coldwell:
Mm.
Anthony Fieldman:
The organization of a classroom in the industrial era is the rows of seats, facing a teacher, who then gives one-way instruction of facts to memorize, so that you can be good, contributing, productive members of society—much like an assembly line. Fast-forward to what's happening now, and that rigidity is completely broken up, and the reconfigurability of desks, for example, are aimed more at achieving collaborative interactions between students, aimed at trying to solve problems on their own in a creative way and not just receiving rote education from an instructor.
Vertical living environments, right now, are really…. I've lived in apartments for 35 years. Right? So I know what's broken about it is you don't know your neighbour. So how is it that you can live literally on top of or beside somebody else and have no opportunity to get to know your neighbour? And in fact, it feels awkward. It feels awkward even to be in an elevator. And the awkwardness comes from not knowing them.
So why is it that the highest best use of amenity space, ah, whose promise is to create community, is really aimed at the same things? "Well, we're going to have a gym. We're going to have maybe a screening room." Well, in screening rooms, it's a black box and you're not talking to anybody. And in a gym, whether you're self-conscious or you just want to get your workout in, and you plug in your earphones, it's also not social. So what if we re-thought of amenities as things that allow for connections between people that live in the same building to meet. Right? Things that are inherently social—like allotment gardens, or rock-climbing walls, or a shared chef's kitchen, or things like that. Right? So, to me, on a granular level, some of those problems that architects can help solve, if you look at what's the problem with this paradigm, what's the problem with a high-rise residence, it's not, you know, is it necessarily energy-efficient enough. There are bigger problems which are social in nature.
Tim Coldwell:
Yeah.
Anthony Fieldman:
And so, for me, creativity aimed at something like that is well worth our time, rather than just trying to come up with something that's either going to make the cover of a magazine or, you know, some other aesthetic or financial goal.
Tim Coldwell:
Yeah. Yeah, exactly. So Canada's facing a need for change around sustainability. And that's not going to disappear anytime soon. How should we be thinking about sustainability, from a built environment?
Anthony Fieldman:
So. Bill Reed—a guy I've gotten to know a little bit—he's one of the creators of the LEED system.
Tim Coldwell:
Yep.
Anthony Fieldman:
He once told me that there was no such thing as sustainability below the scale of the watershed. He was talking about ecosystems. Right?
Tim Coldwell:
Yep.
Anthony Fieldman:
Nature is a closed loop. And so everything in nature is connected to everything else. And we understand that when you unmoor any one part, you can bring an entire system down. Right? And there are famous examples, like Yellowstone National Park where, you know, they hunted the wolf to extinction, and all of a sudden the rivers ran dry, the trees died. And when they reintroduced the wolf, it brought back the beaver; the beaver made dams; and…. Right? All this kind of stuff. And all of a sudden within 20 years Yellowstone was thriving again as an ecosystem.
So where that translates into what we do is, in a sense, the way we've been tackling sustainability has been building-by-building, and while we could do some good there are limits. And the limits are in scale. And so, really, architects need to partner with the people that have the mandate and the, ah, ability to make larger moves that recognize the interdependence between these different systems and the ecosystems in which they live.
So I think we're a little bit narrow in our thinking, in forgetting that everything is connected to everything else, and so issues of scalability and adaptability are both fundamental to long-term architecture success within the rubric of sustainability.
And the last thing I'll add is Bill also said once that "sustainable" means that it can function in perpetuity without our intervention. And so what that tells me is: nature has to be a serious integrated part of whatever we do with our buildings, because nature has developed this incredible ability to thrive. If you give it a toehold, you know, it's going to grow.
Tim Coldwell:
What's next for you? You know, you've done a lot of really cool stuff. Where do you see your career taking you on—on next projects?
Anthony Fieldman:
You know, my new partners asked me that when I was coming onboard, "What do you want to do?" As I said, what I want to do is I'm—I'm no longer interested in winning medals and awards and doing things that necessarily are highly visible in society; what I'm really interested in is using whatever creativity I have, and energies, to try to solve the stickiest problems. Homelessness is one of them. Affordability—which gets back to the equity model that we were talking about. Right? B corps and the like; Game B. Infinitely inclusive societies. More equity. How can creative architecture contribute to that? How can we really dive into sustainability—not just by doing buildings that are standalone pieces but through advocacy, and partnership, and policy-making with the people who we need, ah, with us in order to make the biggest moves in things like district energy, or policy changes, and things like that.
Because there's only so much we can do as private practitioners without being involved in public policy. And so these kinds of things—those are just a few examples—are the things that I think are the worthiest areas for my energies to be focused.
Tim Coldwell:
Yeah. And a way I have of kind of thinking about that—some of the wickedest problems, like…. Okay, we can figure out how to make a building net-zero. We can figure out how to optimize the gross-up. We can, you know, figure out something unique with fenestration or something like that. But that's a simple problem compared to the affordability problem, the sustainability problem, the interconnectivity. So you're—you're after wicked problems is what I'm hearing.
Anthony Fieldman:
Wicked problems that are at the bottom of Maslow's Pyramid.
Tim Coldwell:
Yeah.
Anthony Fieldman:
The ones that without which you can't get beyond it. When you look at 26 people in the world owning as much wealth as half of the world, there's a bit of a problem there. Right? So it's about taking those people that are the backbone of any democratic and thriving society, and helping them get to the point where they can contribute.
Tim Coldwell:
If you have one final statement about kind of architecture and issues facing industry, like what would be the take-away for the audience?
Anthony Fieldman:
Be curious. Be brave. Read. Travel. Experience things. Keep an open mind. You have no idea where these influences are going to come back in the future, but what they're going to do is open your perception up to a broader way of thinking about anything it is that you do, and—and thereby improve it.
[music]
Tim Coldwell:
That was Anthony Fieldman, architect and partner at DIALOG, author, photographer, and contributing writer at Medium.
Thanks so much for taking the time to listen to my conversation with Anthony. I hope it was as profound for you as it was for me. I could talk to him forever.
We've got plenty more more Building Good to come, so hit the "Follow" button. And if you like what we're doing here and want to help us build good, leave a rating or a review, or just tell a friend about the show. It helps other people find us, and we love reading your reviews.
Building Good is a Vocal Fry Studios production. The executive producer is Jay Cockburn. Our associate producer is Kattie Laur, with production assistance from Jessica Loughlin. I'm Tim Coldwell. Thanks for listening.
Back to podcasts