Construction work is social work w/ Nora Spencer
Date Published:
October 31, 2023
If job sites can be hostile environments for women and nonbinary people, how do we get them into construction in the first place, so they can change those workplaces? Nora Spencer founded Hope Renovations. They run a program to bring women and nonbinary folks into the trades, which includes training on dealing with job sites and then they employ them in internships. They're also a nonprofit providing renovations to seniors so they can age in place. Nora joins the show to tell us why her trainees are proving to be the perfect people to do this kind of work, straddling construction and social work.
Jen Hancock: 
This is Building Good. I'm Jen Hancock.
[music]
Jen Hancock: 
If you were thrown into an internship in a new industry, doing work you'd never done before, you might be a little less confident. And if nobody else working there looked like you or, worse, undermined you for your identity, your confidence might bottom out. But when that happens, that means that, that industry needs you. And actually, that just you being there makes it better.
For Nora Spencer, that realization has been filling gaps in the construction industry in more ways than one. And it's been fuelling women with financial independence and a whole lot of tenacity.
Nora Spencer (preview):
There's something about putting power tools (laughs a little) in your hands that just builds confidence. But when you're doing it in a group with other women who are supporting you and excited for you and—and encouraging you, it really creates this belief in yourself that you may not have ever experienced before.
[music]
Jen Hancock: 
Nora is the founder and CEO of Hope Renovations, a non-profit that runs a training program for women and non-binary people in the trades. But Hope Renovations isn't just focused on uplifting under-represented people in the industry. They also support the local ageing population in North Carolina.
[music]
Nora Spencer (preview):
Carrying out repairs and renovations for seniors. I realized, "Well gosh, if I have this training program. This is a population that really needs help. Why don't we put the two of those together?" The work we do in construction, it correlates so beautifully to social work—to this idea of looking after the whole person.
[music]
Jen Hancock: 
Like the women and non-binary people she trains, Nora didn't always think construction could be a career opportunity for her. She was working an HR job at the corporate headquarters for Lowe's Home Improvement, just as she and her husband bought their first home, which was in serious need of a little TLC.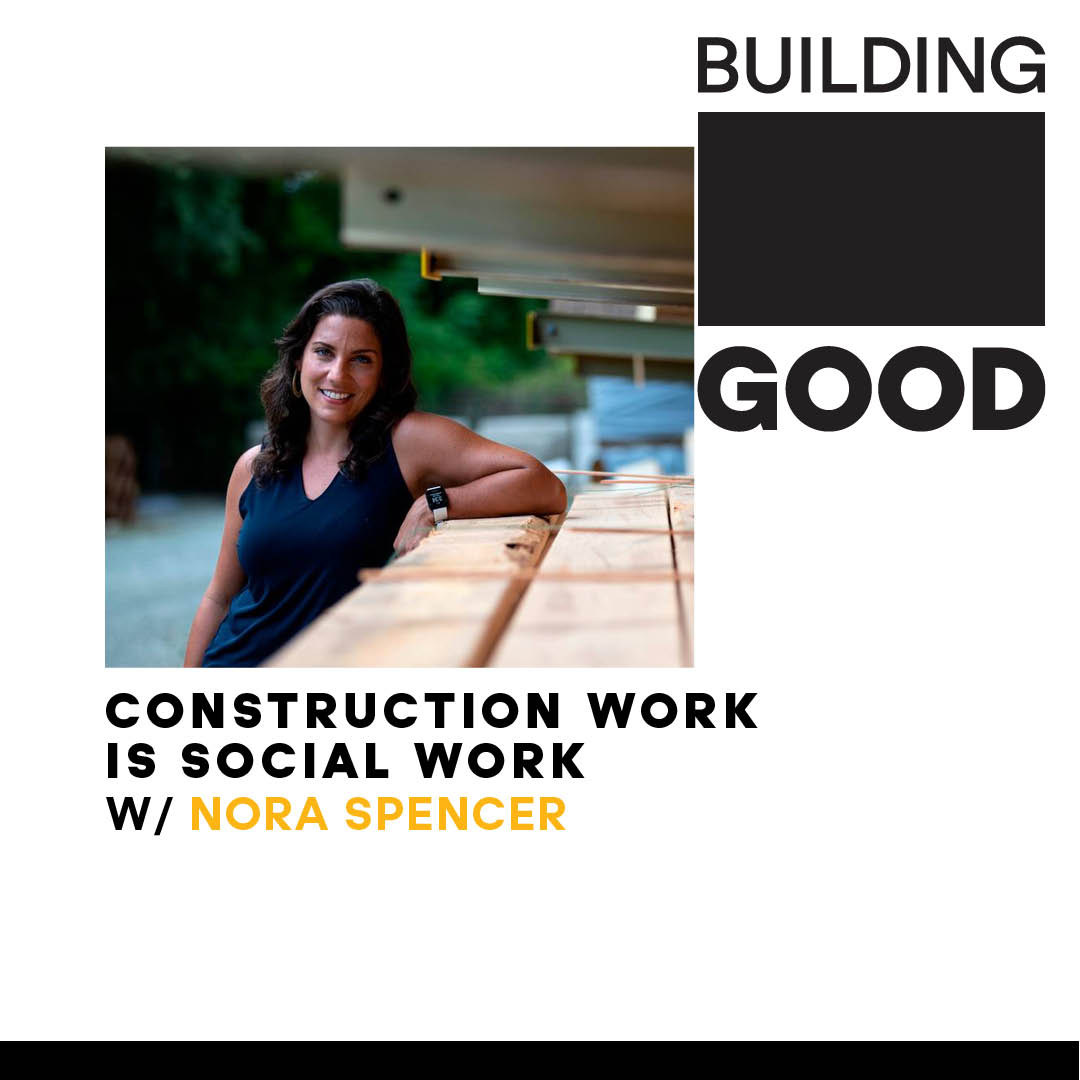 Nora Spencer (preview):
Was too cheap to pay people to do things to it, so I thought, "Well gosh, I feel like I can probably figure some of this stuff out." So I took advantage of our great employee discount and started buying tools and started learning how to use them.
I realized really quickly that I was good at and that I enjoyed it. I went from, basically, cosmetic stuff, to learning how to tile, to then learning how to frame, and pull wire, and plumb a bathroom, and got into remodelling sort of as a side-hustle. And that was my entry into this industry.
Jen Hancock: 
Nora had caught the construction bug. But after a while, she started to think she might be alone.
Nora Spencer (preview):
(laughs a little) It just sort of dawned me, about five years in, that I was the only woman I had met doing this. And I started asking that question to some of these contractors, like "Have you ever worked with other women?" Because they seemed really excited that I, as a woman, was interested in this stuff.
By and large, the ones that had worked with women or had had women on their crews, they loved them. And they said, "You know, oh gosh, I wish I had ten of those. But you can never find them. They're—they're just not here."
And it really kind of got my wheels turning. You know, I had friends who were women and—and family who would say things like "I love that you know how to do that stuff," like "I wish I could do that." And it started me thinking like "Why don't we think we can do this?" 
Later in life, I decided to—to go back and get a Masters of social worker at University of North Carolina at Chapel Hill. And I kind of just started batting around the idea of creating a training program. And then I did a—a field placement, an internship, at a homeless shelter. And one of my responsibilities was working with some of our clients to help them figure out what they were going to do for work when they got out.
And I would talk to a lot of our female clients about construction, and the great opportunities, and low barrier to entry. It's definitely a second-chance industry in a lot of ways. Well-paying jobs. And a lot of them were very interested and said, "You know, oh, I—I think I'd be great at that. But I don't know how to do that stuff. I don't know how to get the education to do it. I always figured that was a man's job."
And what I realized was that there is gap there between wanting to do it and figuring out how to do. We've been so unwelcome in this industry for so long, or so uninvited, we often feel like we have to wait for an invitation to get into the industry. And for someone who, traditionally low-income or underserved, the idea of going to like a—a trade school or community college to get into this industry can just feel completely out of reach.
So that's really where the idea for Hope Renovations kind of crystalized. And I started working on it while I was in grad school.
The other piece of Hope Renovations. We train women and non-binary and—and, ah, gender-expansive folks for jobs in construction but we do that through the work we do in the community carrying out repairs and renovations for seniors, so that they can stay in their homes as they age.
When I was in my last semester of grad school, I was in a social entrepreneurship class, and we were learning about the concept of ageing-in-place—something that I hadn't been familiar with. That's kind of where the whole idea came together. You know, I realized, "Well gosh, if I have this training program, they're going to need an opportunity for hands-on experience. This is a population that really needs help. Why don't we put the two of those together?" 
Jen Hancock: 
It sounds like there's sort of two parts to that. Do you want to talk, like, about the, ultimately, your mission?
Nora Spencer:
Yeah, absolutely. We focus on two different populations: women and gender-expansive folks; and then older adults. We go out into the community. I have a crew; it's all women and non-binary folks, we're very non-traditional. And we do ageing-in-place repairs and renovations—everything from installing grab bars, to ramps, to bigger stuff like bathroom renovations. We do a lot of bathroom renovations—lots of tub-to-shower conversions to make the bathroom more accessible. Kitchen renovations. All sort of focused on helping seniors stay in their beloved homes as they grow older.
And the best part is: our trainees, once they get to a certain point; it's a 12-week program, the first 8 weeks are training in our workshop, hands-on training; after that 8 weeks, we actually hire them as interns, making a living wage, onto our crew. And they get to work for 4 weeks with our crew, getting their hands dirty and—and helping this population with this really critical need.
I mean, if you stop and think about what construction is and what it means to us, we're building people's homes, and their schools, and their churches, and the places where we raise our families, and where we grow old together. The work we do in construction, it correlates so beautifully to social work—to this idea of looking after the whole person.
We call ourselves "social worker construction workers."
Jen Hancock: 
(laughs a little) Yeah.
Nora Spencer:
We invented the term.
But this industry is creating better lives for people, at the end of the day. And being able to be a part of that, and inspiring others to see that and—and to want to be a part of that, that's a big part of it. You know? And that's definitely what we bring to the table, I think.
[music]
Jen Hancock: 
You just talked a little bit about the pre-apprenticeship training piece. So there's like some classroom shop time and then—and that's mixed in with then some hands-on. Do you want to—can you just explain a little bit how you set that up for success for people?
Nora Spencer:
Definitely. The first four weeks is really the basics. You know, we have people who come into our program who've never swung a hammer before. So the first four weeks is learning the tools, the materials. It's safety: they get OSHA 10 construction safety training certification; First Aid CPR. And just kind of a—a background on the industry and what the opportunities are. Some blueprint reading is in there. Construction math.
After that first four weeks is done, the next four weeks is spent just practicing hands-on skills. And we focus on all the trades. So you get a taste of carpentry, electrical, plumbing, HVAC. And then we also do some, you know, finish work: tiling, painting, drywall repair.
The whole purpose of it is to give them as broad of an experience as we can. Because very often people come to us not knowing what their fit is. Then after that eight weeks is done, they get their internships with our construction crew, and we put them to work.
And that's really where the rubber meets the road. That's where you sort of decide if you're a, ah, field person or not. Putting a deck in, in the middle of summer in North Carolina 102 degrees with no shade, that'll help you understand really quickly if that's the right job for you (laughs).
Jen Hancock: 
I love that you're able to do that, like the amount of diversity in terms of what they're touching, from like a little bit of plumbing, electrical, carpentry. Just giving that, I think that's such a—it's an amazing way to set the training up.
How do you approach training women and non-binary people different than you would a man, say?
Nora Spencer:
I think the main thing is they generally come to us with absolutely no understanding or no skills whatsoever, just sort of a—a vague belief that this might be a good fit for them. That creates a challenge because you are starting from scratch, for the most part.
One thing, I think, that really makes our program unique is the cohort model that we use. So we have great trade schools and community colleges throughout the country—definitely in North Carolina—but it can be really daunting to go into a classroom and be the only woman in the classroom full of men, which is often the experience that women face when they go into to this kind of training.
Having a cohort model where it's all, you know, non-men, you know, people who share your experience, who share your concerns, you have the same goals and the same desires, that makes such a huge difference in terms of building that confidence. Because that is really critical for—for women in this—the role. Because it's never been part of our—our culture. You know, it's not a norm for us.
Jen Hancock: 
That's a great point. I know that you measure confidence as part of your training. Can you talk about why you do that and a little bit of how you do that?
Nora Spencer:
Yeah. This is my favourite measure that we have. When folks come into our program, we have a number of questions we ask them as part of a pre-program survey. And one of them is their level of person confidence on a scale of 1 to 10. And then we ask the same question when they finish the program.
At the end of the program, we have never had anyone rank themselves less than an 8 on that scale. So 8s and 9s and 10s across the board. And that, to me, just shows…. I think there's something about putting power tools (laughs a little) in your hands that just builds confidence. But when you're doing it in a group with other women who are supporting you, and excited for you, and—and encouraging you, it really creates this belief in yourself that you may not have ever experienced before.
Jen Hancock: 
In that training piece, like although we all like to think it's changing, and it is, but construction industry isn't always the most progressive or welcoming. How does that factor into your training or does it?
Nora Spencer:
It does. We have a lot of guest speakers come in, because we really want them to give a real-world view of what it's going to be like. Because the last thing we want to do is paint this rosy picture of what women are going to face when they go out into a male-dominated industry.
It's great. And it creates relationships—mentorship relationships. I mean, a lot of our trainees will keep in touch with—with these women in the industry for years, you know, as they begin their own careers.
The other piece of what we provide is we do a lot of work around professional development and soft skills. And part of that is conflict management and conflict resolution training. And you know, we do a session on workplace harassments: what that looks like from a legal perspective; what your responsibilities are; what the employer's responsibilities are.
We talk about these important things, because we want to prepare women for the worst but expect the best. And thankfully, you know, the partners that we work with and—and the employers that our folks go to work for, you know, we vet them. And they are very, very enthusiastic about bringing our folks onboard. Because they understand that if we want to keep building, we've got to have more people in the workforce. And—and right now there's an entire gender missing.
Jen Hancock: 
Yeah, totally.
Nora Spencer:
So.
Jen Hancock: 
Actually, just on that note then. Where do the trainees typically end up after the program?
Nora Spencer:
It's all over the place. We've had carpenters, electricians, plumbers, HVAC techs, solar installers. We've had an arborist. We've had a landscaper or two. And then on sort of the more, umm, administrative side, you know, we've got project managers and selections coordinators. We've got someone who's a commercial property manager.
It really runs the gamut. And I always say that's what's so great about this industry. Whether you're creative, or analytical, or an office person, or an outside person, there is a place for you here. And I think our graduates prove that.
Over 70 per cent of the people who graduate from our program go into the industry. Which is, you know…
Jen Hancock: 
Amazing.
Nora Spencer:
… a great employment, right? But the other 30 per cent, you know, everyone keeps up with us and—and keeps in touch with us. And we get calls and emails about what people are doing. And you know, we hear things like "I'm not working in the industry but I had some repairs that I needed to do. And for the first time ever, I didn't have to call anybody to do it."
I just saw a facebook post the other day from one of graduates, who she is starting an addition on her own home. And she was like "Thank goodness for Hope Renovations." She's a teacher, like an elementary school teacher, doesn't have anything to do with the trades but she's building an addition on her own home. And she's doing it herself. And the best part is, her kids, one of whom is a little girl and one is a little boy, they get to see Mom doing this. And that's what's going to change this culture, generationally, is seeing Mom do this stuff, seeing women do this stuff and knowing it can be done.
Jen Hancock: 
Well, and also think about the benefit of her being a teacher and what that looks like for her students, as she talks that—through that. She's now providing a potential career path to students that she might not have even thought about before. And that's one of our biggest issues in industry anyway. So.
Nora Spencer:
Yeah. We're really proud to be part of the whole pipeline from the youngest to the oldest. And—and just speaking of that, I mean, our program is open to anyone over 18. Our youngest has been 20, and our oldest was 63.
The majority of the women who come through our program are in their 30s and 40s, which I think surprises people sometimes. But that's kind of the point: when you're in your life and you begin questioning if you're on the right path. I did it. You know, that's when I made this change in my career.
And for many women, it's—the backgrounds are very different. A lot of the women in our program come from traditionally underserved backgrounds. We've had women come to us from recovery programs or re-entering out of the criminal justice system. But then we have some, you know, that are just single moms trying to figure out a better option, or recently divorced and trying to figure out next steps, or, you know, laid off due to covid or whatever and—and trying to, you know, make a better life for themselves.
[music]
Jen Hancock: 
We'll be right back.
[music]
Jen Hancock:
At Chandos, building is about more than concrete and steel, drywall and windows. It's how we build and who we build with that determines the legacy we leave behind.
[music]
Our commitment to a more diverse and sustainable future is built into every aspect of our business: the people, the processes, the projects, and every community we're part of.
Let's build better together.
Find out more or join our team at chandos.com. That's c-h-a-n-d-o-s-dot-com.
Jen Hancock: 
Because your program is helping people who normally have barrier-to-entry into construction—for a variety of reasons—how are you feeling about the move of seeing more diversity in the industry, and benefit of that? What are you seeing kind of trending in that space?
Nora Spencer:
As an industry, we're going to lose about 40 per cent of our workforce in the next 8 years. So we're kind of in this unique time. And I think covid did this, to some degree, because things just went crazy and the need for workers just skyrocketed.
I think we just, as an industry, have realized we have to focus on diversity. You know, people who it was never anything that they cared about in the past, now they are coming to us and saying, "I want to hire women. Like tell me what to do. Tell me how this works. Like what do I need to keep in mind?"
Traditionally, people of colour, particularly black workers, have not had a place in this industry. And there are efforts now, a lot of efforts, for people of colour, for women of colour, to have inroads into this industry that didn't exist before. And—and it's because of the need. Which, you know, it should be more than that (laughs); it should be just because we want diversity.
And—and it'll get to that point. I think, you know, diversity begets diversity. You bring diverse people onto your team, you realize…
Jen Hancock: 
Yep.
Nora Spencer:
… how much better you are and how much better your work is, and then you want more of it. But, you know, this initial push to have it, this is coming from just the need for workers. So it's really an ideal time for—for people who traditionally haven't been in this industry to come in and—and give it a shot.
Jen Hancock: 
Do you do any training with some of the employers? Because when we think retention, it's (inaudible, 18:13) people leaving your program, but it's also the people like hiring.
Nora Spencer:
Yeah. It's really critical. We do that. We do a couple different things. We do just like individual consulting with employers. But then we also have a training that we call "Women on the Worksite 101." And it kind of just talks about everything from changes you can make in your recruiting progress that are going to help open your job opportunities to people's eyes that may not have seen it otherwise, to things on the jobsite to consider. Like you need to have a clean porta-potty if you're (laughing) going to have women on the jobsite. For safety reasons and just because you want them to stay and—and you want them to be happy there.
And one thing we talk about a lot is the need for flexibility. And not just for women. You know, we really need to shift, as a culture in this industry, to being more flexible for parents in general, but particularly women. So if you want women on your team, you have to have a mindset of flexibility because of childcare and just caring for their families.
We have conversations with a lot of employers, too, who they don't know where to start with people who have barriers to entry. They genuinely want to bring them on but they don't know how to make that happen.
You know, one of the big pieces of what we do in our training is we work with our trainees on those barriers. So you know, I'm a social worker; you know, our director of training is a social worker; our director of construction is a social worker. We have very much a social-work focused background. And so we spend a lot of time doing case management for folks—helping them access, you know, transporation resources, childcare resources, financial resources—so that when they come out of our training they can actually keep these jobs.
And so we do a lot of consulting with employers on like what are some of those resources—what you can do as an employer to help make this, you know, more accessible not just to women but to any employees.
Jen Hancock: 
Like you provide real wraparound services with the training. And to me, this also speaks very much to this is why diversity is important. You're thinking about these barriers and trying to like help people sort those out prior to going in the workforce. Whereas if, you know, someone didn't have to deal with childcare, they're not able to think about it, probably, in the same way. So that's why diversity is so important, because your perspective provides a very different lens on what people need to be able to not only be successful but stay. Right?
Nora Spencer:
Right. And—and just because that person doesn't have childcare needs now, doesn't mean they're not going to have them in the future.
[music]
Jen Hancock: 
So the—a bunch of the work you do is with seniors and ageing in place, to help make space in their houses so that they're not having to leave due to all kinds of barriers. Why is ageing-in-place construction, universal design in general, why is that important focus? And what's the state of demand for that kind of work for you right now?
Nora Spencer:
Oh, gosh. Personally for me, it—when I learned about the concept of ageing in place, I didn't know it was called that. But my husband and I, his brother had multiple sclerosis and we were not able to keep him in the home that they grew up in, as his disease progressed, because it was too unsafe and we didn't have the—the money or the resources, at the time, to be able to help him access the renovations he needed to be able to stay there. You know, and all the research shows like all the outcomes are better if you can stay in your home as you grow older: emotional outcomes, financial outcomes, community outcomes. It's all better.
In terms of demand, this is one of the fastest growing segments of our industry right now. And the issue is: it's not the highest profit margin. So a lot of contractors don't want to take the time to do some of these, often, small jobs. Because of that, the demand is incredible. We can consistently have three- to four-month waiting lists at any one time.
There's a lot of urgent projects that'll come up, particularly for low-income seniors who are dealing with, you know, rot. Or we had someone who their refrigerator was falling through their floor. These kinds of things we make space to get to a little bit more quickly. But the bigger projects, people have to wait.
Jen Hancock: 
How do women and non-binary crews do things differently? Like do you find that connection is a little bit better about with the work, the—the people doing the job versus who is actually getting the work done?
Nora Spencer:
Yes. I mean, you know, anecdotally, like we have always heard stories about, you know, women being more detail-oriented or, you know, cleaner on the jobsite—that sort of thing. We actually started doing surveys of the people that we did projects for. And it—that is 100 per cent true. They love having all women and gender-expansive folks.

We have a little bit different perspective about home. It just sort of, I think, naturally means something a little bit different to us. And I see that come through in little things. I was on a jobsite with our crew one time and, you know, we were wrapping up. And like, as we were leaving, one of our trainees noticed that there were some cobwebs up above the door. And she got the broom and she got down the cobwebs. Like that wasn't on the job scope, you know. But like we look at home a little bit differently. And she knew that, "Like, I can do this for this homeowner. And this—this will make home better for her."
Jen Hancock: 
Do you have any other relationship stories between your trainees and some of the community members you work with? Anything that's kind of interesting connection between any of them that's been created?
Nora Spencer:
There's so many. I think a recent one that really touched me was, umm. We did a project for a woman who she'd had a number of needs in her home for several years. And she'd been on a waitlist for a really long time for services. And we found out about her through a community connection, so we came out to do this work for her.
And one of the things that she needed done was she needed her back door replaced because it was not secure and there had been some break-ins in the neighbourhood.
One of our trainees got kind of emotional on the jobsite. And you know, we talked about what was going on. And she said, "I'm a single mom. I have two kids. And I got broken into. My door had to be replaced. I didn't know how to do anything like that. I had to call somebody to do it. But you know, the—the gratitude that I felt for that person to come out and fix my door," she said, "I feel like I'm just re-living all that now but I'm also so proud that I get to do this for this homeowner."
She got to meet the homeowner and tell the homeowner that story. And they hugged. And she was crying. And—and it was just so sweet to see this very personal experience for one of our trainees, giving her the—the energy and the enthusiasm to help this person who needed the very same help in her own home.
When I think about the pride I have in this organization, it's moments like that, that really bring it home.
Jen Hancock: 
And so, I guess going forward, what's next for Hope Renovations? How do you see yourself changing? What are your next steps?
Nora Spencer:
Well, we're very excited that we just found out last week, actually, so the Department of Labor—federal Department of Labor—just awarded us a pretty big grant. Umm, it's a two-year grant. And it's going to help fund our expansion.
So in 2024, we're actually expanding to two other locations in our region. Which we're really excited about, because that's one step on our ultimate goal of world domination. We want, you know, to expand further into North Carolina and then eventually into the entire country. Because these needs are universal. Women need these opportunities, the industry needs workers, seniors need this help in their home in every community across this entire country.
With that, the number of people that we're going to be able to serve is—I mean, the impact we're going to have is—is just, it's pretty much tripling.
Jen Hancock: 
Are you planning on cloning yourself somewhere in that?
Nora Spencer:
Not exactly. I'm actually expecting my first child in March, umm.
Jen Hancock: 
Congratulations!
Nora Spencer:
Thanks! Ah, it's a little boy. But you know, it'll be a little bit of time before I can put some tools in his hands, so.
(laughter)
[music]
Jen Hancock:
Thanks for listening to this episode of Building Good. If you want to understand the construction sector's duty of care for the people who build, and the people we build for, make sure you're subscribed on your favourite podcast app, if you're not already, because we have so many more incredible episodes lined up this season.
Building Good is a Vocal Fry Studios production, supported by Chandos Construction and Bird Construction. The executive producer is Jay Cockburn. Our producer is Kattie Laur, with production assistance from Jessica Loughlin. I'm Jen Hancock, thanks for listening.
Back to podcasts