Good Guys w/ The Workplace Allies
Date Published:
August 22, 2023
What's so scary about being the man who speaks up for women at work, especially when courage and accountability are traits that so many of us feel "make a man" in the first place? David G. Smith, PhD and W. Brad Johnson, PhD are "The Workplace Allies", and they've drawn on their military and academic experience to write "Good Guys: How Men Can Be Better Allies for Women in the Workplace", so we invited them on the show to talk about how that applies to industries like construction with varied places of work and differing cultures.
Geoff Capelle:
This is Building Good. I'm Geoff Capelle.
[music]
Geoff Capelle:
Let me tell you about a guy. I'll call him "Frank." Frank manages a dusty construction site every day. He wears a plaid shirt, steel-toed boots, hard hat. And he's got one heck of a beard. He carries one of those hard-cased blue lunchboxes, and there's always an apple inside. Doctor told him he should have one, but he never actually eats it. Frank's your stereotypical construction guy.
But Frank is also kind. And hilarious. And despite his busy schedule of endless responsibilities, he makes time for the people that work for him. He genuinely cares about people, gives them a voice, and sets them up for success.
[music]
Geoff Capelle:
Frank isn't a real person. He's someone I made up. But he's this amalgamation of Alberto, and Mike, and Dion, and Brian, and all these guys that I've worked around. So in a way, he does exist.
I've learned a lot from Frank—whoever he is—especially about myself. He's created safe spaces for people to ask questions and challenge themselves. He's helped redefine what it means to be a man in the construction sector.
[music]
Geoff Capelle:
But guys like Frank, and mentors for that matter, aren't always easy to find in this line of work. I believe we need more guys like Frank, more men who are willing to take on toxic masculinity and make the workplace better for women and non-binary folks too.
Brad Johnson (preview):
When you're in that meeting at work—a male-dominated meeting, there may be one or two women in the room—that sexist comment or inappropriate harassing joke gets made, men may think that other men who are snickering in the room all have acceptance of what was just said. The data shows it's not true. And we find, when one guy will become unglued and have the courage to disrupt, that it changes the whole dynamic. But it takes one guy to begin that.
[music]
Geoff Capelle:
That was Brad Johnson, a clinical psychologist, professor at the U.S. Naval Academy, and co-author of the book Good Guys: How Men Can Be Better Allies For Women In The Workplace. Brad has spent years looking at data that shows that women get less mentoring and sponsorship in male-dominated professions, and trying to understand why men are often reluctant to support their female colleagues.
Brad joins me along with his co-author David Smith, a sociologist in the area of gender, work, and family, and professor at Johns Hopkins in the Carey Business School. But it was Dave's time spent in the Navy that ultimately inspired his interest in finding more-inclusive mentors and allies in the workplace.
[music]
David Smith (preview):
So, I spent 30-plus years on active duty in the Navy. So my first squadrons were all men. And it was certainly that very traditional, male-dominated, male bastion of, ah, hypermasculinity. And then of course, when the Combat Exclusion law changed in 1993, and we began to integrate women into our squadrons, it was really interesting to watch the change happen.
Not surprisingly, we found lots of rules—in terms of boundaries—in the workplace but it was a lot of the "Don'ts." "Don't do this, don't do that." Reinforcing boundaries between us. What never really happened is thinking about how it was going to change the organization; how it was going to change teams; how it was going to change the culture that we were working in, the relations of how we work together.
You know, we're getting upwards of 30 per cent women now, today, in there, which may not seem a lot. I think in a lot of traditionally male, historically male professions and industries out there—like construction—30 percentile is actually a lot. Thirty per cent feels very different.
Geoff Capelle:
Reading Brad and David's book Good Guys was a really interesting experience for me. I loved it. And my immediate reaction was to share it with all of my female colleagues. But I quickly realized that women aren't the right audience; they already know everything in that book from their experience on job sites, in offices, and so on.
[4:02] Brad Johnson or David Smith:
A lot of men, I think, genuinely believe that because they have a commitment to gender equity and they agreed that fairness when it comes to inclusion of women is a top priority and it's morally right, they think they're actually allies. And unfortunately, they're not actually executing the micro-behaviours every day that really lead to being called an ally by a woman that you work with. So men have the belief, maybe; they have the commitment, broadly, to equity. But they're not executing.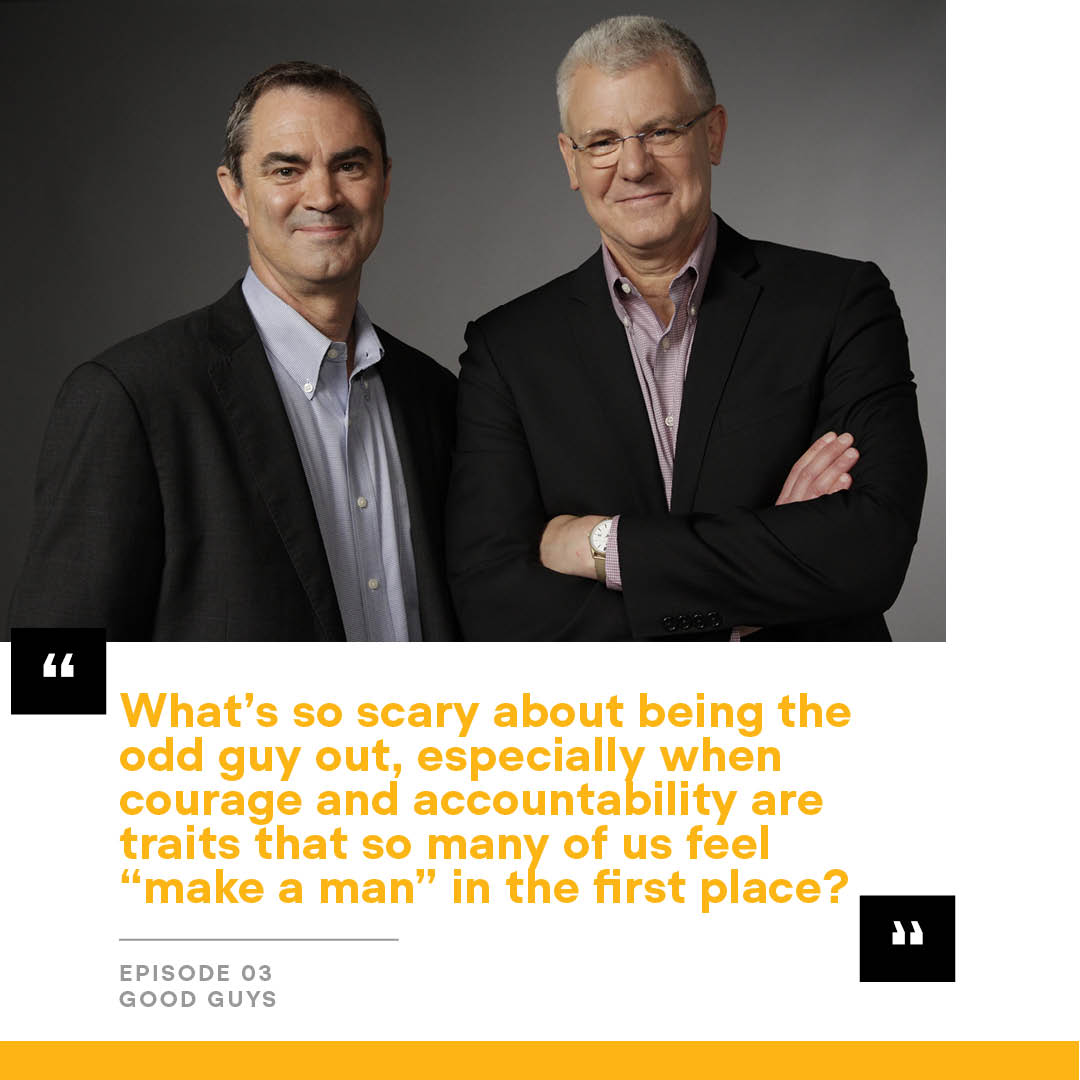 [music]
Geoff Capelle:
I do genuinely trust that the men around me want to see the women in their lives thrive. But being a real ally is more than just claiming to be one. Brad and David are here to help me understand why so many men hesitate to ask women about their experiences, and share what we learn from them with the other men around us. What's so scary about being the odd guy out—especially when courage and accountability are the traits that make us feel make a man in the first place?
Brad Johnson:
You may be familiar with the research, Geoff, that men inflate their performance in almost every area. We always think we're doing better than we are. So it was important for us to actually go to women and ask them, "Hey, can you tell us about a male that you would describe as a great mentor or an ally, and then tell us about the behaviours that you really appreciate. What does he do? Help us with the tactics."
And we aggregate all of that and really want to give it away to men. But I think a lot of men struggle with, "I'm just not sure what to do." And I think it's the inflation piece, that I think I'm doing a lot more than I am. The other part is just not knowing what allyship is day-to-day, and what to do, what the tactics are.
Geoff Capelle:
I was hoping that you could talk to me a little bit more about this "Reluctant Male Syndrome" term. What is it? And why is it tripping people up?
Brad Johnson:
Yeah. This goes way back to when we began our research for Athena Rising—our first book on cross-gender mentoring, men leaning into mentoring with women.
We found so much in the research evidence about men not mentoring women. And it was sort of confusing to us. And it was through all of that research, Geoff, that we began coming across the number of reasons why men feel uncomfortable.
So a lot of men genuinely are afraid of rumours and gossip. So I…. "Yeah, I see these talented junior women. I know I should offer mentoring. But gosh, I don't want people talking about me if we're getting together and having meetings, or see us doing our mentoring thing. I don't want it to be misconstrued."
There's also, you know, the whole issue of implicit bias. If I see junior women as nice—and there's a lot of research showing men call women "nice" but "I don't see her as a future leader, I don't see her as exceptionally competent, so I stay on the sidelines because I don't see her as leadership material." So.
And then, you know, frankly, #MeToo just exacerbated all of this—at least in the U.S. it really became an issue. Men have this false narrative that #MeToo means women are dangerous, they're scary, they make false accusations. Simply not true. You know, it's a really low bar for men to get over: not harassing or assaulting women. That's all #MeToo is about. But I think men have lost sight of that.
Geoff Capelle:
Can you describe some of the challenges that women face in the workplace today?
David Smith:
Yeah. And I would also caveat this as we—and you'll see why—that it's not just that all women have the same experience. Right? Women are not a monolith; we're not here to paint them as a monolith. But the—the biases that we see, the first one is the "Prove It Again" bias; ah, Joan Williams coined this term. And it's a great way to think about women's competence or expertise and how it's valued or in many cases not. Women talk about how they are asked to prove themselves over and over and over again. So, "Prove it to me. Show me your credentials."
Whereas, as men it's really interesting because you might look at Brad and Brad says, "Well, you know, I haven't done that yet but I'd really like to do it. I'm motivated to do it. And I think I'd be good at it." And we'd all shake our heads and go, "Yeah, I think Brad's got great potential to do that and he'd do a great job at it." But not with women. Women don't experience it that—in that same way. We don't see them often for their potential in the same way that we do for men.
The second one that goes kind of hand-in-hand with this—and this is around how we access or use power to influence. And it comes out in terms of how we think of ourselves as leaders and as managers. And the research is really, really interesting on this. That when women show up in a lead and a more stereotypically masculine way—so more directive or more assertive in their leadership style—then she gets labelled your favourite "b" word. Probably "bossy" but maybe some of the other ones too.
But on the other side, if she leads in a much more stereotypically feminine way—so more participative, more collaborative—well then: she doesn't have what it takes to get to the next level to get the job done.
So they walk this tightrope. Or some women describe it as a double-bind. Right? "I can't win either way."
Brad Johnson:
Two others, Geoff. The first is the motherhood penalty. If Dave or I are applying for a job or a promotion and it comes up that we're parents, people say, "Oh, that's amazing, you're doing great work and you're a—you're an involved father." If the same thing happens for women, they face a maternal wall, meaning they're evaluated as probably not a good fit because they're too busy, too distracted, they can't travel, just won't be as engaged in their job because she's a mother.
And then a final one is really unique to women with intersecting identities—maybe around race. So women of colour, black women often report what they call "double jeopardy." You know, "I face the biases of both my race and my gender. And I sometimes feel like I have to work twice as hard to get half as far as a consequence of that. Or I just flat out feel invisible; I feel like people don't see me, they don't hear me in meetings." 
Geoff Capelle:
My sense is that what you're saying is essentially that men can and should work towards breaking apart these challenges. Can you speak a little bit more towards that thesis and why it's important that this is something that men participate in?
[10:27] Brad Johnson or David Smith:
So, the evidence is pretty clear that when—when men lean in to championing gender diversity, women in those environments see significant progress on getting to gender equity. Traditionally, when it comes to efforts to get to gender equity in an organization, it has been an echo chamber—meaning that you look around the room where they're having those conversations, it's women, there aren't any men around.
And the problem is men hear words like "gender" and "inclusion" and "women," and they immediately assume, "Oh, that's not for me." And as a consequence we have years and years and years to go—current estimates—to get to things like closing the gender pay gap. Because men, who hold the lion's share of the power positions, they hold a lot of the political and social capital based on rank in organzations, they're just not involved.
Geoff Capelle:
Can you go into a little bit more detail on company performance and why this concept really does benefit organizations' commerce, individuals, leadership brand, and so on?
David Smith:
Yeah. You know, a lot of this research started in looking at—just looking at groups and teams. Right? And thinking about how do teams with more diversity, how do they perform versus more homogenous teams out there? And the more complex the work is, the more important diversity is on the team. But creating a workplace culture where people feel like they can show up and be themselves—they're not hiding something—they look around and they're like, "Wow. There's men involved in this gender work." Or, "There's white people involved in this work around race." That makes a difference; and we begin to trust our colleagues, and begin to trust our leadership.
Brad Johnson:
And—and until that shifts, and until men recognize that this is not a women's issue, this is a fundamental leadership issue, and "Boy, this is good for my organization, my company" no matter how you measure success. Those organizations with more women, all the way up to the C-suite, real gender-balanced they just do better, they make more money.
So you're shortchanging your organization and—and you're also missing out on the benefits for you, ah, as a male in leadership if you don't get this part of it right: the inclusion piece.
[music]
Geoff Capelle:
We'll be right back.
[music]
Jen Hancock:
At Chandos, building is about more than concrete and steel, drywall and windows. It's how we build and who we build with that determines the legacy we leave behind.
[music]
Our commitment to a more diverse and sustainable future is built into every aspect of our business: the people, the processes, the projects, and every community we're part of.
Let's build better together.
Find out more or join our team at chandos.com. That's C-H-A-N-D-O-S-dot-com.
Geoff Capelle:
Let's say you're someone who's spent their entire career in a male-dominated construction site. So take a construction superintendent trained in this environment, socialized in this environment, heard the sexist dialogue; and you realize it's a problem but you're worried about saying the wrong thing. What would you say to those people?
David Smith:
Yeah. And it's the fear of making a mistake. And I think the first thing that we always start with in—in that fear and overcoming that is really beginning to give yourself a little grace and understanding that you're not perfect and that we're going to make mistakes along the way.
Start by talking to your female colleagues. (Laughs a little) ask them about, "What's the first thing we ought to start with?" And let's start there. And how could we collaborate and work together? Not do it for women but do it together with women to create that.
And that really makes a difference in terms of—of feeling like it's really is a partnership. You're less likely to make some of those mistakes because you're going to get feedback along the way. When you get the feedback, one of the great things, I think, as leaders and as managers we could do is then just share that. Share that with other leaders and managers. Share that with your people. "Hey, you know, when I did this today, I—here's what I was intended the meaning to be when I said this but I realized later that, I found out when all the women in the room rolled their eyes, well, this is what it really—how it came off."
And then maybe even open a conversation with other colleagues, female colleagues to maybe get a different perspective on that. About how—how they received it or how it's affected them in some way.
So again we can begin to build that awareness, build that gender intelligence, cultural intelligence around this.
But yeah, fear of the—the anxiety or the fear of making a mistake is certainly one we ought to overcome. But men are also fearful of losing their man card, violating the bro code in some way as well.
Brad Johnson:
Yeah, yeah. So there is that man card, wimp penalty fear. And—and that's a misperception, by the way, because the data actually shows that when you're in that meeting at work, a male-dominated meeting, there are maybe one or two women in the room, that sexist comment or inappropriate harassing joke gets made, men may think that other men who are snickering in the room all have acceptance of what was just said. The data shows it's not true. There are a lot of men in the room who don't appreciate that and find it offensive; they're just not willing to say anything.
And we find, when one guy will become glued and have the courage to disrupt, that it changes the whole dynamic. And suddenly other men will come out of the woodwork and say, "Yeah, yeah. I agree. That's not cool."
But, you know, we're really big into the bystander research, Geoff. And one of the things you find there is when that comment gets made, after about three seconds something called "bystander paralysis" sets in. And after that the moment is lost, nobody is going to disrupt it.
So we have a two-second rule: within two seconds disrupt. And if you're not sure what to say—that's normal—just try something like, "Ouch." And be clear about, "Ouch!!" And then the beauty of that is it's awkward, everyone's going to look at you, and it buys you a few more seconds to articulate what didn't land the right way with you. And it could be something as simple as, "Hey, we don't do that here," "I didn't find that funny," "I don't appreciate that old stereotype about women," "I'd appreciate it if you refer to our colleagues as 'women' not 'girls.'" Have some of these loaded up in your memory banks so they can roll off your tongue.
The key is that you need to own it. I'm not going to say, "Hey, dudes! There are women in the room, you can't talk that way." That happens too often, right? And it suggests that your disruption is only about the women in the room, not about your own rejection of what was just said. So you have to have some courage and own this.
And let's just be clear. Disruption doesn't mean I have to go, you know, become mixed martial arts smackdown fighter. I can use humour. I can just ask a socratic question, "Hey, what did you mean by that?"
I have lots of techniques for disrupting but I think the key is are you willing to do it.
Geoff Capelle:
What about that loud, brash, kind of machismo personality that you might get? And—and maybe it's not directed at a single comment but maybe it's just kind of an overall behaviour. Is that something you would call out in a group setting, in private? What—what are, what are some of the ways that you could address that?
Brad Johnson:
You know, those brash personalities, my question for leaders on that team: why are you tolerating having folks like that on the team? Yeah, they've been here a long time, maybe they're somewhat senior. But there's a leadership issue here too. I—I think you have to take some responsibility for curating a team that's respectful and—and that allows for inclusion and—and equity. And if some of those personalities are just flat out toxic, I—I'm sorry, I'm looking to the leadership to take some accountability for that.
Geoff Capelle:
Absolutely. And what kind of training would you suggest for those people that might fall into more traditional, loud, brash styles? How do you lead them on that journey between loud and brash to constructive ally?
Brad Johnson:
(exhales) That is a million dollar question, Geoff.
Geoff Capelle:
(laughs)
Brad Johnson:
And—and it's not easy, right? If I'm thinking about bringing men along on the allyship journey, I want to first of all humbly recognize we're all on a continuum, right? This is a journey. And there are some men who are just flat out antagonist toward equity, but I think that's a very small number. More men are somewhere else on the continuum; they're willing to learn. Maybe they believe in, ah, their daughters or their partners having a—a fair shot at opportunity, but they're just not sure what to do in the workplace.
So, you know, for those gentlemen, anybody at that point or farther along on the continuum, I would love to invite them in with things like getting them to express the personal case for themselves. "Who are those women you care about? You know, is it somebody in your family? Is it somebody that you work with? Women that you know personally?"
I would love to have those men hear, in real time, about some of the experiences of their female colleagues. Because a lot of those men who just seem blind to the experiences of women haven't heard directly about some of the terrible headwinds and aggressions and harassment that their female colleagues endure.
Sometimes, just having an opportunity to sit and listen to a group of women share, talk among themselves, about things they've encountered in the workplace can be a huge eye-opener for men. And it—it can create a kind of an—a toehold for empathy for those men where they can then begin to move forward with thinking about, "Okay, this is messed up. It's not okay. I don't want that going on in this place I work. And I want, by the way, my daughter to have a very different experience. So okay, I want to learn a bit more about what I can do to—to change some of this."
David Smith:
I was thinking also about the idea of people on the team who may be junior to this person, those who have a good enough relationship with them that sometimes—and we could actually approach them and do what we would call "carefrontation" and bring this person aside. Maybe have a one-on-one conversation with them, if you feel comfortable doing that. Pull them aside and say, "Hey, when you say these things or say it this way or whatever"—give the very specific tangible—"behaviours and actions that are impacting you and others on the team, I want to work with you and I think you're doing some good things here," and really coach them along a little bit. Showing them that you're in, right? You're bought into working with them, and that you're not trying to isolate them, and you're not trying to shut them out in any way or undermine them but you're actually trying to help them and make them better.
[music]
Geoff Capelle:
Now, in the architecture, engineering, and construction space, you generally have two categories for location: you've got more of a centralized office; and then you have your construction sites, your project sites, your project teams, and so on. Does the way that men act as mentors change in one context versus another? Or are these similar concepts that you can apply across the board?
David Smith:
I think there's a lot of commonality in the concepts that work—from great mentoring whether you're in an office space or you're at a—at a work site, I think, is—is very similar. I think, as we think about in this case women as a minoritized group and within your industry—and again this works for other minoritized groups as well—that one of the challenges that—that they face is that when they look around they don't see many people that look like them, one. So they wonder whether or not they belong: "Should I be here even?" "Am I—am I capable? Am I competent? Because I get those messages that we've talked about." In terms of that you're not seen as a capable member of the team. Ah, your expertise is not valued in that same way. So you—you begin to internalize some of those messages.
And then as you look up at, "Well, who are the people, you know, at the next steps, the next levels of—of jobs and roles that I would like to be in as I make a career in this industry, I don't see many people who look like me." And you begin to wonder, "Am I in the right place?" And we get these imposter feelings. "Wow, I made a mistake or the—the hiring committee (laughing) team made a mistake in bringing me here."
And—and so one of the great things we can do as mentors, just affirm that people do belong and the great work that they're doing, that you value it. And the research is really clear, you know, recognition and affirmation goes a long way and it costs us nothing.
Brad Johnson:
You know, you—you talked about office versus on site, maybe engineering, construction, whatever that looks like. I think a big message for a man is: have the same policy when it comes to mentoring, or leading, or sponsoring men and women. You know, there are men who say, "I won't take a closed-door meeting with a woman. That would be awkward for me to spend time talking to a woman." "Well, okay. If you feel that way I'm sorry. But if you do and you're clear about that, have the same policy for men. For goodness sakes don't have different policies because that communicates that either you don't trust yourself, right, to have these conversations with women, or that you think women are dangerous somehow. And that's not healthy. It's not helpful. You're creating unequal access to you as a leader, and that's not going to work when it comes to getting to gender equity."
I think a lot of men lose sight of the fact that if this is your leadership brand—if everybody knows that you sponsor and mentor women and men, and you're kind of equal-opportunity/equal-access, there's no gossip. There's no story there. They see you talking to both men and women. And I'm sorry, you're not going to have any problem as long as you do that very clearly and transparently.
Geoff Capelle:
You had some great tips in your book about how individuals could be better allies for women. One of the ones that I pulled from there that I thought was really good was about that office housework idea, and how men should take more action with the—the office housework, ah, scheduling, coffee, doing meeting minutes. Things like that that are often passed to their female colleagues.
What are some other tips that you could give to that project manager where the goal is to empower the team and create a setting where women are comfortable, can bring their full selves to work, and get that psychological safety?
Brad Johnson:
Yeah. You mention the office housework. And I would recommend doing things like this. When there are minor and—and I mean non-promotable kinds of things, whatever it is it doesn't matter—make sure that is distributed equally. And one way to do that is not to ask for volunteers.
The reason I say that is women often get socialized to raise their hand, especially when there's awkward silence after someone asks for a volunteer to do some of the stuff. Just, you know, make it a round robin: everyone take a month. But make it equitable.
Make sure that key voices are heard. We often talk about de-centring strategies. And so in those key planning meetings, you know, you're going to have women onboard with expertise and deep experience. And is her voice being heard? Well, you know, sometimes not—when she's being talked over. Maybe she's being interrupted constantly, or not getting the microphone. Saying things like, "Hey, you know, Tania, she has great experience on her last project with this, and I'd really love what she has to say about how we should approach this?" I think we don't do that enough.
Geoff Capelle:
I did want to ask you. We would like a architecture, engineering, and construction sector that is more representative of women in society that is more representative of what society looks like. How does hiring and promotion factor into that? How do we do that more effectively?
David Smith:
Yeah. You know, this is an interesting one. And often the—the question about, you know, from a hiring and promotion and creating that more representative, diverse team in—in our organizations, sometimes it's easy to look back and go, "Well, you know, it's a pipeline issue. We just don't have enough, one, either women interested in—in joining our industry or, two, they're coming out with the right, whether it's education of trade skills, whatever the different skill sets are, there's just not enough of them in the pipeline to—to come into our organizations." And that may be true. There may be smaller numbers in—in some of those…. Especially as we think about very specific skill sets in some of those areas.
So that's one set of issues, that we need to think about the pipeline and—and how—you know, how are we sourcing people. Are we—are we really truly being diverse in all the different ways that we recruit people in? And are we—are we doing it that way? Is it—so what kind of recruiting process do you have? Are you actively out there seeking people and advertising to bring people in? Or are you relying on kind of word-of-mouth people to—to come to you, in other words? They know to come to you. And if that's the case—and there's nothing wrong with that, I think that's actually a very beneficial way if your—if your organization has a reputation for being a great place to work and people want to work there because of, again, the benefits, the opportunities, the skill, everything that they—that you provide, I think that's terrific.
And I would ask you, "You know, so what's keeping some of the most qualified, in this case, women from applying or reaching out to your company to join your company?" And I think if we flip the tables and—and answer that question that way, it really is an eye-opener into thinking about, "Hmm. Well, maybe they're not in our networks. Maybe that word-of-mouth is not getting to them." Or "Maybe we're not seen as that company that women want to work for."
And oh, by the way, the best recruiters that you could have are—are your current employees or past employees. People that have moved on to other positions. Maybe they've had to leave your organization to go to another organization so they could move up—a lot of lateral transfers these days to do that. If they leave and they can come—and they can talk about your organization in—in just glowing terms about, "Oh my god, it was the greatest place to work. And here's why." and—and really recommending it as a great place to work, there's nothing better than that.
And the promotion piece. Promotion also goes hand-in-hand with retention. And I think that they're both important. Because in many organizations today, we see that we're not retaining women because of the experience—one, the experience that they're having in the workplace, so it could be just a workplace culture issue; and in other cases they're—they're not getting the opportunities, they're not being seen for the opportunities to promote and to advance.
And so beginning to diagnose, and beginning to look at, "Well, why aren't we promoting women?" or "Why aren't we retaining women in our organizations?" If we see a gender difference here between men and women and how we're doing that and—and begin to investigate that.
And I think that that's where we begin to get to the root of some of these systemic inequities. It's, you know, for example, the performance reviews. Ah, we might see that, while there's—there's different language that we're using to describe how women engineers are doing their job compared to men. Well, why is that? An does it make a difference in terms of who gets promoted or who gets an opportunity to—to go into those roles, you know, those really stretch assignment roles that we know we need to develop in our careers.
Geoff Capelle:
Your latest book Good Guys, it—it—it's an incredible call to action. And really, the message that I got is that we—we can and must do better. Is there anything that you would say to the women who are listening to this podcast—any words of wisdom?
Brad Johnson:
Yeah, yeah. Without mansplaining you mean, Geoff? Ah.
David Smith:
Yeah, I'm going to try and avoid that (laughs).
Geoff Capelle:
Yes, exactly.
Brad Johnson:
Yeah, okay. Yeah, yeah. So, women have been doing this work all along. And—and it really is only men who are more recently coming to the table and thinking about what their role might be. So I—I think because of that shift we're seeing, and it's a needed shift, I would encourage women to invite men in, to leverage more and better male ally behaviour.
When a male gets it right—maybe he—he pushes back on something that was sexist—go to him afterward and—and say, "Hey, you know when you did that today, it was really helpful. I really appreciated that." That is really powerful. Because a lot of men don't realize when they're showing up as an ally. Or they didn't realize something they did was really helpful for her. And so to hear it is reinforcing. And—and when you reinforce somebody, you know, all the evidence shows that that frequent—that behaviour is going to become more frequent.
Geoff Capelle:
So if someone is listening and they recognize problems in their workplace, what can they take from this podcast and go do right now?
Brad Johnson:
Certainly a couple of things right off the bat. Number one: begin to self-educate. And I think there are two key ways to do that. Certainly you can read our book Good Guys, as a great kind of toolbox, a beginning place to improve what Dave and I call your "gender intelligence." Learn about the experiences of women. Hear from women in the book about what they have really appreciated when it comes to specific behaviours that people they call male allies have executed, you know, day-to-day.
After you do some of that, go to some of the women that you have developed some trust with in the workplace and say, "Hey, I've been reading this book" or "You know, I just heard this podcast in the construction industry. And—and I really would—I'm curious about whether women here experience some of this." So what Dave and I call "Ask to ask." "Would it be okay if you—if I asked you about some of your experiences here?"
I think that's a great way to begin your journey. Because I think it's going to really improve your gender intelligence, your situational awareness, your recognition of what women you care about are going through at work. And now you can start to move on to some tactics for—for changing that.
[music]
Geoff Capelle:
Thanks for checking out this episode of Building Good. Please be sure to tell a friend about it. And make sure you're subscribed on your favourite podcast app, if you're not already.
Building Good is a Vocal Fry Studios production, supported by Chandos Construction and Bird Construction. The executive producer is Jay Cockburn. Our producer is Kattie Laur, with production assistance from Jessica Loughlin. I'm Geoff Capelle, thanks for listening.
Back to podcasts