More condos, but for who? w/ Cheryll Case
Date Published:
September 19, 2023
Heading into downtown Toronto you see a forest of cranes and partly built condo towers. These buildings are providing new, much-needed housing… for a certain type of resident. They're mostly small, with good amenities and high fees. So where will all the families live? Where do our low and fixed income neighbours move to? Cheryll Case is an urban planner who puts affordable housing and inclusion at the heart of her strategy, through her non-profit firm CP Planning. She's on the show to help us understand how we in the construction industry can help people like her plan for more affordability and equity in housing.
Jen Hancock:
This is Building Good. I'm Jen Hancock.
[music]
Jen Hancock:
We're going to start the show today with our producer, Jay Cockburn, who is in his neighbourhood in Toronto, Cabbagetown.
Jay Cockburn:
I'm standing on the south side of Gerrard Street. This is a place I walk past a lot. There's this vacated liquor store here. Most of the land it occupies is a parking lot. But it's all been closed down for a while now, surrounded by an orange fence; and in this parking lot is a blue-and-white board put up by the City. We see a lot of these around Toronto. They usually show a graphic of a proposed new highrise building, with a phone number and details of public consultations.
That's what's on this board: details of a new condo building that's going to go here. There are other signs here too, though. If I turn this way, there's a huge marketing sign. It shows a shiny new building. It looks really nice, really luxurious, actually. The sign says that apartments start at one million dollars.
But Cabbagetown, especially in the southern end, has a lot of lower-income residents. It neighbours Moss Park, an area dominated by three huge towers of public housing. This is one of the most deprived neighbourhoods in Toronto. So perhaps it's not that surprising when I turn back to this blue-and-white board that the City put up and I see it's been defaced. There's graffiti scrawled across it that says, "More condos for who?"
[music]
Jen Hancock:
Toronto is the fastest growing city in North America. And it's in the depths of a housing crisis. The average rent for a one-bedroom apartment is over $2500. The city needs more housing, and it needs it fast.
[music]
Jen Hancock:
Rents are soaring across the country. Over the past two years, average asking rent in Canada has increased by 20 per cent. We have to build a lot of new housing. But if we do it badly, if we don't talk to disadvantaged people and involve everyone in the decision-making, then we get vandalized blue and white billboards.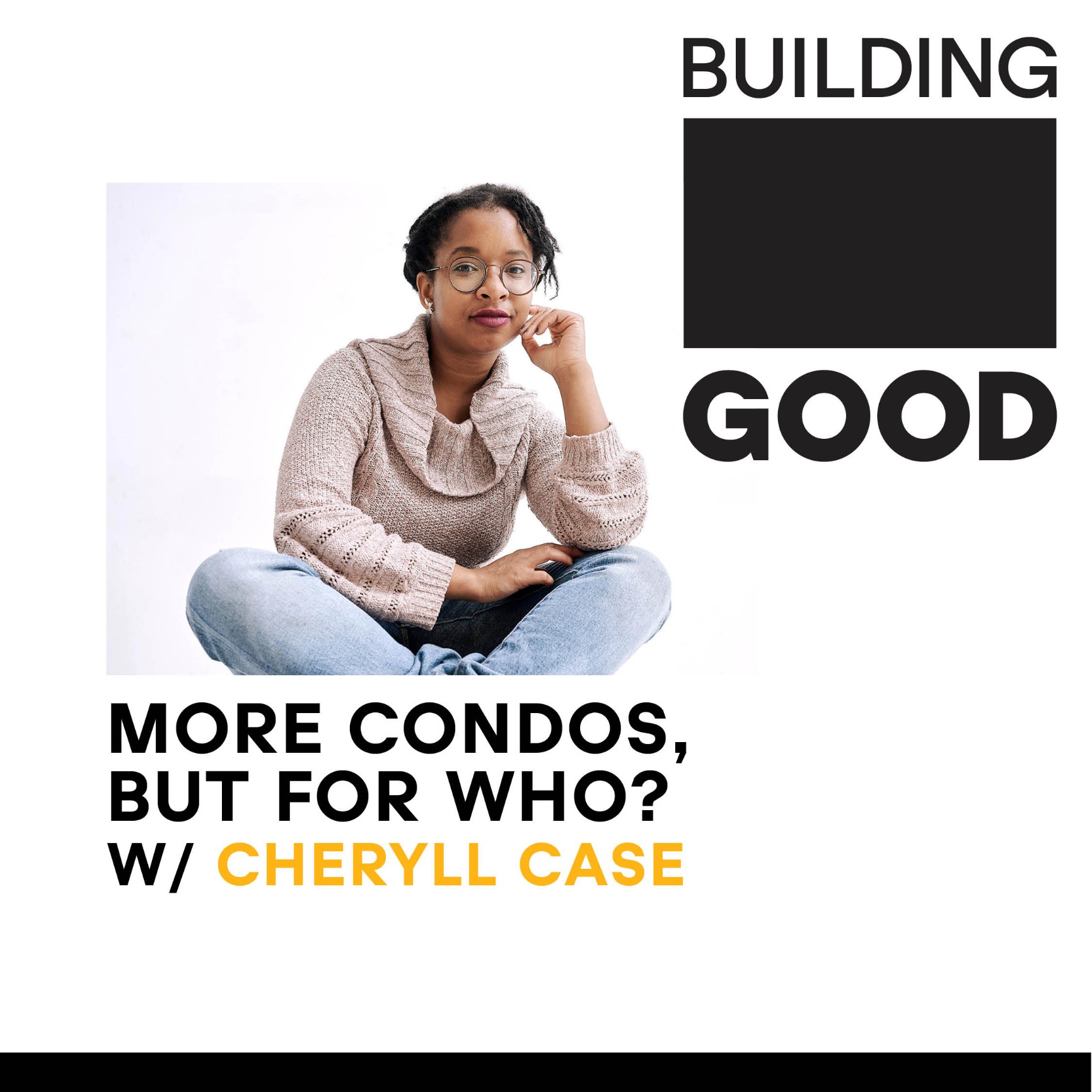 Jen Hancock:
To understand what's going on here, we need to understand urban planning.
[music]
Cheryll Case (preview):
I decided to be an urban planner when I saw the role that it played in bringing together the different sectors. We have the private sector, the public sector, the nonprofit sector. And the urban planner is really the facilitator that helps to build relationships across these sectors to address common issues.
Jen Hancock:
This is Cheryll Case. She's an urban planner in Toronto, and the founder of CP Planning. She was also an editor and one of the authors of the book House Divided, which digs into a lot of the issues with planning in Toronto specifically. Cheryll is one of Ontario's most consistent voices in the battle for better urban planning.
We do need more housing of all kinds, including those luxury condos at the old liquor store. So it can be tough to push back. Housing developers do need to make money. And the for-profit sector dominates our construction industry.
But if all of the housing we build is like that building—million-dollar bachelors with likely expensive condo fees—then where will families live? Where will our low or fixed-income neighbours go?
Those are the questions Cheryll tries to answer, and the issues her non-profit firm, CP Planning, is helping to fix.
It starts with who you invite into the room where decisions are made.
[music]
Cheryll Case (preview):
Community planning is working across from the grassroots all the way up to institutional partners and government leaders to align on solutions around land use. So it's not just that we need to create housing supply, you need also to build the labour of folks who can do that work, and build the connections between the folks who can do that work.
[music]
Jen Hancock:
Vast swaths of Toronto are dominated by detached single-family homes. Owners of this type of home are more likely to be white, wealthy, and older. In other words, they are more likely to have the time and the means to turn up to public consultations and object to new housing. Cheryll works to make sure that racialized groups and the less well-off get their representation too.
[music]
Cheryll Case (preview):
In construction and planning, things that work against social equity is that racialized people, lower-income people are just, in many ways, kept out of decision-making roles within the sector. There are reports that come out about people of colour leaving the sector, around people of colour not being able to access jobs. And we know that immigrants and the people-of-colour community is the one that's leading to Canada's growth. So if these communities are not being welcomed into these spaces, also these communities are the ones who have the greatest lack of affordable housing access and job access. So continuing to exclude them will only exacerbate the housing crisis as well as social crises.
If we're implementing(??, 5:17) a human rights approach to planning, that means we need to be engaging those who are most marginalized and supporting them to have decision-making roles in regards to identifying the problem and then also implementing solutions to those problems.
Jen Hancock:
What about zoning regulations in Canadian cities right now? Like, how are they part of the problem that you're seeing?
Cheryll Case:
Yeah. So in order to really understand the problem of zoning regulations, you have to understand where do the zoning regulations come from in the first place.
So, Toronto is my homebase. So I can tell you a bit of the story of there, but it very much applies to other cities.
So in 1904 in Toronto, the first permit was filed to build an apartment building. So before, it was just family houses and semi-detached. In that same year, the architects' magazine published an article stating that apartment buildings would lead to women no longer having care in home-keeping or raising a family.
And so the purpose of this article was to push back against the idea of women having freedom to live independently from men. Because before the apartment building, a woman would have to live with a man to be able to access housing in a single, detached, family house.
So this social exclusion continued within the planning and zoning regulation world—to this day, really.
Another instance to share is in the '60s in Etobicoke, a borough of Toronto, there was a development process to establish one of the first ever single-detached exclusive neighbourhoods. And so folks had to apply to buy housing there.
And so, in the application they explained why they wanted to move into this neighbourhood. And so, in their application they stated that they wanted to move into this single-detached exclusive neighbourhood because their existing neighbour was being overrun by immigrants, that they did not want to live amongst the common class.
And so, you think about the 1960s of Toronto, what it looked like back then. It was a lot less diverse, but the zoning regulation system, by enabling this exclusive neighbourhood, enabled that social and ethnic segregation.
So zoning regulations today may not have that written into its code, but the social place from where it came, that's the fundamentals of it. So in order to really address that component, zoning regulations need to be imagined in a very different way, where the purpose of it is to help to create systems and supports to enable affordable housing development.
Jen Hancock:
I'm curious, in the time from when you started to now, have you seen the recognition that having more marginalized voices, or just that diversity of voices at the table, the importance of that, have you seen that more recognized now than it would have been five, six, seven years ago? Have you seen a change in that? Or is it sort of the same?
Cheryll Case:
So, I think that there has been change in certain spaces. Whether or not the amount of investment to really create that shift has happened, the answer would be, "No." But there is a little bit more conversations.
So one thing I can share, also, that CP Planning is working on doing a study on the planning reports being conducted by municipal governments. When you do the scan of what planning governments are talking about, the discussion around engaging more marginalized communities is not often coming up in their Top Ten priorities.
So as much as discussion is happening here and there, if the government is not talking about it when they're conducting their planning work, we're not going to see enough movement on these topics.
Jen Hancock:
Right. And building is done—home building and other development is done by the private sector. And so what's the motivation on the private sector side to actually start to think about this and include diverse voices at the table, so that the work that they're doing has the voice at the table in the first place? That—is that like ultimately one of the biggest issues too—because the private sector, their main goal is going to be, like, to make money? I mean that's what development is there for.
Cheryll Case:
Yeah. So all the sectors have to work together in order to create the solution. So in the role of the private sector—where they think about profit—they (inaudible, 9:12) think about the longevity of that profit and also the secondary or unintended consequences of their approach to profit.
I think the environment is a huge example around how we're investing in the environment and how it's impacting our long-term longevity as a culture of people.
So there definitely are other ways to look at profit that will consider the consequences. And I think that the ESG movement is a really great opportunity to really dedicate some time to think about that. The "S" in "ESG" is "Social."
Jen Hancock:
Yeah. The ESG often tends to focus mostly on the "E" part. And actually the Social and the Governance piece, you can kind of connect both of those together to get better outcomes, like, that very much connects them. Though the "S" and the "G" are the part that frequently get sort of they're less talked about.
Cheryll Case:
Yeah. And I suppose they're like, you know, in terms of that, I've heard that before, like, from the banking industry, that the "S" is the hardest part. But I think the "S" is the easiest part for the non-profit sector. So it's about that collaboration.
Jen Hancock:
Again that's actually where if you have the "G" part it actually helps you get more of the "S"—like, the Social piece—anyway.
How do you deal with pushback from people who probably already—like, if they own their home and just want to, like, freeze their neighbourhood how it is? They don't—like "I don't want you changing my neighbourhood." What would you say to someone who thinks this whole thing is a threat to them?
Cheryll Case:
Don't worry about it. (laughs) Just don't worry about it.
Jen Hancock:
Do you find that you can actually get people to—when they understand like if you can look at it like an ecosystem, like balance? Like we need balance in all of our systems, including our cities and our neighbourhoods, in all kinds of ways. And we're missing tons of balance in a lot of how they're planned. Do you find people, like, that piece they can resonate a bit more with?
Cheryll Case:
I think that all these rationales are logical. And I think it's important to communicate to the people who are opposed. So at CP Planning we really focus on strengths and opportunities. So if the person is not interested, they're not really worth our time. I think that also this sector of work that is dedicated to engaging marginalized people is so under-funded and also so small. So where I'm investing my time is to grow this space so that there's more knowledge on how to actually authentically engage marginalized communities. So the conversations with the people who are against that housing, I think there's other people who have developed that talent and then they can have that discussion.
[music]
Jen Hancock:
You have what's called a "Roadmap for Redevelopment Plans to Confront Systemic Racism." Can you talk me through a little bit of that?
Cheryll Case:
Yes. This program is about engaging with folks across the housing sector across Ontario. There are a lot of common issues that are being experienced in the cities that we're focusing on, that being Toronto, Peel, Hamilton, Kitchener-Waterloo, Ottawa, and York Region. These are all cities in Ontario that have received major investments in transit infrastructure; but that transit infrastructure was not paired with dedicated plans, policies, or investment for affordable housing protection or creation.
And so what we're seeing is the privatization of this public investment. And who is benefiting from this? It's the landlords; it's the developers. I understand also the developers are also having a hard time in terms of accessing financing. So it's not really, in terms of who is winning here, there are not enough winners to really validate this outcome.
So that's really (inaudible, 12:55) the crux of it. We're bringing together these different stakeholders, and we're building consensus on what are the issues and also what are the solutions.
In Ottawa, for example, we've established the Ottawa Affordable Housing Coalition. So this is a group of non-profit affordable housing providers as well as some government folks as well, who are—or even folks who are not working in affordable housing but maybe they're running a refugee centre. So they're working with people who need access to affordable housing.
We've brought them all together in one room. And we're now aligning our strategy to engage with government actors, with private sector, around increasing affordable housing supply. And we're actually now having aligning efforts towards supporting a specific neighbourhood as a pilot of this Coalition.
In Hamilton, we're supporting the Hamilton Community Land Trust and also doing some work around black communities to support them in being able to build affordable housing, and developing kind of an ecosystem approach towards making sure that if we're going to be engaging with communities to support affordable housing development, those communities can also be able to access being a part of the economy.
A lot of times we've seen, for example, in the black community, we're asked for our opinions on matters of our wellbeing, but we're not actually enabled to conduct the work to generate that wellbeing and sustain that wellbeing. So affordable housing for black communities but also with black communities is something that we're doing in Hamilton.
So it looks a bit different in every neighbourhood. But one of the fundamental things that is consistent across all of the cities and neighbourhoods that we're working in, is we're partnered with a local community organization non-profit charity to conduct the work. And we're doing it in partnership with that organization.
Jen Hancock:
Do you find—just what I'm hearing, like, is a lot of a work consulting work with that government and non-profit side do you see many private developers coming to you to say, "Hey, we want," like, "this is a space we need to move into. Help us." Are you seeing that?
Cheryll Case:
Yeah, actually. So we have a private sector developer on our Roadmap advisory committee. And he's been amazing. Daniel Byrne from Main and Main. And we've also been engaging with other private sector developers.
So in Little Jamaica, for example, I've had developers come and say, "I want to help." And then it's just like, "Okay, we've got to figure how to organize the resources to align for your help to be most impactful. So we're going to be conducting a number of interviews with people in the financial sector, which is related to the development sector as well to, further gain that consensus around what can be implemented to best support you in your role in developing affordable housing."
Having talked to a few folks so far in the development sector, very clearly we've learned that financing is a huge barrier to developing affordable housing. So if we're going to be serious about this matter, we really need to figure out how can private sector developers be able to make some profit but then still be able to meet their heart interest of developing that affordable housing as well.
Jen Hancock:
Yeah, you need both.
When you were talking about some of the transit, you used the term "transit-oriented displacement." Can you talk about what does transit-oriented displacement mean?
Cheryll Case:
Yeah. So transit-oriented displacement is that all this money has been put in towards building this transit, very little towards affordable housing. And it's not that communities didn't bring to attention that this would happen.
So looking at Little Jamaica, looking in Toronto, looking at Mississauga, and Hamilton, and Ottawa, all the cities you've seen and you talk to the people, they'll tell you that they've engaged in the process and noting that they want affordable housing; the issue is that these notes are often not even recorded in city reports on the matter of the transit line and what's going to happen around the transit.
So it comes down to, you know, why is that happening?
I have worked within these systems, in terms of engaging with people who work in the municipal sector, and seeing that the folks who are inside of government and they're wanting to see more affordable housing supply, themselves are not being validated around the topic. Why is it that, this affordable housing is not being prioritized? I think that's a question I'll leave to the audience to figure out. But what I do know is that transit-oriented displacement is a matter that we're having to deal with now.
Jen Hancock:
So they put energy and attention into developing these transmit nodes and, like, thinking about the roading, but the cost of lands go up around that. So we're not putting affordable housing in places that make it easy for people who need access to that transportation, is that part of it, like, where it starts to, like, get pushed out from some of these, like, core transportation nodes? Is that part of it?
Cheryll Case:
In talking to people working in the municipal sector, what they've experienced is that in bringing up the fact that adjacent to transit is where you have the highest densities and volumes of lower-income households, of renter households, in many cases black households in many cases as well, indigenous households, that they are in the highest volumes and densities around transmit. Municipal planners are being told—again those in the lower levels of the organization most often—that these are not relevant to the planning of this neighbourhood.
And so then if it's not relevant, then how can you plan to address and to support those communities? Right?
Jen Hancock:
Right. So you end up with issues in those communities. It's like everything needs balance. And so you're not—they're not thinking about balance in those communities, really.
Cheryll Case:
Yeah. It's like the attention to really dive into the topic. Because you identify an issue then you need to really dive into it to actually develop a solution. Because this is a—this is a really complicated problem. Right? Because we know we need to be developing new housing, and we also need to be protecting those who live in the neighbourhoods currently, and also to create new affordable housing. Because it's not that we're having enough affordable housing now; we need to create access, affordable housing. And so to actually do that, you need to be engaging in the topic and having dedicated attention. 
What we're seeing right now is that, because there's a lack of affordable housing policies and programs in neighbourhoods adjacent to transit, there's an application for a new development and sometimes even before it goes to construction phase the developer will push out its renters, because that's easier for them to do.
And so we have our office in Little Jamaica. And we share an office with a community organization that provides tenant services. And so we've had tenants coming into our office when we're in the office, noting that they're being pushed out because the property was recently bought. And then you find out that, oh, there's an application on that property. So it's—it's very intentional.
That's really what transit-oriented displacement is. It's the compounding of that during the planning process it wasn't a priority and, too, now the ongoing implication of the development going up without that support means that the people who are lower-income are being pushed out, either by the purpose of there being a redevelopment on their property or the landlord having an argument around kicking out and increasing the rents.
Jen Hancock:
Yeah, because suddenly that property is much more valuable and they can do…. Yeah, for sure. Okay. Yeah. That makes lots of sense. Okay.
[music]
Jen Hancock:
We'll be right back.
[music]
Jen Hancock:
At Chandos, building is about more than concrete and steel, drywall and windows. It's how we build and who we build with that determines the legacy we leave behind.
Our commitment to a more diverse and sustainable future is built into every aspect of our business: the people, the processes, the projects, and every community we're part of.
Let's build better together.
Find out more or join our team at chandos.com. That's c-h-a-n-d-o-s-dot-com.
Jen Hancock:
So, I work for a construction company, Chandos. How can a company like mine be a better ally to planners like you?
Cheryll Case:
So I think some ways that Chandos and other construction companies could help is definitely in retaining more talent that are from marginalized communities, because that is really helpful towards helping them to build that knowledge and also to support their communities.
Another way is if you're an expert in construction, join a racialized non-profit's board. What we found in doing the work of the Roadmap is that one of the key indicators of success for a non-profit who wants to build affordable housing is to have someone on their board with experience in planning, development, or construction.
And so we're looking for ways to engage at a community level, growing a board of a non-profit that is led by racialized communities and has interest in building affordable housing would be another great way.
So the two ways being: supporting racialized-led folks to join the industry, working with racialized-led organizations and firms to be part of your team; and the other way would be at the community level to support by joining the board of a racialized non-profit who is interested in building affordable housing.
Jen Hancock:
Right. And bringing that specific construction voice there. And yeah, it's about being intentional about designing your company and making sure you have all the voices at the table. Because if you're missing them, those become very much blindspots of you can't see always what—what you maybe haven't experienced.
I mean, right now we kind of know—I mean, as a female in the construction industry, we definitely have a diversity issue in construction, across the board, both from racialized and women across the board. Do you think that's part of the issue that we also have—that we need to really again be much more intentional with how we create spaces that—and how we hire?
Cheryll Case:
Yeah, I think so. And I think also as important as hiring is the retention piece. Because what you don't want to do is hire somebody and then they are so scarred that they have to leave. And then they might leave the entire industry altogether. I do know people who have done that.
So in your process of looking to hire more women and more people of colour, making sure that you're also hiring them in senior positions, as well. Yeah, it would be really important.
Jen Hancock:
And then, do you think in terms of encouraging other companies—like construction companies—around equity, do you think that there needs to be some sort of incentive, penalty, regulation, anything around that? Or do you have any thoughts on, like, other than, you know, out of the goodness of people recognizing it's strong strategy to make sure you have diversity throughout your organization?
Cheryll Case:
Yeah. So the Toronto Community Benefits I think is a really great leader in thinking about the intersection of who is doing the work and then also who is funding the work. So when it's government funding, I do very strongly believe that whoever is winning the bid must show that they are dedicated and already positioned in many ways to succeed in having a diversity of folks on their team, including racialized people and women. So I think that that would be a key thing, in any case regarding any government funding.
Jen Hancock:
What does the ideal planning environment look like for you? Like let's say if you could start from scratch in the City of Toronto or Vancouver, just from a framework and like how the plan—planning piece works. What would you do?
Cheryll Case:
So if I could start from scratch, the planning sector or the planning processes, I think number one would be ensuring that community organizations have a greater role to play. So that means that, you know, your local community centre who provides health services and recreational services, they're the ones who are most connected to those who are marginalized.
And so they need to be validated. And the way to validate them also is to ensure that they're economically incorporated into the process, because they don't have money laying around to engage their community on these topics.
And so I think that the planning sector that would be most aligned on building affordable housing would also be having strong, meaningful, and respectful relationships with these community organizations, as a service-delivery partner.
Jen Hancock:
So build that in so that it is absolutely part of the process and not missed. And what I've heard from you too is you need to maintain that, like, engagement. Like, it's not just about, like, having the one conversation. It needs to be maintained and retained, and through the whole process, basically.
Cheryll Case:
Yeah, exactly.
Jen Hancock:
Maybe just to step back, because there are couple things I want to touch on back on your Roadmap for Redevelopment Plans and then a little bit about your event in November, so it's a bit of a party. Why is it important to, like, have that fun aspect to an event that you're having?
Cheryll Case:
Yeah. So it's always been a part of our culture. It's just a big celebration. Thinking about all the work that we've done to get us to that point, having a dedicated space just to celebrate what we've achieved, I think it's really important.
At the last Roadmap kickoff party we did, we had a dance performance, and we had a singer as well. It was a great time. I had a walk-in song. My staff were like, "Oh, Cheryll, you should have a walk-in song, because this is like your big moment." It was Lady Gaga songs—one of my favourite artists. And so I don't know if I'm going to have a walk-in song this time (laughing). I don't know if we're going to figure it out.
And also what was really great to see was that—to see that the people who came to this event, who I've been working with even six years ago or five years ago, that I may not have even seen for years, and they're coming because they're celebrating also that knowing that the work that we did together has allowed us to come to this point.
And then we're also going to be celebrating what do we have before us. Okay, we've achieved all of this and so what do we want to do next? Right?
I think that's why it's so important. And just, you know, it's—it—it keeps that excitement. And I think it also acknowledges that this work should be one about bringing communities together. And that's what our approach to the event and having it as a party did do.
Oh, we also had a DJ—I forgot that—as well.
[music]
Jen Hancock:
Thanks for listening to this episode of Building Good. Make sure you're subscribed on your favourite podcast app, if you're not already.
Building Good is a Vocal Fry Studios production, supported by Chandos Construction and Bird Construction. The executive producer is Jay Cockburn. Our producer is Kattie Laur, with production assistance from Jessica Loughlin. I'm Jen Hancock, thanks for listening.
[music]
Back to podcasts