Profit and purpose aren't mutually exclusive w/ Afdhel Aziz
Date Published:
October 3, 2023
Afdhel Aziz is a "recovering marketer". His purpose used to be helping some of the biggest brands on the planet sell their products, and he did that by connecting them with "cool". Now, he thinks that "cool" has been replaced with "good". He's even written a book about it: Good is the New Cool. He joins us to talk about how companies need to have a purpose beyond just making profits, because that purpose ultimately does lead to profit.
Tim Coldwell:
This is Building Good. I'm Tim Coldwell.
[music]
Tim Coldwell:
The construction industry is at the sharp end of solving the housing crisis. That's a complex issue, with a lot of different root causes. But ultimately, we need to build more homes. But we also need to make it so that more people can afford those homes.
[music]
Tim Coldwell:
But in a for-profit world, a construction company wants to make as much money on each of those homes as possible. In a purelyl for-profit world, profit is the only purpose.
But it doesn't have to be this way.
[music]
Tim Coldwell:
It feels like there's an awakening that has to happen in this sector, that's maybe even already happening. But even still, it can all feel a little overwhelming.
Afdhel Aziz (preview):
There's an incredibly cool word—not cool but interesting word called "polycrisis." Which is (laughs a little) the word to describe all of these intersecting crises that we have at the moment: where you're seeing biodiversity loss and climate change; you're seeing massive inequality; and you're seeing political polarization. And you're seeing all of these things which show society disintegrated.
Any one of these things is problematic enough. The intersectionality (laughs a little) of all these things is cataclysmic. And so there is this sense of panic and urgency, where I think now that's what people are more focused than ever before on: only supporting companies that have a clear path to Net Zero; only working for companies who have diversity and equity plugged into them. All of a sudden, it's become way more important to decide what to do with your time and your dollars.
[music]
Tim Coldwell:
This is Afdhel Aziz.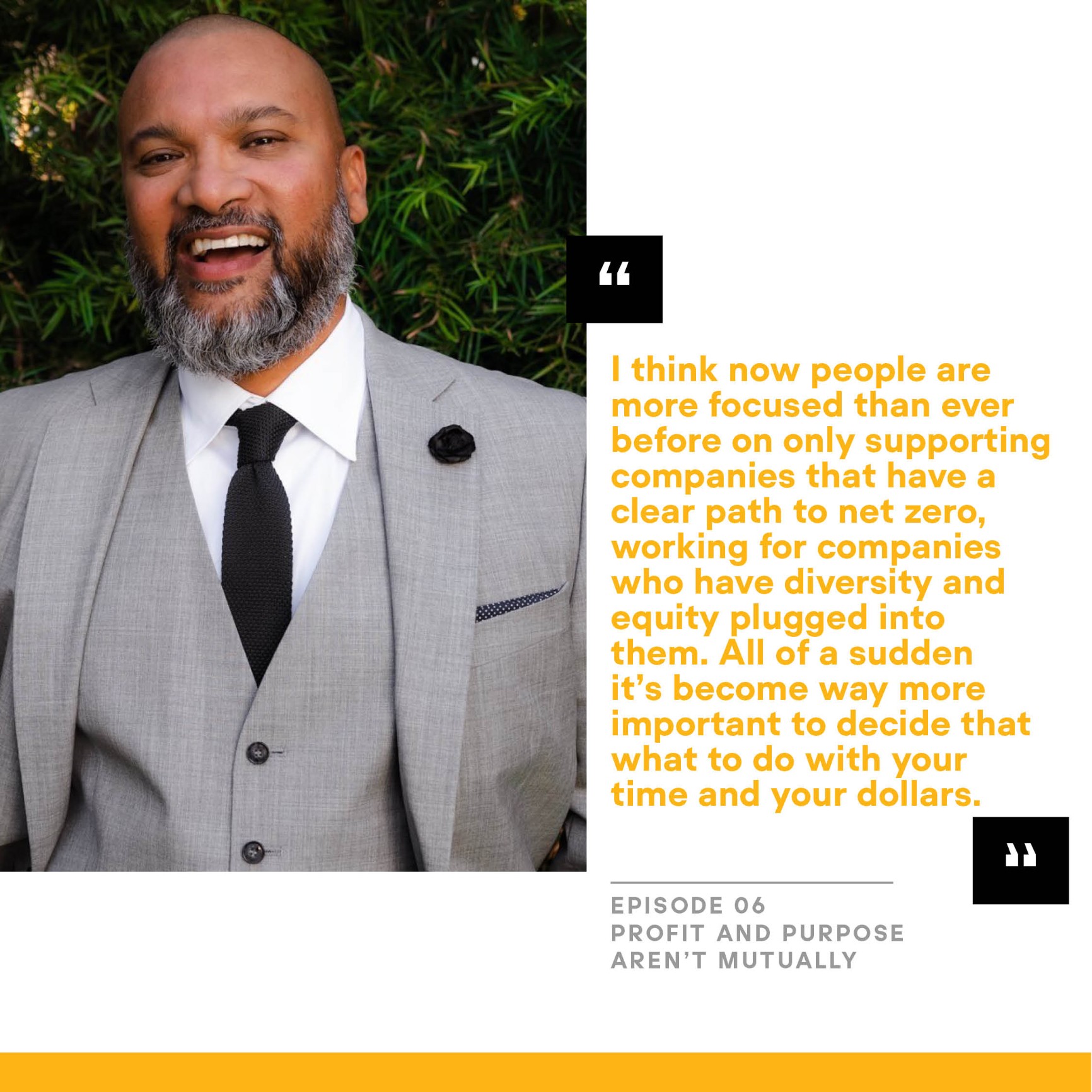 Afdhel Aziz:
I'm the Co-founder and Chief Purpose Officer at Conspiracy of Love, and the Co-founder at Good Is the New Cool.
Tim Coldwell:
Cool!
Afdhel is obsessed with purpose. He is a firm believer that companies, no matter sector they exist in, will not be able to thrive in the modern world without a clear vision for how they can do good and give back.
In fact, he has written two—going on three—books about it.
Afdhel Aziz:
I'm a relatively late convert to this idea of purpose. I like to call myself as "a recovering marketer." I have spent 20 years inside major corporations like Proctor & Gamble, and Nokia in London, and then Heineken and Absolut Vodka in New York. And I was helping companies sell more stuff—that was my purpose. I got to connect some of the biggest brands on the planet with the cool, with culture. Right?
And so I always say my 17-year-old self would have been astounded at where my 37-year-old self got to. You know, in terms of being able to work with artists like Lady Gaga or, you know, the TED Conferences, or Tribeca Film Festival.
But something strange happened where when you fulfill your dreams (laughs a little), you've got to go find a new dream.
[3:05, very close to silence]
It was the strangest feeling. You know, I kind of liken it to, you know, those Roadrunner cartoons when Wile E. Coyote like runs up a cliff and there's no cliff beneath him, and he's looking down and going, "Whoop! What do I do now?" That was me.
Fortunately, I had a dear friend, Bobby Jones. We were both young dads, you know, in Brooklyn. And we were both working in this marketing space. And we kinda confessed to each other, at lunch one day, that it just wasn't doing it for us anymore.
And we said—we decided to just write a book as a way to unpack what was inspiring in the world. And so we didn't have a grand thesis in 2011 when we started writing Good Is the New Cool. We just said, "Let's pick up the phone and call people up who we think are doing really cool work."
And these were people in brands. So you were beginning to see companies like Toms, and Patagonia, and Warby Parker plant these first seeds of what you call like brand or corporate purpose. And there were people working in culture, as well.
And so we noticed something in common which is: those people that we admired had found meaning in their lives and were able to channel it into their work. And so that was the genesis of that first book, Good Is the New Cool: Market Like You Give a Damn. Which you were kind enough to take me on tour and with Chandos…
Tim Coldwell:
That's right!
Afdhel Aziz:
… way back in 2017, 2018, something like that? And that's where we realized, you know, as marketers we were focused on consumers and brand purpose but there was this much bigger shift happening, ah, with corporate purpose. With employees now saying, "I want to have a meaningful job." Investors in Wall Street waking up and saying, "I want to invest in sustainable companies." And you know, ESG coming to the fore.
And so corporate purpose became the subject of our second book, The Principles of Purpose, which unpacked for leaders how to navigate this. And we're now working on book number three, which is about personal purpose in your work. So it's almost like the Unified Field Theory of Purpose (inaudible).
Tim Coldwell:
(laughing)
Afdhel Aziz:
We come at it from every angle. Here you go. How to have purpose in your brands, purpose in your companies, purpose in your work. And then, I think that we may have covered it (laughing) in as much detail as we can cover it, as well.
So that's how we got started. And that's why I'm still fascinated by this topic. I can geek out about it all day.
Tim Coldwell:
In case it isn't already obvious, building a purpose-driven company is something that I've already bought into. I think, at this point it needs be at the core of the entire AEC sector. Historically, profit might've been the purpose of a corporation, but I don't think the two are really mutually exclusive.
Afdhel Aziz:
I think—to quote our good friend Nelson Switzer, who is one of the biggest thinkers in this space—the transformation of every single facet of our economy which is coming because of climate change, everything has to change in order for our species to survive. Right? (laughs a little) And so when you look at those companies that have understood it, and have taken a first move or position to capitalize on that, these are the most successful companies on the planet.
Take Tesla, for example, right? What Tesla did with the internal combustion engine and leading the charge to electric vehicles, they're the category leader and—and have forced everybody else in the category to play their game and go to full electrification. Which has led to infrastructure changes, globally; governments phasing out fossil-fuel engines; investing billions of dollars in EV infrastructure, charging stations. Like, if anybody wants a blueprint as to how an industry can change from an 18th-century technology—which I'd argue that most of building (laughing) and construction is still—is stuck in…. Right? Where we're putting bricks and cement together.
It's look at Tesla, and look at what they did, and look at how valuable they've become. And then you look at what's happening in the construction industry and you go, "Oh, man! There's such headroom for innovation and growth there."
Tim Coldwell:
When you peel the onion back, all the way to the core of it, why do you think there is such a demand for purpose-driven organizations and products? What's different about today's moment than, say, 20 to 30 years ago? Do you have a theory on that?
Afdhel Aziz:
Yeah, there's a couple different theories. You know, one is that it's generational. So if you look at millenials and GenZ—the next two generations entering the workforce, becoming investors, becoming consumers—you see them as being products of a capitalist system that is starting to break down.
Tim Coldwell:
Mm
Afdhel Aziz:
Right? From a financial perspective, these are the kids who saw their parents lose everything in the 2008 financial crisis. Right? So they saw their—their folks work in a job that they may have hated for, you know, 40 years to buy a house, which vanished in the crisis to put money into a pension plan, which vanished. And they went, "I don't want that life. I don't want to wait 'til the end of my career to have meaning in my—in my work. I want it now."
And so they are looking to vote with their wallet—like we say. You know, so they're saying, "I want to support brands and corporations that share my values. I want to work for those brands and corporations, you know, and see my work do something good."
And then—and this is the, you know, hill I will die on (laughs a little)—I believe that capitalism and corporations, alongside government working in harmony with them, can be the thing that solves these problems. It's the thing that, to a large extent, created problems (laughing), and so it's only by transforming that can we have a—I think, a fighting chance of solving these problems.
Tim Coldwell:
Yeah, absolutely.
So you worked all over the work with many purpose-driven organizations. Do you have a theory in terms of which parts of the globe are most interested in this idea of purpose and impact? Or is it a common phenomenon around the globe?
Afdhel Aziz:
Yeah, there's a set of different factors that dictate how fast this idea of business as a force for good has accelerated. A big one is the presence of a government that's dedicated to a welfare state.
So in those commonwealth countries, and Canada included, there is an expectation, rightly so, that government should fix the major societal issues of our time. And so the job of governments then is to like regulate and to kind of like police corporations. And so there isn't that same expectation that corporations should step in.
In countries like the United States, where there is no social safety net, where there is giant gaping holes in our infrastructure, in our social policy, there is an expectation for CEOs to step in and do the things that government used to do, or to help at least repair some of the gaps that we have in an unprecedented way.
So there's almost like a sliding scale, where there's more government expectation and less corporate intervention.
But the other scale (laughing a little) is I like to call it like the amount of trauma that the society has had. Right? And the United States…
Tim Coldwell:
(laughs)
Afdhel Aziz:
… Lord knows we have had enough trauma—societal trauma, political trauma. And there's something about trauma which is a trigger. It makes people wake up and go, "Oh, we gotta do something." Right?
Contrast this to Australia. Right? Stable democracy government in place, social policies, relatively low amounts of trauma until recently—until when the bushfires kicked in and the real effects of climate change starts happening. So there was a sense of complacency. It's like, "Aw, what's the worst that could happen? We're kind of fine and safe over here."
And so I think it's this—this scale where you have United States probably in the forefront in terms of thinking about it. With western Europe closely secondly behind, right? Especially in countries like The Netherlands, where you have Unilever and companies like that who are already thinking about it.
And then, unexpectedly, we're now doing work with Coca-Cola in Latin America. And we're looking at creating a water-positive future. You know? And looking at countries like Colombia, Brazil, Argentina. We're doing work with Sephora in Asia, looking at disability. And I never thought we'd be doing work in those parts of the world before we're doing work in places like Australia or, even I dare say, Canada as well—where there's—there's again I go back to "Government is going to solve this problem, right?"
Tim Coldwell:
That makes sense. The social—the social fabric intact therefore we don't need to really act as much as others may need to. That's, ah, that makes a lot of sense.
[music]
Tim Coldwell:
We'll be right back.
[music]
Geoff Capelle:
Bird Construction's century-long impact has been etched into the fabric of Canadian communities that we've help build, from coast to coast to coast.
[music]
Geoff Capelle:
From the social infrastructure that enriches our communities, the transportation and communications infrastructure that connects us, and the power, energy, and resources that move us, Bird builds with a collaborative culture and solution-focused mindset to build a better tomorrow.
[music]
Geoff Capelle:
To join our team or learn more, visit bird.ca.
[music]
Tim Coldwell:
So, just to dig in a little bit on the idea of companies feeling or seeing a need to have a positive impact. You know, we're certainly living in a polarized time. And some companies may end up having purpose weaponized against them—certainly in today's environment of anti-woke. How is that impact in your work? And what's the path forward through that, in your mind?
Afdhel Aziz:
I love talking about this. So, let's just start by talking about the word "woke," right? So, this is term which was used by social justice activists to talk about the idea of being enlightened. Right? Of being aware. Of understanding the problems of systemic racism. That's where it started from.
It has been hijacked and weaponized as kind of like a blanket term to describe, let's call it, liberal values run amok. Right? And it's now somehow being turned into an insult.
And so when I see headlines going, "These woke companies, bla-bla-bla," I'm like, "Let's just play this out." The flip side of "woke" is "asleep." Would you rather have asleep companies? Because companies asleep are what caused the environmental crisis, (laughing) and what caused so many issues being asleep at the wheel. So give me a wakened company any day of the week, is the first thing I'd say.
My advice to leaders is: know your audience; know your values; know what your leadership thinks; and be true to them. And then if you act with authority, and integrity, and authenticity, you can weather this storm as well.
You've gotta figure out a happy middle-ground where, you know, you have certain stances that are just the-right-thing-to-do. I think that's where you have to figure out your internal values and go, "Do we want our LGTBQ brothers and sisters, non-binary and transgender folks, to have the same rights as us? Yes, we do." Then, "We going to back this," whether it's Pride or not-Pride. Right? And hold your ground and have corporate policies in place.
I talked to an Accenture employee in India who is a transgender woman—transgender Muslim woman, by the way—hijab-wearing, transgender, Muslim woman, where Accenture has gender-reaffirming care and backed her 100 per cent. And I thought that was astounding to have somebody who felt safe in a company in a culture where they backed her identity. Right?
And so that employee is going to be loyal for life. But I think that's where as a company you've got to figure out who your base is. It's like almost like being a political party. Who is your base? Who are the growth voters you want to bring onboard? And then our advice is: purpose doesn't have to be political.
There are so many things that companies can get involved in that are apolitical. Like everybody wants good communities for their children to grow up in. Everybody wants economic opportunities. Find the thing that isn't a political highwire act, and put your efforts behind doing good in that space.
Tim Coldwell:
I expect that when you meet people in the business world, you know, you go down the line and you shake 10 hands. And in your mind, there's like, "This woman" or "That guy"…
Afdhel Aziz:
Yes
Tim Coldwell:
… gets it. There's a sparkle in their eye. How do you know, ah, when you see it?
Afdhel Aziz:
Yeah. I call it having the purpose lightswitch flicked on. Like you meet people and you're like…
Tim Coldwell:
Mm
Afdhel Aziz:
… "Oh, that person." And by the way, you and I were privileged to have 50 of them show up in Toronto last week. Everybody in that room had that purpose lightswitch flicked on. Right? Which meant they—they were all leaders of their companies, they're leading major construction, architectural, real estate firms, but they cared about the world. And they cared about…
Tim Coldwell:
Mm
Afdhel Aziz:
… not just their careers but the world they were leaving behind, the world they were building for their employees, and also the legacy they were leaving behind.
Interestingly enough, this third book that Bobby and I are writing about purpose-driven leadership, trauma again is a common pattern. In almost 80 to 90 per cent of the leaders that we interviewed, there was something traumatic happened.
Trauma is where there's a crack in their universe which makes you think differently about the world. And if you are lucky enough to have the resilience to make it through the trauma—and some people aren't, some trauma can just wipe you out completely—that resilience that's built triggers something. Where you start to wonder why did you survive and what are you going to do with the time you have left.
And that is the hallmark of a purpose-driven leader—where they stop thinking about it in a kind of an ego-driven sense, which is about me-me-me, and start to think with their authetic self and start to think about the greater We, whether that's their company, their community, the country, or the planet.
I can tell these people because they are kind. Like they spend time with you. They're there, and they're present and connected. They're generous. They open doors for you and say, "Let me help you." That—that's the phrase. If they say, "How can I help you?" you're like, "Okay, that's a purpose-driven person right there." You know?
So we're privileged to know so many of them. That is—we often joke—the company name is "Conspiracy of Love"; the conspiracy of love is all these purpose-driven leaders inside all these major corporations who are all conspiring with love to help society and the planet get better.
Tim Coldwell:
I was watching The Incredibles with my, ah, two daughters the other night. And if you remember that movie, the central character, Mr. Incredible, has like the most soul-sucking existence. Go into work, I think, at an insurance company; punching the clock 9-to-5. Do you have a story you can share about someone who was dragging themselves to work, in that sort of experience, and then the purpose lightbulb got flipped on and it changed their life? Is there a story that really stands out for you?
Afdhel Aziz:
Oh, man! Like this is all we write about. Like if you go and look at our books, my Forbes article, the podcast. I'll tell you an incredible story about a wonderful woman who is the Chief Marketing Officer of Hallmark Cards. And her name is Lindsey Roy.
When I met her, she had a tragic boating accident where she lost one of her legs. But the role of a CMO at Hallmark Cards (laughs a little)—which is all about human emotion and connecting, and especially talking to people in times of trauma and times of distress—she came out of this on the other side with an incredible sense of personal purpose and how she shows up for work every day in this really caring, relationship-driven company as well. But then, she also used it to like think about creating new product innovation in the company.
And so, if you go and read the Forbes article, they created this new line of cards called "Just because," which is, "Just because you're going through a tough time, we're there for you."
Now Hallmark—a company which is known for Christmas cards and da-da-da, you know, the holiday season stuff—think about that. Coming up with a whole new line—which by the way was incredibly successful—to talk to people who were dealing with cancer, or dealing with everyday trauma, I don't think that would've happened if Lindsey hadn't gone through this and taken a look at her own life, and looked at what she was doing in her life. And she had, you know, they talk about product market fit, this is like purpose market fit.
Like (laughing a little) a personal purpose; the company she was working for; and what she was able to do. It all came together in—in such a beautiful way. So yeah, check out that story: Lindsey Roy in Forbes.
Tim Coldwell:
You and I have chatted quite a bit about how, you know, our company Chandos believes that the construction industry represents the last great escalator…
Afdhel Aziz:
Mm
Tim Coldwell:
… to the middle class. And we certainly have this ability to have a positive social impact. And you know, beyond that, 38 per cent of Canada's GHG footprint comes from the built environment. So when you think about the construction industry, what do you get excited about in terms of potential for impact?
Afdhel Aziz:
There's two big areas. One is climate, and one is let's call it battling inequality.
So if you look at the GHG emission number, and then you look at the fact that we're going to have 10 billion people on the planet by 2050 and we're going to have to build homes. And schools. And…
Tim Coldwell:
Yeah.
Afdhel Aziz:
… offices…
Tim Coldwell:
Yeah.
Afdhel Aziz:
… for all of them, you kind of realize like we cannot achieve that goal using this kind of 18th-century approach to construction that we've been taking all along. It has to become more innovative.
That's where there's a technological-driven opportunity for this industry to evolve into something completely new—in order to serve the needs of all those people coming but do it in a way that doesn't just double the greenhouse gas emissions by doing it the old-fashioned way as well.
Our friend Nelson Switzer talks about climate Gigacorns: companies valued at a billion dollars for taking a billion tons of carbon emissions out of the atmosphere. There is no doubt in my mind that companies in their built environment could become Gigacorns. They have the scale and the capability to either invest these technologies or utilize these technologies in building.
I will bet you that we will see a climate Gigacorn in the construction industry in the next 10 years. So that's the kind of environmental side of things.
And then when you look at the—the social side of things, it's fascinating. What's the latest estimate on the need for affordable housing in Canada? Like you've got to build like several million units by…?
Tim Coldwell:
Oh, it's millions of—millions of units by 2030 would be the best (laughs a little) way to come at that.
Afdhel Aziz:
So without even going into the 10 billion people, let's just look at Canada. Right?
Tim Coldwell:
Yeah.
Afdhel Aziz:
There's a, ah, deep lack of inventory at every end of the—the spectrum. Maybe except luxury condos; there's more of that than we need. (laughs) But every other scale—transitional housing, affordable housing, middle-income housing—it ain't there. So you've to to build it.
And then that means there is a huge market opportunity waiting to be served there. But then you have the rubber hitting the road with the stat that you quote: 1.5 million people working in construction in Canada, half are expected to retire by 2030. You need 750,000 people (laughs) by then. And then you add the—the kicker, which is a 2017 survey found that only 3 per cent of people aged 18 to 25 wanted to work in construction. And the reasons they gave was: pay; lack of permanent employment; poor safety; poor treatment; poor working conditions.
So this is like a perfect storm. (laughing) You've got to build the stuff; you've got to build it sustainably; and no one is going to be there to build it, because they don't want to work in this industry.
Tim Coldwell:
Yeah. It's—of all the industries that are ripe for disruption, the construction industry certainly is one of them. I think, just to build on that stat of 1.5 million and half of them are going to retire by 2030, the latest data that we track suggests that demand for construction services will double or triple over that period of time, in Canada. So if you extend that out, by 2030 we probably need 3 to 4 million people working in the Canadian construction industry.
And we certainly have a long ways to go in terms of communicating the benefit of a career—a rich and rewarding career in the construction industry.
Afdhel Aziz:
And this is where technology is only going to take you so far. Yes, you can have prefab, you can have robotic 3-D printing, whatever you want to call it, to help make it. But at a certain point you've got to invite more people into the industry from non-traditional backgrounds to where they've come from.
Canada has a million new migrants coming into the country every year. Who's talking to them, going, "Why don't you come and get a job in our industry?" How many—well, only 17 per cent of construction jobs are by women? How do you change an industry to go, "We're going to make this safer, less sexist, and more inclusive, so more women—50 per cent of the population—can come (laughing) and work in this industry."
And how do you make it more inclusive in a way that you fill this gap. And the only way to do that is by something fundamental changing in the nature of the industry itself. It can't just be technology; there has to be a value shift in this industry.
In know our—our good friend, Jen Hancock, talks about this all the time. We have to bring more humanity into this industry in order to have more people join it.
Tim Coldwell:
What's next for you in your journey? What are you—what are you excited about?
Afdhel Aziz:
Yeah. It's a great question. So you know, one of the things we realized was there was a storytelling gap in culture, where we weren't seeing stories of hope and stories of innovation. And we realized that part of the problem, umm, this thing called "The Hope Gap," which is a lack of hope for the future. It's actually a scientifically measured annual survey. I think it's a bunch of scientists in Stanford or something. And the gap is between despair, which is going up, and hope, which (laughs a little) is going down.
And our thesis is that the only thing big enough to fill that is stories. And so we—yeah, now we have Conspiracy of Love, which is doing fantastic work in capitalism, and kind of working with corporations. And Good Is the New Kewl—our second company—we are spinning up as a creative studio making tv shows that we want to put on Netflix, Hulu, Amazon. And it's stories that fill the hope gap.
The first show is called The Solutionaries. And it is about eight game-changing entrepreneurs who are solving problems in food, housing, climate tech, in incredible ways. And by lifting these people up and saying, "Hey, these are the people in our society we should be celebrating," we want to really actively battle that lack of hope by showing people who are solving some of the toughest problems of our time.
[music]
Tim Coldwell:
Thanks for listening to this episode of Building Good. If you want to learn more about how the AEC sector is building a better world, make sure you're subscribed on your favourite podcast app—if you're not already—because we have so many more incredible episodes lined up this season.
Building Good is a Vocal Fry Studios production, supported by Chandos Construction and Bird Construction. The executive producer is Jay Cockburn. Our producer is Kattie Laur, with production assistance from Jessica Loughlin. I'm Tim Coldwell, thanks for listening.
Back to podcasts