Synthetic cities w/ Myrna Bittner
Date Published:
August 8, 2023
Planning cities requires a lot of data. That data can be difficult to penetrate, and that's where synthetic cities come in. Myrna Bittner and RWI Synthetics create complex visual models of cities that are used to experiment and model what might happen with new projects like transit, housing or even if every resident owned a guinea pig. If you've ever played SimCity you've probably got a pretty strong image in your head right now… it's like that, but much more complex and far more useful.
Tim Coldwell:
This is Building Good. I'm Tim Coldwell.
[music]
Tim Coldwell:
In 2000, a company called Maxis released a wildly popular computer game called The Sims. The game allowed players to create characters, and build a simulated life for them—complete with a career, a family, friendships, and more.
The Sims wasn't the first iteration of a second-life type of game, but what was unique about it was that the clock, so to speak, was always on. When you shut down the game, your Sims would continue in their virtual lives—going to work, making dinner, taking showers—and they did so with a degree of success based on the provisions that you gave them. Like how much food you left them in the fridge, how much money they had, and even how fulfilled they felt in their careers. You didn't really play The Sims as your Sim; you were more like Big Brother.
Here's our producer, Kattie.
Kattie Laur:
My partner, Mark tells the story about growing up with three sisters, and all three of them hogging computer time in the early 2000s playing The Sims. He eventually got so fed up that one day he snuck into their Sims account, deleted all of the windows and doors on their Sims house, moved the virtual fireplace next to the virtual wooden furniture, and trapped all The Sims characters inside the house. He then exited the game and let the simulation do its thing.
The next day, his sisters logged on to find that all of their Sims, and their house, had burnt to the digital ground.
Tim Coldwell:
Though brutally sinister, I think now we'd call Mark's behaviour "predictive modelling." He might've even actually been onto something. Because synthetic cities and simulations are now a tool available to the AEC sector that, like Marc, could get our built environment to pretty much any desired result.
[brief music]
Tim Coldwell:
Maxis—the company behind The Sims—even made another game: SimCity. And that has some similarities with what we're talking about today.
[music]
Myrna Bittner:
Complexity isn't getting any easier; it's actually escaping us. And some of these big systems that were safety systems, and critical systems, and financial systems, were failing. There needs to be a way we can interrupt that and get better at understanding the future that these systems are going to face.
[music]
Tim Coldwell:
This is Myrna Bittner, founder and CEO of RWI Synthetics, a company that models cities in a virtual environment. Myrna's synthetic cities can do so much more than delete windows and doors. They allow decision-makers to predict things like what could happen: if certain policies were implemented; and if certain structures were built or demolished; or if disasters strike, how an entire city, state, or province would be impacted; and how many people would likely jump to save their cat first.
[music]
Myrna Bittner:
People say to us it's impossible to model human behaviour, and it's not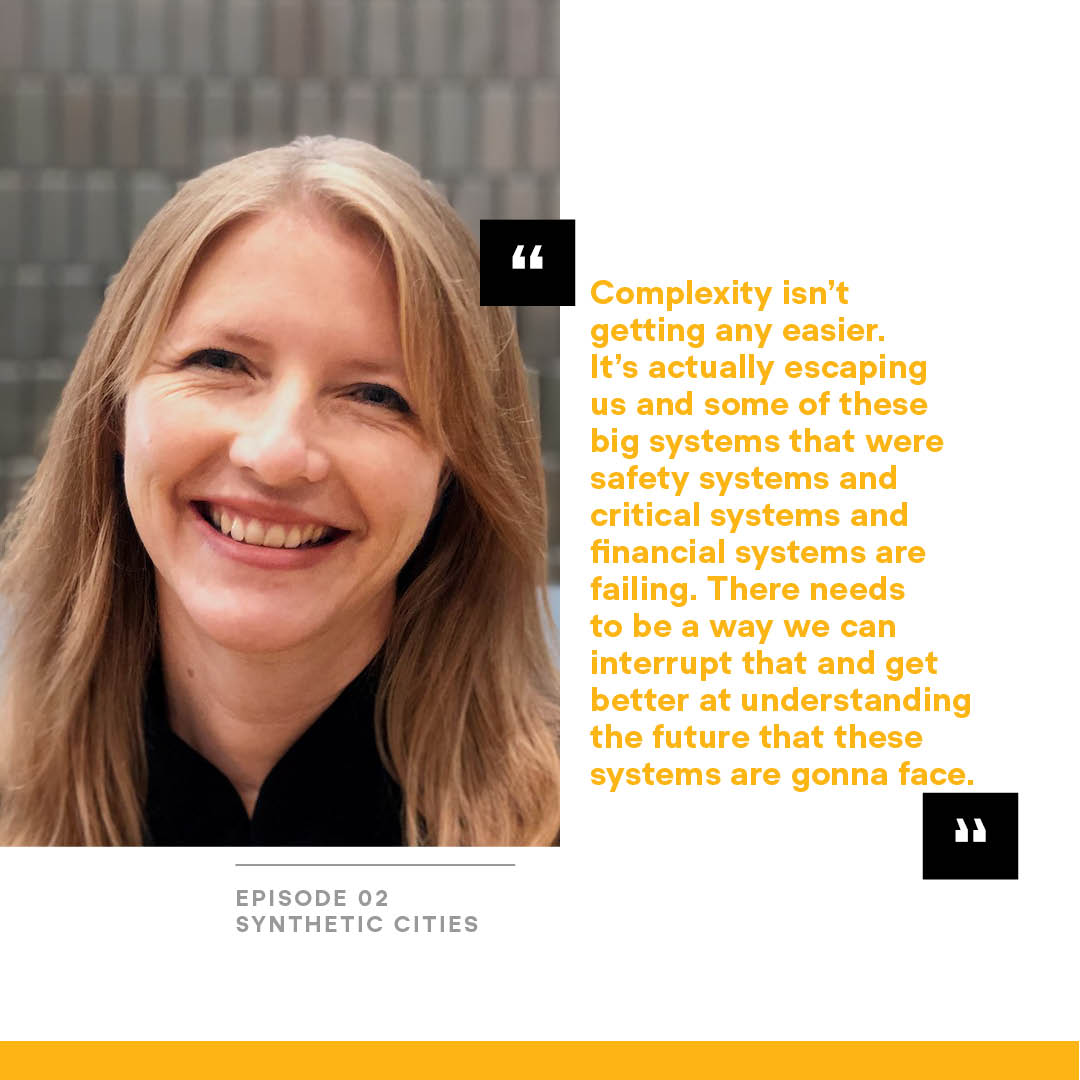 Tim Coldwell:
Myrna is here to help me understand the power of synthetic cities—how much detail they can really provide, and how they could impact the construction sector and the world we're building.
I only know how to build physical cities—the kinds you can actually walk through. So where does someone even begin when it comes to building a true representation of a city in a virtual world?
[music then silence]
Myrna Bittner:
In 2019, we were asked to create our first city, so to use the technology that we had been applying to digital systems, and could we actually place those in a city and then create an event that had never happened before, and then watch what happened. That was really the—the starting point for "what is a synthetic city?"
But today, a synthetic city, for us, is a digital representation, that's geospatially accurate, of the—the working infrastructure, the built environment, so houses, and businesses, and the infrastructure around transportation, roadways, parking, you name it, and public, you know, transit. So even the moving parts of that infrastructure. As well as - and most importantly the people; and that is where our synthetic cities turn what's usually considered a "digital twin"—which is kind of just like the dashboard of your car—into an actual working living-lab where we can look at and understand people's lives, and livelihoods, and the choices they're making, and the interactions they're having in with the built environment and the infrastructure o energy grids and—and the roadways. And—and then we can begin to inflict and change anything we want in that sandbox, and watch as the—the people in the city react and respond, and see how it impacts their lives. And that's what we call a "synthetic city" today.
And many people laugh and say, "I grew up addicted to SimCity," (laughing) and uh  "are you like that?"
And it's like, "Yes, it's—it's like that."
Tim Coldwell:
And does it actually kind of look like that on the screen when you're, you know, in the software? Or is more of an abstract model?
Myrna Bittner:
We call it like "zoom in." So we actually had to build a holodeck, because we were producing billions of—of data points from these scenarios, from—everything from how the Synthetics were feeling when they were encountering, you know, a new bike lane, to how the grid was functioning and load curves on homes.
But people always asked us, "Can we see it? You know, how do we see it?" and we weren't able to find on the market a platform—a geospatial platform, you know, not the Esri's, not the Google Earth's, who could actually handle the amount of data points we were pushing.
And so we developed, last year and rolled it out in—in Washington, D.C., our own holodeck. So it's a visualization layer that allows us to actually see these cities—to see them from space, as well as to be able to zoom in to households and watch.
And when required, people actually ask us to create living models and watch people move. Like, we do emergency egress environments where we, you know, are triggering an egress scenario, and we're watching people move. And we're watching who gets in the car, and who's looking for their cat, and who's driving the wrong way because they want to get…
Tim Coldwell:
(laughs)
Myrna Bittner:
… their kids from school. You know? So in great detail—whatever detail is required for the—the answers that people are looking for.
Tim Coldwell:
Just for people who are not Star Trek fans, who don't understand what a holodeck is, would you just quickly describe what that is? (laughs)
Myrna Bittner:
Sure. So everybody has probably—well, maybe most people have looked at Google Earth on their phones. You know, we use it to navigate. We can—sometimes we can get Street view, Satellite view. A holodeck is the same thing; you can tip the world, manipulate the world, but you're seeing the world basically from above, or you can travel down into street view. That's our—our holodeck. We call it a holodeck because there's a slight distinction in that we fill it with living people, and cars, and data, and that's how it's a little bit different than Google Earth.
Tim Coldwell:
So you can do things that seem kind of obvious to model. What are some examples of more surprising things, ah, that you can model that may not be so intuitive to the listeners?
Myrna Bittner:
People say to us, "Well, it's impossible to model human behaviour." And it's not. I mean, it's—it's impossible to predict. We never come out and say we are a prediction company. But we bring in the latest science, the latest behavioural research. We hyper-localize the population; so consumer segmentation, census survey data, research, behavioural research, research from localized agencies. So we get—I would argue—one of the most complete pictures in our synthetic individuals, that are never-identified populations so they come from surveillance-free data, and yet they are incredible in the intersectionality that we can exposure and explore, and how that becomes drivers of behaviour, or how that influences vulnerability in a population, or economic burden, or choices that they're making about what bills to pay when—when times are tough.
There's a lot that we can see that is in one place that is challenging for others.
So that ah-ha moment about "Yes, you can model individual behaviour" is really one of the things that drives everything else that we do.
And that's why, when we're being asked to look at the built environment, and being asked to look at even consumption patterns and energy consumption, we go behind the meter. We're actually right down to the individual and the appliances that will likely be in their home, and how they use those appliances given the economic conditions, or the family, the household's composition—all different kinds of aspects of behaviour that we can't see in data today.
Tim Coldwell:
You know, so I could imagine a city, there's a map of the city and there's like kind of the socio-demographic distribution on that map, for the—the population. I would assume that you could look at things like personality data; there's all sorts of stuff about personality traits and buying patterns with consumer. And you could start to feed those sorts of things into the analysis, as well. Is it that sort of a process that you use to build it up?
Myrna Bittner:
Yeah. So we actually have a product line that we call "Synthetic Surveys." And we can take surveys that were done maybe in the region, maybe with 500 people or 800 people, and we can look at and synthesize those survey results across an entire population. So we can actually match and then survey a synthetic population that's never been surveyed before. Because we have so much demographic detail, we can tie them to likely responses.
And we use a lot of surveys that have been done by researchers to inform that—how that synthetic population behaves.
So, we did some, for example, synthesized some surveys around outages. And people behave very differently in power outages depending on their experience with previous outage, depending on the trust level that they have with their utility and the engagement they have, depending on their capability to be self-sufficient. The economic impacts of power outages, you know, are very different for people who have different levels of food security even. And so we were able to synthesize surveys around outages that have been done by the Smart Energy Consumer Collaborative in the U.S., across the U.S., into some very specific regions, and look at some very specific regional characteristics when we synthesized those surveys into the population and then turned the power out in our synthetic city—and this was during COVID, for the Electric Power Research Institute—and mapped and measured how people were feeling in their homes every 15 minutes. Because there is a synthetic population, we can survey them however often we want.
[music]
Tim Coldwell:
So let's talk examples. So I know you've done some great work in terms of planning in Edmonton. Can you share a little bit of that?
Myrna Bittner:
So Edmonton was a really unique opportunity to get engaged with 14 municipalities. So they're—they're competing, they're neighbours, but they also realized, a few years ago, that they need to be collaborative to succeed.
We were able to pull together all 14. We were able to create and implement, and actually sandbox, their published growth plans—so right down to: the apartment buildings that they, ah, had zoned for; the infill development; the single-family homes; and where those developments were going up—and look at how those consumed the land, whether or not that fit or suited the population forecasts, the demographics of those populations—so they're hoping to attract a young population, as well, to support an ageing population that exists here today—and whether or not their built environments suit that population.
So it was an interesting experience because we started out with, "Well, here is the buildings as they are planned to grow and—and the style of buildings, and the type, and the location, and does that actually suit the population that we're hoping to attract?"
We could flip that on its head and say, "What population are we hoping to attract, and then what should we be building?" And I think that's going to be next.
But it gave us the opportunity to use the model to understand whether or not the plans had unintended consequences—to be able to confront the fact that people are going to be living less densely, so there's more single-person households predicted in the future, which changes the number of residences dramatically that needs to be built for that same population.
So really being able to look at and explore some of those aspects, as well as look at things that need to be done around water efficiency, and energy consumption, and transportation planning to support that population.
So it was—it was a really interesting engagement.
Tim Coldwell:
Just—and this is a little bit tongue-in-cheek but—do you ever just like sit at night with the model and say, "What would happen if we had no cars whatsoever?" and just play with it and see what happens, just for fun? Is this something that you do?
Myrna Bittner:
Yeah. So. Yes, we do think of some very interesting, ah, things that we would like to inflict. All the way from "What if everybody had a guinea pig? How much hay would the city need? You know, Timothy, supply would be low. Where would you get it from? But how happy people might be if—if everybody had a guinea pig."
To some very corporate but futuristic perspectives, ah, such as when we were in Denver—a week before last at the City Summit of Americas—the State Department organized a tour of mayors and—and senior officials to the National Renewable Energy Lab. And we had a huge, one of the largest pixel displays in the western hemisphere; we had our holodeck up and going of Nashville. And we were showing the Mayors about what this would like in certain events.
And one of them was looking at in a resilience event, for example, if all the cars in the city were electric vehicles how much power you would have on those rolling batteries to be able to support the resilience needs of those homes—starting in disadvantaged neighbourhoods but then also looking citywide. And it was really quite profound to be able to make that with the—the flick of a switch.
And I think those kinds of things enable people to boldly innovate. They can see the opportunities and the outcomes, and then work to figure out a path to get there.
So sometimes it's really fun to do those far-out things and watch people's solution in—inside of that, knowing what they're working to achieve.
[music]
Tim Coldwell:
We'll be right back.
[music]
Geoff Capelle (ad):
Bird Construction's century-long impact has been etched into the fabric of Canadian communities that we've helped build from coast-to-coast-to-coast.
From the social infrastructure that enriches our communities, the transportation and communications infrastructure that connects us, and the power, energy, and resources that move us, Bird builds with a collaborative culture and solution-focused mindset to build a better tomorrow.
To join our team or learn more, visit bird.ca.
[music then silence]
Tim Coldwell:
So I assume a city or a municipality would call you up and say, "Hey, we're grappling with some of these big challenges, these big issues." And I'm guessing that they start the conversation by asking you if you can predict the future. And it's been pretty clear from the conversation that that's not what you're doing. It sounds to me it's more like understanding the drivers of the future.
But do you ever get into a situation where a government is considering spending hundreds of millions or billions of dollars on, say, mass transit, and they're looking at you and saying, "Is the model right? Is this the right thing to do?" Do you ever find yourself up against that? Or how would you manage that sort of a dynamic—the conversations—once you get into the modelling?
Myrna Bittner:
And that's a good question. So typically we get asked when there is leadership—whether that's from the industry, or utilities, or governments—because they have some—some scenarios that they need to depoliticize, they need to add data to, they need to understand their relevance, their robustness, their resilience, and then they need to be able to communicate that. Ah, sometimes we get thrown into rooms where they know there is an issue.
So in Washington, D.C., it was the Sun-to-Grid community. They were looking at, "Can we save the grid if there are some really significant solar storms?" And, "Is the space weather community—NASA, NOAA, SWPC, FEEMA, NRG, the Electric Power Research Institute, and the grid community, Department of Energy—are they all working together, and will they be able to interpret the data, collect the right data, send the right data, mitigate (laughs) and, ah, and as a result keep everybody's lights on?"
Those situations, I think, sometimes are—are really challenging. You can't walk away from it. You can't unsee it. But they cause people to confront the impacts and the outcomes of some of their choices that are—are known. And then sometimes there does need to be a shift and a recognition that it's not the outcome they're looking for. It's not, you know, going to be relevant, or safe, or sustainable, or—or equitable in—in the future, whether that future is tomorrow or—or 20 years from now.
And that's, I think, when it comes to making those big investments, that's what they're wanting to see now. They're realizing that they—they do need to plan and those things do need to be relevant and—and exist successfully for decades when they're making those big investments.
So. Ah, we're glad people are—are asking us to help them look forward.
[music]
Tim Coldwell:
I'll just share what I think is the big gnarly issue for the construction industry. There's a great book out there called Why 35 Million Canadians Are Not Enough. And there's a demographic analysis that would suggest that Canada goes bankrupt by the year 2100 if we don't have a population of about 100 million people.
I'm super-interested in this because the number one predictor of construction activity is population growth. So there's this argument that's made that we won't have enough people paying taxes to maintain our kind of ranking in the G7. That number, of 100 million by 2100, implies that we need to build 3 times as much stuff as exists in this country right now, and deal with the infrastructure deficit, and do the carbon transition. And then layer on top of that—there's another great book called the Nomad Century, which suggests that three billion people are going to migrate around the globe because of climate change. And I'm not so sure they're going to go to Russia; they're probably going to come to Canada.
And ah, last little data point or connection here, when Senator Omidvar and I chatted about this, there's this idea of Canada is going into this 50 years of nation-building, where the sort of things that we did in the early 1900s will be back again. And she has this vision. She calls it like a—a necklace of cities across the country and what if we could change immigration policy so that we incentivize population growth in Thunder Bay so Thunder Bay is a city of two or three million in the future, how can you spread that out across the country? That to me is a huge issue for us to grapple with.
And we're seeing it already with affordable housing in the country. And the lack of people in the trades. There's this big challenge around that. How would you go at picking apart that multi-layered challenge I just threw on the table?
Myrna Bittner:
(laughs) I think climate migration is…. I think I was asked that about six years ago: "If you could model anything, what do you think is going to be the model that is going to be the most important?" And it was climate migration. Having the—the opportunity to get slightly ahead—because it's starting to happen—getting ahead of the significant changes that are going to be required is so important. And understanding, you know, how do we build our cities and yet preserve some of the arable land that we are going to need to feed people becomes really important.
I think looking at—at how people are moving, and patterns of movement, and continuous and maybe discontinuous patterns of movement is—is going to be critical. And—and we can actually move those people. So in this environment, we can speed up, manipulate time, manipulate built environment, and understand what the dynamics of that will be.
And locating people next to water sources, and power sources, and where we need industry to be, to be able to grow and supply. And high-value ag, so being able to—to add, you know, to our ag economy, you know, in—in place, so that we could consume it in place.
All of those kinds of things become the chess pieces that we need to start moving around now.
But yes, I agree. We were in Singapore, I think probably about five years ago, at a—at a climate conference. And they were showing what the world looks like at 4 degrees C. And they're planning for it. And there's Canada: we're one of the—the last kind of green strips where the food is going to come from, and where the people are going to be. I don't think we're entirely aware, as Canadians, about what that means and how the rest of the world is looking to us, and what we should be preparing for.
Tim Coldwell:
Yah. No, exactly. You know, just the scale of even affordable housing in Canada. You know, every politician in the country is beating the drum about affordable housing. There's 1.5 million people in the Canadian construction industry. By 2028, 700,000 are expected to retire. And over the next decade, demand for construction services is—is expected to double. So we need three million people in the Canadian construction industry, and we need them very quickly in order to even get close to having the workforce that's required just to solve housing supply in this country, let alone dealing with the infrastructure deficit, let alone doing the clean-energy transition.
Any way that we can use modelling and the sort of approaches that you develop to kind of remove the—the scales from the eyes of Canadians and policy-makers I think is super-valuable.
Myrna Bittner:
Yeah. And we've—we've done workforce modelling for oil and gas and the transition of workforce to clean energy. There were some really interesting surprises about that. The unsustainability of the workforce and the condition that it's in. Like you said, you know, the—the ageing out, and the temporary foreign workers that are being utilitized today, the 51 per cent that's missing when you look at gender.
And so there are some real, ah, opportunities when we look at a lot of the clean-tech jobs are trades job. They are quite similar to the jobs that are in the oil and gas sector already. They, just there's new certifications and there's new, you know, they're kind of like touch-ups. But the fact that we have a new generation who is looking for clean-energy jobs; they know that they're going to be in vast demand. And we need the capacity in our post-secondary institutes to be able to not only accommodate the workforce that Canada is going to need but be recognized that we're a net exporter of talent. And those people are going to be highly coveted in other places in the world—even our neighbour to the south. And so there's going to be a lot of movement of those jobs unless we have the training and the incentive, and the housing that they can afford, and the—the nice neighbourhoods for them to live in, and the projects that are underway so that we can utilize and retain and build our country.
Tim Coldwell:
There's one thing, ah, I'm taking from the conversation is: it's really about systems thinking. And so very few people actually see the whole picture or the whole system. And when you have some tools to see the whole system, y'know it really changes perspectives.
What's your hopes for the future of RWI Synthetics, and for city design more broadly?
Myrna Bittner:
We're starting to get pulled into some very interesting initiatives where we build with several partners a kind of a observatory of—of cities for anybody who wants to become involved in the city.
So whether they are social agencies, whether they are emergency services, safety and security, building and developers, or urban planning, or policy-makers, they can all be looking in the same place. And they can be asking their very different questions from their very different perspectives, but they can be informed in an un-siloed way about what the impacts are going to be.
And I think that's…. Giving people this dynamic, living, latest research, latest data and information, ah, latest forecasts place to—to go and to quickly have their questions answered—rather than years of study that ends up in a binder that somebody looks at and then sits on the shelf and gathers dust. I think we need to be far more dynamic as—as creatures, and far more intelligent in terms of the information that we put in people's hands that are making those decisions.
And that's—that's what I'd love to be a part of.
[music]
Tim Coldwell:
Thanks for checking out this episode of Building Good. If this episode sits with you for a while, please be sure to tell a friend about it. And make sure you're subscribed on your favourite podcast app, if you're not already.
Building Good is a Vocal Fry Studios production, supported by Chandos Construction and Bird Construction. The executive producer is Jay Cockburn. Our producer is Kattie Laur, with production assistance from Jessica Loughlin. I'm Tim Coldwell, thanks for listening.
Back to podcasts