A concrete solution w/ Rob Cumming
Date Published:
March 17, 2022
If it were a country, cement would be responsible for more carbon emissions than the entire European Union. More than four times as much as Canada. Reducing the amount of carbon that concrete production creates has to be part of achieving a net zero future, so we've brought in Rob Cumming from LaFarge to help us figure out how. He's head of sustainability there, so he's full of solutions to decarbonize concrete.
Rob Cumming:
It's absolutely essential to our future, especially when you think about climate mitigation. It's the second-highest consumed material, second only to water, globally.
Jen Hancock:
This is building good. I'm Jen Hancock.
Today, I'm going to make you care about something that is so ubiquitous that you don't even see it. You're probably within a few feet of it, right now. You might even be touching it. It's everywhere. And it's one of the biggest sources of carbon emissions: concrete.
Specifically, I'm talking about what we use to make concrete: cement.
The concrete industry is responsible for around eight per cent of global CO2 emissions. To put that in context, we hear a lot about aviation's carbon emissions, well, aviation is responsible for around two per cent of the world's carbon output. So if we can reduce the amount of carbon that is created when we make concrete, that's going to go a really long way to helping us achieve that goal of Net Zero by 2050.
And there are new, and not so new, technologies that can help us do that. And some of them are deceptively simple.
So who is the lucky individual who can help me make cement interesting for the next 20 minutes?
Rob Cummings:
It's very common for someone to look at a sidewalk and say, "That's a cement sidewalk," for example—where it's really a concrete sidewalk."
Jen Hancock:
This is Rob Cumming. He's head of sustainability and public affairs at Lafarge. They're Canada's largest provider of sustainable construction materials. And I can't imagine there are many people in the world who know much more about concrete, and its carbon, than Rob.
And, as you heard Rob say, "cement" and "concrete" are words that are often used interchangeably. So I think it's a good idea to start by defining the two.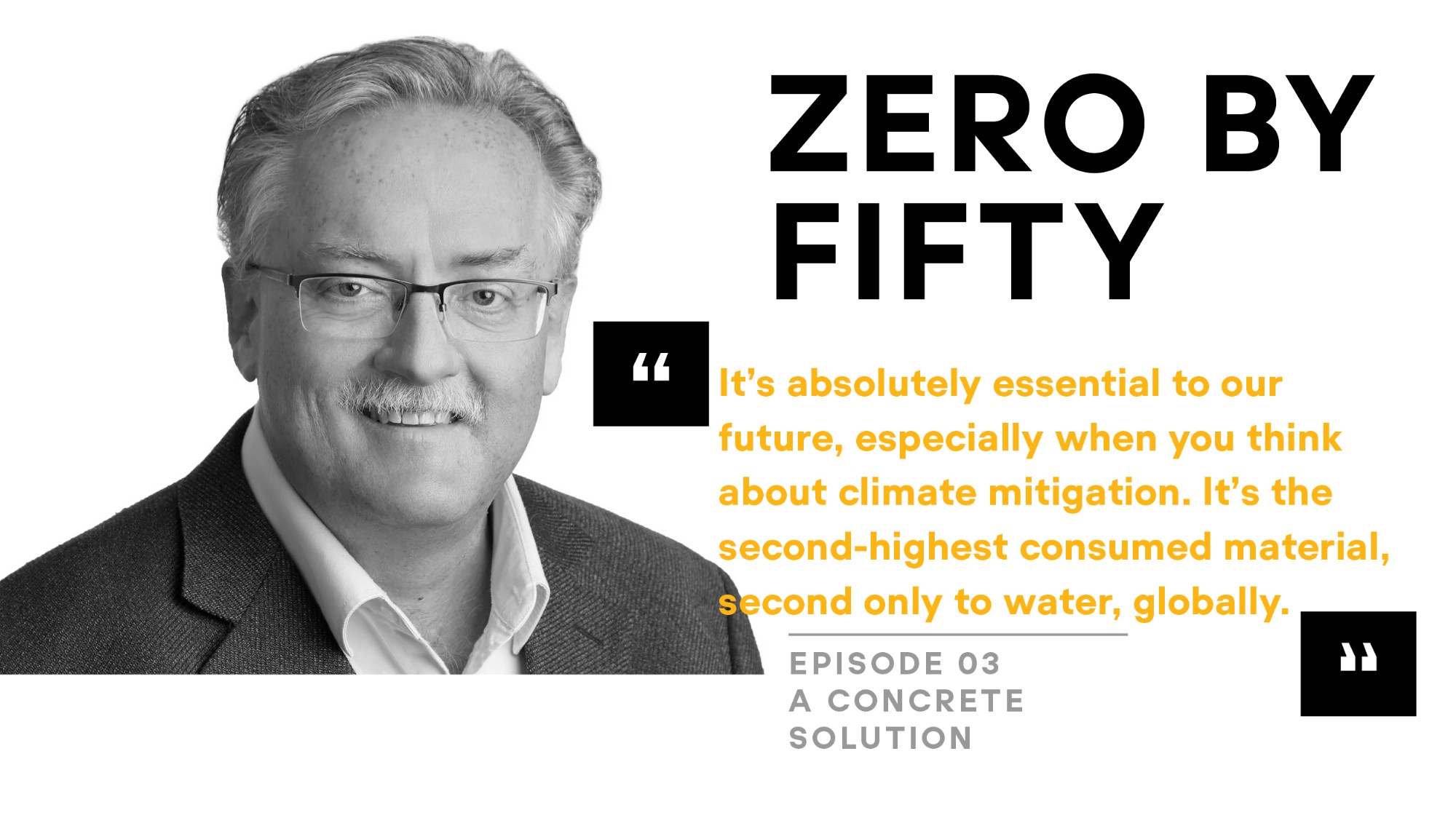 Rob Cumming:
So cement is to concrete as yeast is to dough. It's the magical substance to make it a final product that we see every day. 
So where the carbon emissions come from is the production of cement.
And just a little bit of chemistry here. It's not difficult. But you take, ah, limestone, which is calcium carbonate. You heat it up to a high temperature; it knocks off the CO2 molecule off of the calcium carbonate; now you've got calcium oxide. And then that continues to react with aluminum and silica in the process to form cement, ultimately.
So you need a lot of energy to do that. So roughly one-third of the CO2 emissions that comes from production of cement is from the fuel. And the other two-thirds, roughly, is from calcination, as it's called, turning that calcium carbonate into calcium oxide, that's where two-thirds of the CO2 comes from.
Jen Hancock:
So, I have heard a stat—I don't know if it's true or not—that when you make one ton of cement, it releases one ton of CO2. Is that… have you ever heard that stat? Is that accurate?
Rob Cumming:
It's getting close if you start to look at the whole life cycle. Right? Typically, you're looking at between 700 to 800 kilograms of CO2 per ton of cement, from the plant itself. And then you have to add in any of the emissions from the quarry where you're getting the limestone originally, and any emissions from the shipping of that cement out to its final customer. If you add all those things up, you start getting closer and closer to one ton per ton.
Jen Hancock:
So, concrete is a common building material. How important is it in the discussion of embodied carbon in the building industry?
Rob Cumming:
I don't think people realize—unless you go to other parts of the world outside of Canada—how much of our infrastructure is made of concrete. There's more concrete sold than all other building materials combined. In fact, we believe it's the second-highest consumed material, second only to water, globally.
It's absolutely essential to our future, especially when you think about climate mitigation. Concrete doesn't rot. It stands up to high winds. It will remain and grow as an important sustainable part of our future. So that's why it's so important for our industry to take some responsibility for our CO2 emissions and solve that issue so that people can continue to have their infrastructure needs met.
Jen Hancock:
The building industry, itself, is responsible for, you know, 30 or 40 per cent of emissions. What is concrete in that?
Rob Cumming:
It's really interesting. Concrete, itself, is actually a pretty good performer compared to aluminum, steel, and glass, and so many other building materials, in terms of the embodied carbon. But because there's so much of it sold every year, we represent around five to eight per cent of the world's CO2 emissions, as a sector. To put that in context, Canada is around two per cent. Or another way to look at it is, if we were a country we'd be the fifth-largest emitter in the world.
Jen Hancock:
As a concrete producer, you're not usually in the part of the supply chain where decisions are being made. So if you're an owner or a designer, how do we engage the conversation around de-carbonizing concrete in our projects?
Rob Cumming:
We can do things like have more efficient plants. Those tend to be $500 million or up, so they're very expensive and very few and far between. But they can be done. We can replace our fossil fuels will low-carbon fuels that are derived from either biogenic or a mix of waste materials, as well. Keeping them out of landfills, for example. We can do things like grinding the final product a bit finer, so that it's more reactive so we need less of our product; and that allows us to add a bit of additional limestone, and achieve a 10 per cent reduction from that perspective.
But the biggest and deepest reductions that we can do today with limited investment, which is very important, is to work with our customers' customers' customer. So imagine you've got an owner who hires an architect, "I want to have a low-embodied-carbon building." That architect does a design. They go to an engineering firm. They then go to a general contractor, who then hires a civil contractor, who then goes out for tender for concrete. And the ready-mix company that provides the concrete will go to the cement company and get a shipment of cement. That's a lot of people between, ah, the cement company and the ultimate user.
So what we're trying to do is bridge that gap by offering low-carbon alternatives.
What's really interesting is, there's a lot of supplemental cementitious materials—how's that for an acronym "SCMs"—where we can bring in other materials that mixed with that virgin cement from the cement company, it can supplement to replace some of that cement. Because remember it's the cement plant where it has all the carbon. Right?
Jen Hancock:
Yeah. So if you can spread the cement out a little more in terms of like making a ton go farther.
Rob Cumming:
Exactly. Those are ready-to-go strategies except that we have to find a new way to work up that supply chain.
Jen Hancock:
So there's kind of two pieces. One: we as companies, we don't need to be told to lower the carbon emissions of our companies. Go ahead and try to lower carbon emissions. You don't need to be told by that or mandated by government. But second, and what I just heard from you, is we need more collaboration.
So you, as a manufacturer expert, we need to be able to bring that expertise to the front end of a project, so that you can actually help with some of the discussion around how to lower the carbon. And some of that is low-hanging fruit.
Rob Cumming:
And we're starting to see some of that. We launched our Canada's first low-carbon concrete product line. And just to throw some branding out there, it's called ECOPact. And I think we've done hundreds of webinars with architects and designers. And now we're having those conversations, especially in the private sector. And those conversations are so important to us achieving those reductions. Carbon taxes are getting more and more expensive all the time. I think even those jurisdictions that don't have, ah, very advanced carbon pricing systems are going to be putting them in, in the next five to ten years.
We need to de-carbonize our industry as much as the world wants us to. So where the gap is, is between us and those ultimate customers, is five or six layers of tradition that we need to break through.
Jen Hancock:
Is there a cost premium to go to a lower-carbon concrete?
Rob Cumming:
It can be sold for the exact same price. We just have to make sure people specify it or allow us to sell it to them.
There's even more we can do if we can have, ah, a price premium.
But the other reality is that over time, as carbon pricing starts to have teeth, you're going to start seeing that these lower-carbon solutions become the same price as the more expensive high-carbon cement and concrete. And over time, still then they'll become lower and lower cost. So I think it's just a matter of time.
And I think the—the faster, as an industry, we can get into a competitive circumstance, where a customer gives us a strength requirement, that gives us a set-time requirement, they give us workability requirements, and they give us a carbon-content requirement, that will create the competition that is in place today and it'll expand it to—to carbon reduction efforts.
Using the innovation and the drive to cost reduction, I think we'll see some significant progress over time.
Jen Hancock:
Do you think we have the technology available to us to be able to significantly lower the carbon impact of concrete—your industry in particular?
Rob Cumming:
I think we can—we're very close to achieving a 50 per cent reduction per ton of cement, or cubic metre of concrete. Those things we just talked about will get us there.
After that it gets more difficult. The markets are growing one to two per cent a year, as well. So if we achieve a 20 per cent reduction but the market grows by 20 per cent, you know, we're still emitting the same amount as well.
This is where we get into the next generation technologies. Really interesting stuff. Remember I mentioned the chemistry of essentially taking limestone, adding energy, and it knocks the CO2 molecule off and forms calcium oxide. You can reverse that. And in fact, it's an exothermic chemical reaction. It's a natural reaction. It's what occurs in the oceans with the formation of coral.
So for example, when you look at the amount of cement that has actually reacted in a final concrete building, as much as half of it is not reacted. You crush it up, open it up to air, that cement will react with CO2 and go back to limestone. That's a slow carbonation process.
So one of the technologies that we've developed in France is something called "fast carbonation" or "FastCarb." Essentially, it takes that natural process that happens even with buildings sitting in situ—they absorb CO2 over decades of time—we can crush the building. Demolition project, crush up that concrete, expose it to air, it'll naturally absorb.
But if we expose to flue gas. So instead of being 300 to 400 ppm of CO2 in air, we're looking at 15,000, 150,000 to 180,000 ppm. And it's got lots of surface area. And it will absorb CO2, very quickly. And it will form a type of sand that can go into concrete mixes. So now we start bringing in a negative-carbon input to our concrete which will dramatically reduce CO2, as well, per cubic metre.
Jen Hancock:
What's interesting is that you can recycle existing concrete. So (a) you're not putting it into the landfill somewhere, like some other materials. I've actually mostly seen concrete recycled as like crushed up and put as road base. But you're not going to get the same impact in terms of the CO2 absorption when you use it for road base. This FastCarb process, it's a very interesting direction that could take the whole industry.
Rob Cumming:
Absolutely. It prevents it from being used as the source of aggregate in a concrete mix. It's that you can imagine when you crush it you open up all these little crevices. Right? And we put that into a concrete mix, it absorbs all that water inside there; and you don't get the same mixture effect that you're looking for. And if you could fill those crevices with limestone from CO2 absorption, you start seeing this circular effect where we—we're turning limestone into cement, and then we're turning cement back into limestone. And over a period of decades the building remains there.
And so circular economy, it's de-carbonation, it's innovation. So there's many, many companies that are in this space today. It's a really exciting time for our industry. This could be a whole new way of doing, ah, business for us, as a sector, and for the building sector as well.
Rob Cumming:
There's another way of looking at our industry as a natural ecosystem. So we're taking raw materials. And some of those raw materials are from other industry sources. Right? Fly ash is a very common raw material in cement production, right, from power generation. And then we produce cement. And we take slag from the, ah, steel industry, and we add that in as an additional, ah, material. So that's another way to be circular and part of a natural ecosystem.
We're potentially replacing coal and petroleum coke with construction and demolition wood, for example. Taking it out of landfills. The building is built. And at the end of that building's life, we are taking that material to a carbonation process, we just talked about, producing sand, aggregates, and other materials that we can sell to the market.
And you can see there's a lot of connections in our industry. And I just think in the next ten years it's going to take off, and we're going to see a huge circular economy of benefits to de-carbonize industry, de-carbonize the building industry. Who would've thunk that, ah, boring old grey cement could be so interesting, but there's a lot going on. And it will be the most sustainable, ah, building choice going forward.
Jen Hancock:
Yeah. I'm really heartened by the conversation around—I mean, circular economy is sort of the next thing to think about from really that cradle-to-grave. Like how something now can actually be turned back into something useful for us. So yeah, it is really interesting to see all of the connections.
We know that all companies aren't going to, you know, catch up to the regulations around, and some of the technology around this. We talked about you—you can make a stand. What do you think the role of government is, in terms of helping us de-carbonize from the perspective of the concrete industry?
Rob Cumming:
Oh, they're super-important. We call that "green procurement and leadership." And we're starting to see some of it at the federal level. And some provinces and municipalities are starting to lead in this sector, as well.
We're developing all the—the key metrics that are necessary to support that from a procurement perspective. You can't really specify a low-carbon product until you have a way of measuring the carbon in that product. A lot of that's being worked out. We're very close to having, ah, certified numbers that we can, ah, provide to a procurement agent.
Then it becomes incumbent on governments to start. On one hand, they're putting carbon pricing systems in; that's increasing the cost of CO2. But on the other hand, they have to buy our low-carbon products, and allow us to sell them low-carbon products as well. Then we can all compete. We're all competing to meet our customers' needs. And that's the most efficient way, I think: for governments to really drive de-carbonization in the sector.
I often say, "If you want a low-carbon economy, you have to buy low-carbon products."
Jen Hancock:
And this maybe comes back to your original conversation around some performance specs. So that it allows there still to be that competition piece but really drives the industry in a more sustainable manner.
Rob Cumming:
Absolutely. Under—there's really three things. Right? There's green procurement, which is setting a lower—a lower carbon-content requirement. Allowing that flexibility in performance standards; so don't tell us how to make the cake, tell us what kind of cake you want and we'll provide it to you. Governments are starting to take action to start buying lower and lower carbon materials. Starting with the cement sector, which is fantastic. KPIs, or measurement, is also part of that—having reliable systems like an Energy Star for—for carbon type of situation.
Those are the keys. That will drive innovation. It'll put everybody on the same playing field, and including other building materials as well.
And those are the—the big things we, as a sector, need to invest in. There's things we can do at the, ah, cement plant, as well, to improve efficiency. And working together, I think we can drive some serious reductions in the embodied carbon of concrete that's sold in Canada.
I remember, just a few years ago, our—our head office in Zurich held a, ah, competition where they were going to take ten of the most leading promising technologies. Four of the ten were Canadian.
Jen Hancock:
Okay. So if there was one simple, or a couple simple takeaways, what would you leave us with?
Rob Cumming:
First of all, I would say that cement and concrete is right in the middle of a revolution. In the next ten years, you're going to see huge de-carbonization of our sector.
Another big thing that we need to work on is performance standards. Allowing innovation to proceed within the current building systems.
As a sector, we need to invest. We have set targets ourselves—our whole sector has set targets—but as individual companies we've set very aggressive targets that are certified by the Science Based Targets Initiative as well. So we're very serious about de-carbonizing. And I think you're going to see in the next ten years a wide array of low-carbon solutions in our sector.
Jen Hancock:
That was Rob Cumming, head of sustainability and public affairs at Lafarge.
Thanks for checking out this episode of "Zero by Fifty," a series by Building Good on the architecture and construction industries' path to Net Zero emissions by 2050.
If you liked the episode, please be sure to tell a friend about the show and make sure you're subscribed on your favourite podcast app.
Building Good is a Vocal Fry Studios production, supported by Chandos Construction and Bird Construction. The executive producer is Jay Cockburn. Our associate producer is Kattie Laur, with production assistance from Jessica Loughlin. I'm Jen Hancock, thanks for listening.
Back to podcasts