Built today, emissions tomorrow w/ Matt Grace
Date Published:
March 24, 2022
If you want to build a net zero project you need to predict its energy use. That's where Matt Grace comes in. He's an expert in creating virtual models of houses, extensions, or even entire communities to model the ways energy is used. This isn't just a static input/output model. It changes with seasons, and as the climate changes they have to take into account rising temperatures and more erratic weather patterns. If we want to fight climate change, we need to use energy modeling to account for the already changing climate.
Jen Hancock:
Throughout this series, Tim and I have echoed stats and figures that paint a daunting picture. The architecture, engineering, and construction industry has a massive problem to own up to: its carbon emissions. This is a long-term problem. And it's complex because there are so many ways to approach Net Zero. But it's not enough anymore to simply be held accountable. There needs to be action.
Matt Grace [preview]:
We cannot tackle climate change in any meaningful way without the construction industry being a central and real critical part of that solution. The big emission is carbon. Now we're focusing in on the urgency of the impact of the built environment on climate change and how it can be part of the solution.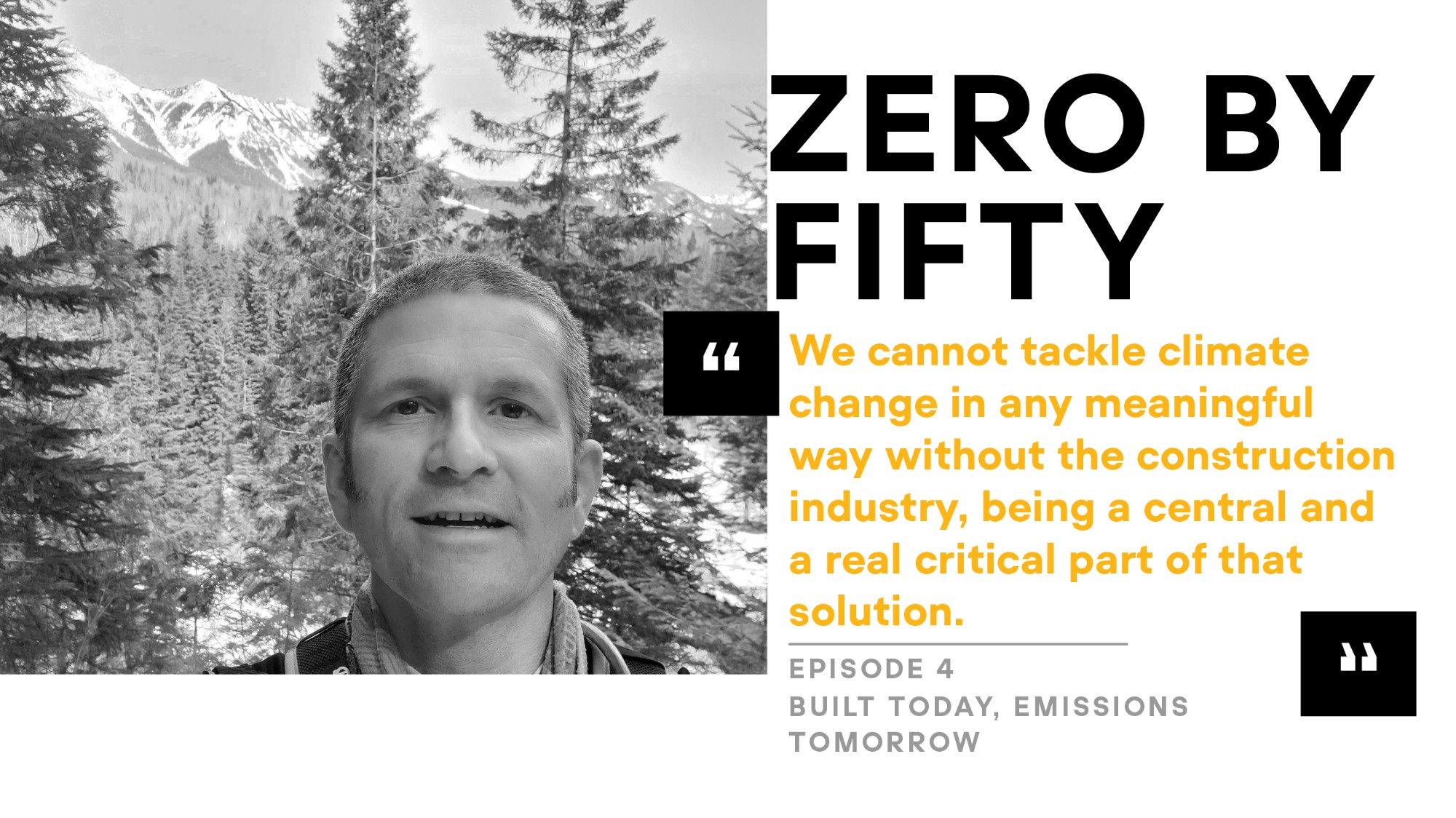 Jen Hancock:
That's Matt Grace, a man who spent 25 years in the green building industry. He has led a global network of design professionals—architects, engineers, and project managers—to come up with really mind-blowing ways to get the building sector to Net Zero.
[music]
Jen Hancock:
They're using technology that is going to transform Canada's built environment. And I'm also willing to bet that it will make a massive impact globally. That's a huge deal when it comes to decision-makers in the AEC space trying to find a place to start.
One of these really cool solutions is energy modelling. And I'm dying to talk about it. Matt has the perfect analogy.
Matt Grace:
Obviously your favourite movie is The Matrix?
Jen Hancock:
It's, ah—it ranks up there for sure.
Matt Grace:
It ranks up there. I haven't seen the new one, that's a whole other conversation. But in the—in the movie The Matrix you have the construct. And that's the bit where you can go and practice before you go into the actual matrix. It's the safe place. Energy modelling, it's our equivalent to the construct.
So what we can do in—in the construct or in the energy-modelling world is we do a computer model of the building. It could be a house, could be an extension to a house, or it could be a whole community. We can decide to make that whatever we want. So we could have that with really, really amazingly well-insulated walls. We could have R-40 walls and then R-60 roof, if we want. We could have lots of glass, or we could have very little glass. We could cover it in solar panels. We could try different heating systems.
And then we can put a weather file on that. So we can say: let's change how warm it is, whether it's got cooling, how many people are in it, what the options are in that building. And spin it around. And then we get to play around and see which things are better and which things make no difference.
So it's your free play pit to try all these different things.
The other thing, in terms of climate change, is the weather is changing. The climate is changing. And anybody that works on a construction site knows that, that they're getting more colder days and more ridiculously hot days. We can also use that same energy model to kind of guess what's going to happen into the future.
Jen Hancock:
So you are doing that right now? Like you're already looking ahead and saying, "What do we think the weather's going to look like, and how does all of this play into a building that's supposed to be a 40-, 50-, 60-year building. And we have to anticipate that comin' down the line." 
Matt Grace:
You absolutely nailed it. So, I'm in Calgary, here; you're in Edmonton. So the design summer temperature, according to the current building code if you're building something new, is +28 degrees Centigrade in the summer. Now, I cannot remember when we did not exceed 28 degrees Centigrade. So if I'm putting together a building where I want people to be comfortable in the summer—and in my own house I was not comfortable last summer, because we were getting up to, what, 36, 37?
Jen Hancock:
Yep. It was the highest temperatures I've seen in ages.
Matt Grace:
So now we can have the conversation—using the wizardry of energy modelling, we can discuss with a client what their risk tolerance is. So if they're a commercial client and they're going to be occupying it themselves: "What's your approach to making the building somewhat resilient and able to be more comfortable in the future? Do you want to just put in a bigger air-conditioning unit, which is going to make more emissions and that will ruin your energy, and your climate, and your emissions?"
We're also going to have carbon tax coming in.
And there are different scenarios that are being modelled for—for different weather files. So we can pick one, and we can talk about how long the client is going to keep the building. And we can program in future weather files.
[music]
Jen Hancock:
Without question, I mean, energy modelling now it's pretty much a requirement. But it's such an interesting input into the design. It wasn't that long ago that this was something you did on LEED projects only.
Matt Grace:
That actually brings up a really, really interesting point, in terms of what is an energy code. An energy code is actually really, really boring. They're typically a very long set of rules, and they will change according to climate zone. And they describe a building in terms of its thermal performance and its energy use.
You're going to see different standards and different energy codes being used as a basis. We do need to talk about this. Because there's a discussion that's really important, there, about energy-modelling results compared to real-world results, but also understanding what it means to be better than one of these many, many reference guides.
When we're preparing this mythical energy model, we have to make sure that we're comparing fairly across all the different buildings that are being modelled. So maybe you, Jen, maybe you like to have the heating really warm, you know, and you crank the heating up to 24.
Jen Hancock:
Guilty as charged.
Matt Grace:
Yeah, guilty. Okay.
Jen Hancock:
(laughs)
Matt Grace:
We'll edit that bit out. Whereas maybe I like it really cold and I'll—I won't have my heat on beyond 17. So if we're just comparing the buildings, and not how we operate it, we have to have all of those things as standard. So very much like when you buy a new car and you get a mileage figure, there are lots and lots of standardized inputs. I'm not a big fan of the word "assumptions" but they are assumptions.
So if we're energy modelling a whole bunch of different schools together, you have the use the same operating hours, and the same weather file, and the same temperature set points on the—on the thermostat. You can't say, "Well, you know, this school will lower the temperature therefore it will use less energy inside the energy model." Those are all very, very rigorously defined, will be standardized inputs.
Jen Hancock:
And this is one of the complexities that's always you model all the stuff out, you make best decisions, but the human behaviour part after. A school might be renting out their space in the evening, so their energy use might be actually quite a bit higher than what they imagined or we imagined when we were…
Matt Grace:
Absolutely.
Jen Hancock:
… designing, planning. Or you might build some kind of a building that has large bay doors. And if someone leaves those open in the wintertime, or in the fall way more frequently, that's just venting out. But we need to make sure that our buildings are usable for people, so they understand the features we're putting in because we haven't made it so complex in some way that it can't be run properly.
Matt Grace:
I love that. There are two points that—that come out from that. One point is, ah, this idea of "fitness for purpose." It definitely plays into the whole energy and the—the carbon emissions, in that buildings have to do what they're designed to do. And it sounds a ridiculous thing to say; but it's separating out this idea from low environmental impact and functionality—like your example: the controls are not suitable for the people inside the building. Those controls will either not be used or they will be overridden, or they will be—and I'm sure you've seen this—disconnected with force (laughs). So your lovely example of the bay doors. If a building needs goods doors but it doesn't have them, the—the occupants will find a way, because they have to get on with what they're doing.
And then the other thing that you've led us onto there is this idea of real-world versus kind of modelled-world. And we can take the energy modelling and we can do that. So during the design phase, we can and we should talk with the building users and say, "How are you going to use this building? And let's really nail it down." So, "Best guess: you're going to use this space, for this numbers of hours per day, and these big," we'll stick with, "your big bay doors are going to be opened 20 times a day. Let's model that."
And then once we get the building up and running, and we have an actual year of proper data, and we can look back in the model, and we can use that to make the building operate better and more efficiently. Because there is actually a really nice graph, I have somewhere, which they looked at energy use that was modelled compared to what actually happened; and there was almost no connection between the two. Because the users are more important.
So what it comes back to is the energy modelling, although I've already said it's very, very smart and very clever, it's actually quite dumb, but it's really, really good at making decisions. It's really good at understanding is Option A better than Option B, or is it too close to call.
[music]
Jen Hancock:
It's important, as we design and build buildings, to have collaboration with the people who are going to operate them; but also just understanding that operations piece, so that we don't end up having major disconnect between what was planned out in "the matrix" over here and in what actually happens.
And then, I think what's interesting: people's behaviour decisions. I'm just curious about your thoughts on. We're talking about really big things right now, you and I—like energy modelling and these big impacts. But we—I think our whole industry, we have a major role to play around embedding it in all of the work we do. And it feels like there's lots of change that has to be made. But how big do you think we need to go on—on changes? Like does it all have to be big stuff that we're doing every day?
Matt Grace:
We kind of need to make all of the changes. It's a mixture of big-picture thinking and—and fairly radical changes. We've really only got 10 years to sort this out, which is really a "now" second in the big picture of things. So we do need the Net Zero legislation. And there is talk of a new Net Zero national energy code coming out really soon.
But there's also that everyday thing, which is as simple as turning off the lights. If everybody could walk instead of driving their car a few blocks to get a cup of coffee or go to the grocery store, that makes a big difference. It takes the big stuff and the small stuff. If everybody turned all their monitors off when they leave their desk. If everybody had the most efficient heating system they can. All of those make a big difference.
And then in the construction industry there's a really practical role as well. You can design something with your best will, and the best intentions, and the best information that you have. If you're not there when it's physically being installed, you may not see some little detail. So if we're just talking to heat loss through an envelope, or through a window, through a door, if you can see that there's some detail that's going to break the thermal seal on the—let's address that on site. So it all comes back to that feedback loop, like you were saying.
Jen Hancock:
This sort of an "and also" kind of thing. So it's not big changes or nothing. And I also think that they can inspire bigger changes if we—if we…
Matt Grace:
Absolutely.
Jen Hancock:
… get our thinking in the right direction.
Matt Grace:
Well, I'm the guy that embarrasses my son if I see someone dropping a cigarette butt in the street. And I'm the guy that will say, "I think you've dropped something there." So I'm being a little bit sarcastic and possibly passive-aggressive. Hopefully, by me indicating that I don't find this acceptable, you littering our street, that person will think twice about it next time and they'll go, "Oh, maybe I shouldn't do that."
So the—the reason to be hopeful is that it's not that long ago that it would be okay to smoke if we were physically in a meeting together. It's not that long ago. So with something as simple as smoking a cigarette, if we were together physically in a room and I started smoking, you would say, "What are you doing? I'm not okay with this." If I turned up in my ivory pen, you would—you would be a bit surprised because we know ivory is bad.
So we just need—just—need to elevate egregious climate change emissions with smoking in a car with—with someone else's child in there. Because that's essentially what we're doing. It's a small thing. But we—we have done it. This is living memory we've changed what's socially acceptable.
It's about valuing our resources as we consume them, and valuing a—a limit and a cap on emitting.
Jen Hancock:
And I love, Matt, you've told me this story before, but. You talked about one of your job sites that you were working on had some spare wood. Do you want to talk about that?
Matt Grace:
Well, this is again me being nosy and not—not being too worried about being embarrassed. So you know, we were just working on a local project here. And there's a pile of wood that they had very carefully put in a pile and not thrown straight into the landfill. And a friend of mine is going to take that and use that for his community ice rink. So he's just going to drive a couple of kilometres, pick it up, reuse it, and that's diverted a nice little truckload of wood from going into landfill.
So there are lots of little things like that, that we can look out for every day throughout our working lives. And pick up on those small changes and just being more mindful of it.
Jen Hancock:
And that maybe leads me, just thinking, climate change is something that—and sustainability in general—for lots of people there may be a bit of disconnect. It might be a little bit nerve-wracking for them. How do you meet people where they are, to get them to connect to climate change and sustainability?
Matt Grace:
Yeah, for sure. I think climate change anxiety can be a very real thing. When you're trying to get a project going, or you feel like the project's not doing enough, that can be a real thing. Ah, and you're just worried about every single little thing.
And I do believe that everybody has an angle on sustainability. So it might be that they are a—a parent. You know, they're thinking about their children's future. It might be that they're a really keen skier or snowboarder, and the idea of there not being enough snow to go and do that in 10 years is horrifying. It might just be that they love plants and birds, and then they said, "You know, I'll—I will be really sad if I don't see my favourite birds anymore."
I think you—you can't try and expect everybody to do everything all the time. And it's certainly not about living this saintly life, locked away in a monastery with no Internet and in a cold room shivering. The core to sustainability is about making smart choices now, so that we continue having this luxurious, comfortable, plentiful life that we've been enjoying for so long.
But it—it's unfair for people to be thinking they have to tackle everything at one time. So do what you can. Do what resonates with you. Do what make—gets you excited and what you feel is really in your comfort-zone.
And I don't know anybody that really likes waste. So if you're not into climate change, let's work on getting your fuel bills down. So, "Let's make your building more efficient so that you have more money in your pocket. Does that sound good?" I don't know anybody who would say, "I'd like to spend more on fuel." (laughs) "I'd like to spend more on heating my home." "I'd like to have a more uncomfortable home or office to live in."
So it's about aligning what we can do and what adds value and what people want to put their—their efforts into.
Jen Hancock:
We do sometimes experience climate anxiety. And it feels big but if you can break it into small pieces that become actionable for people, that also takes away this bigness of we-can't-do-anything-about-it. Also breaking that into small pieces.
Matt Grace:
Yeah. And—and being in Alberta, I think we have to give a nod towards oil and gas. 
Whereas, there is actually a truck parked quite near me that has "I 'heart' Alberta oil and gas" on it. I don't know anybody who does what we do in the kind of sustainability fields that says they hate oil or gas? Almost I love it even more than they do, and I want to conserve it and use it as wisely as possible. And I don't want to burn it if I don't have to, and release it into the atmosphere. I want to keep it for all the really, really valuable important stuff. It's a very, very precious resource; so I want to use it as little as I can, so that we have it for as long as possible.
It's not about making people feel ashamed of anything that they're doing. It's about acknowledging that, by our very nature, we will consume and we will—we have made climate change, manmade climate change is a—is a real thing, but let's just be very, very sensible and wise and careful about when we choose to burn our precious fossil fuels.
Jen Hancock:
You know, as you're working with teams and getting them to sort of recognize the importance of the work they're doing—the buildings—you mentioned they have a huge impact on greenhouse gas emissions. Do you have any secrets for getting people to really connect to the importance of that, of what the work we do, and really getting them to think about that big picture?
Matt Grace:
I'm not sure it's any one secret, Jen. Umm, I think it's an ongoing conversation. You could call it a battle, if you like. A lot of the times, I'm amazed at how important it is to go back and recap on why we're doing it. I find, once you can get across the end goal, people tend to kind of get behind it. Nobody's afraid of a challenge. Nobody's afraid of hard work. But people need to know why they're doing it.
Try and get people excited about generating good ideas.
Ideally, solutions that make it simpler and therefore get there a little bit faster.
[music]
Jen Hancock:
That was Matt Grace, green building expert.
Thanks for checking out this episode of "Zero by Fifty," a series from Building Good.
To wrap up the series, in the next episode Tim is exploring the impact of carbon offsets on the built environment. Has sustainability gone crypto? And is it even possible to get to Net Zero without carbon credits? Make sure you're subscribed now on your favourite podcast app, so you don't miss it.
Building Good is a Vocal Fry Studios production, supported by Chandos Construction and Bird Construction. The executive producer is Jay Cockburn. Our associate producer is Kattie Laur, with production assistance from Jessica Loughlin. I'm Jen Hancock, thanks for listening.
Back to podcasts