The future is retro w/ Chris Benedetti
Date Published:
March 3, 2022
Achieving net zero by 2050 requires us to build differently, but what about the buildings that are already up? We can't just knock them all down, even if they are inefficient carbon factories. We retrofit them. This can be expensive and difficult though, but it's possible. Chris Benedetti knows how to make it possible, and where the financial tools exist to make it happen. We talk to Chris in this first episode of our series "Zero by Fifty"
Tim Coldwell:
This is Building Good. I'm Tim Coldwell.
[music]
Tim Coldwell:
Over the next five episodes, Jen Hancock and I will be unpacking what we both believe to be one of the most important things we could talk about right now: the path to Net Zero.
Chris Benedetti [preview]:
When we think about Net Zero, and when we think about what I would characterize as one of the fights of our generation, which is to really combat climate change, it's not necessarily a good use of public funding to simply subsidize your way to good behaviour.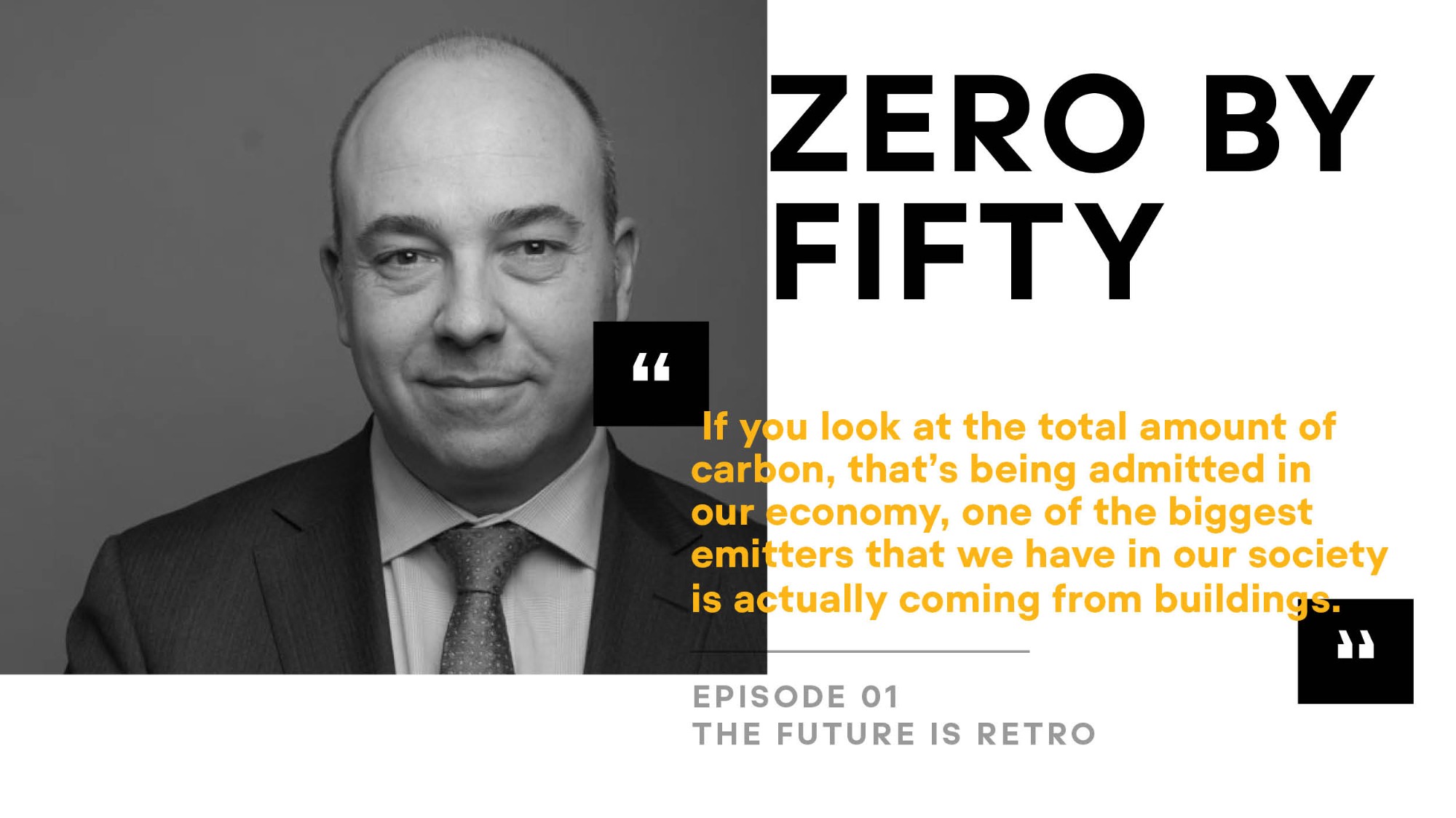 Tim Coldwell:
Canada has a goal for the entire country to hit Net Zero by 2050. And cutting energy waste is at the top of the action plan. And what that means for people in the architecture and construction industry is they have to re-think how they build and design.
Chris Benedetti [preview]:
If you look at the total amount of carbon that's being emitted in our economy, quite often one of the biggest emitters that we have in our society is actually coming from buildings.
Tim Coldwell:
New buildings, in cities like Toronto, have to be built to ambitious environmental standards. But we can't just bulldoze our older buildings; that's bad for our heritage and the environment. So: what do we do?
[music]
Tim Coldwell:
An exciting solution is energy retrofits: a total overhaul of the energy efficiency of an existing building. It means you don't have to lose the character of a neighbourhood or the memories from home, all while making it totally Net Zero.
[music]
Tim Coldwell:
But an entire makeover of an existing building? It sounds expensive, not to mention intricate and careful work. That's why Chris Beneditti is here to break down how you could actually make it happen. You heard him already, at the top of the show.
Chris is Managing Partner at Sussex Strategy Group. Chris is the guy that I come to, to understand how environmental policies are impacting our industry and, more importantly, where the money is to fund these expensive yet necessary sustainable building projects.
With so much pressure on the construction sector to building better, it seems like there's a huge opportunity for the industry to lead and move the needle toward Canada's 2050 commitment.
So: where's the money to do so?
[music]
Tim Coldwell:
In terms of policy, there's just an absolute mindboggling number of policies that are out there—both at the provincial level, the federal level, and even some utilities. Can you give, you know, a bit of a sense of the carrots-and-sticks that government use around this sort of topic?
Chris Benedetti :
That's a great way of putting it, because certainly there are many on both sides of the ledgers. Let's start with the "sticks." So, increasingly we see things like clean energy standards being talked about across different levels of government. We know that there's talk about changing building codes and actually coming up with a national Net Zero emissions building code for adoption in 2025. I think that codes and standards are the way that a lot of governments are going to evolve the marketplace to the point where entities are forced through "sticks," as you say, Tim.
In terms of the "carrots," a lot of it through financial incentives. We see this at multiple levels of government. If you look at, particularly, at the federal level there are literally billions and billions of dollars that are being allotted to everything—from home energy retrofits all the way up to larger industrial process retrofits and building retrofits—to address carbon reductions, particularly in energy-intensive trade-exposed, ah, sectors. One of the largest ones that we've seen, of late, was the announcement that was made last year with a steelmaker in Sault Ste. Marie, in northern Ontario, where the federal government is helping to incent the conversion of steelmaking to electric arc furnaces—greatly reducing the GHG impact. In fact, it's going to have an impact of taking about a million cars off the road. To give you a sense of just the magnitude of that, it represents about taking almost like everything single car in Toronto off the road. It's a hugely impactful decision. And obviously the federal government sees value in helping to, as we would say, monetize the carbon reduction being brought to bear because of that industrial process upgrade and that retrofit; and they're providing a variety of different financial tools to enable that kind of change to take place.
Tim Coldwell:
To keep the analogy going here—this idea of carrots-and-sticks—I would say, sometimes the "carrots" go uneaten by industry. Which is a way of saying that there's dollars out there that don't get taken up. Why do you think that happens?
Chris Benedetti:
You know, it's something that we often hear, ah, businesses that aren't necessarily aware of all of the different "carrots" that might be available, and particularly if they're not coming from one place. They could be coming from a federal government, a provincial government, a municipal government. They could be coming from other organizations, like the Federation of Canadian Municipalities that helps to support a lot of these activities as well. Even within a level of government, you have different funding agents, different departments, or different ministries that might have financial programs and incentives available to them.
One of the things that the market doesn't really have is a clearinghouse to, ah, really facilitate business and understanding of all of these different both "carrots" and "sticks," and how that might be applied to a particular undertaking. It's actually one of the roles that we bring to bear. But if you actually look at that as a place, or as something that a business could go and interact with, a one-window kind of approach in a government to understand what all of these funding instruments have doesn't really exist in a clear way right now, particularly not across the country. There have been various attempts to do that but, ah, yeah, it's something that I think, ah, could certainly be improved upon.
[music]
Tim Coldwell:
Now let's imagine that you're an owner—either public or private—and you own a 1980s-era building. It's a bit tired; it's a bit of a dog in terms of energy consumption. And you're thinking of either knocking the building down, retrofitting the building. Where would you start? And how would you think about incentives that might fit your needs?
Chris Benedetti:
A good way of kind of thinking how the funding incentives are allotted, or how they actually, ah, show up in a real-world setting, is how can these, ah, funding programs result in a—in a lower per-square-foot retrofit cost, or cost of the building envelope?
So we always advise that a good place to start is really understanding what is your baseline that you're working with, and what are the opportunities. "What might I need to make it more competitive or economic?" and "What kind of funding programs are available to me?"
One of the things that we would often look at is the potential of program stacking—or "pancaking" different sources of support from different entities. If you're looking at CapEx of an investment that you're trying to induce in something like a building retrofit or an industrial process retrofit, the general rule-of-thumb is that government can help to support or offset about 50 per cent of CapEx. Now, that 50 per cent of CapEx can come from a variety of different places. And it can come in different forms. It can come by way of a grant; it can come by way of a loan; and a loan with different terms.
So really it's a question of understanding, "What is the (inaudible, 7:42) of the possible of what I want to achieve?" and "What opportunities exist that I can draw upon support from the public sector to help make that inducement?" So that's one of the things that we would typically look at, at the outset: "What am I hoping to achieve here, and what benefits or incentives can I get to do that?"
Tim Coldwell:
We build a lot of Net Zero, high-performing buildings. And it's been my observation that the technical solution, like how to actually get to Net Zero, is pretty straightfoward, and that the sticking point often revolves around, ah, deal structure. So it's that putting the deal together that's the hardest part. Do you see the same thing? And why do you think that is?
Chris Benedetti:
It's completely the same thing. And it really depends on the building stock that is involved. So, I'll give you a great example, if you're looking at, say, social housing, or if you're looking at an apartment building. You'd think in the Greater Toronto Area, for example, or any municipality that has, you know, building stock from the 1950s or 1960s or 1970s—where you have tenants that might be on sort of rent-control situation—quite often the fundamental economics aren't necessarily there to help make accretive the inducement of that investment into the building envelope. So one has to look at other incentives: are there tax incentives, are there other mechanisms that could be what ends up looking like revenue but doesn't necessarily show up in a grant or a loan but could be other inducements to help monetize some of those improvements that you want to make?
Tim Coldwell:
Unfortunately, the reality sometimes is that there's a gap that exists between what's fiscally responsible for a specific project and what's right for Canadian society. Sometimes, a developer or a building owner can make more money by knocking a building down and putting up a new building with more density. And where does government fit into that whole equation?
Chris Benedetti:
Government has a fundamental role in terms of thinking about what are the societal benefits that might arise by virtue of an improvement to a building, using, what you referred to earlier, a series of "carrots" and "sticks" to help affect the market. In many cases there will be funding supports given by way of incentives, the "carrots," that will help make more accretive that, ah, decision that wouldn't otherwise be.
In some cases, however, it's not necessarily a good use of public funding to simply subsidize your way to good behaviour. And this is where, I think, dealing with a building code that embraces Net Zero when looking at opportunities to force certain behaviours, certain activities on the market, has to be undertaken by a government if they want to change the market and—and get outcomes that have, ah, good societal benefits, defined however that government at that particular day wants to define those benefits, but also recognizing that without the government intervention the marketplace wouldn't do these things in and of itself.
[music]
Tim Coldwell:
You know, if you're gonna build Net Zero, the price is zero. But if you're going to build something that consumes energy, you're going to get clipped with the, ah, carbon price. Where do you think we're headed in terms of those sorts of policies in Canada?
Chris Benedetti:
I think that's exactly where we're going. If, umm, you look at something like building codes, it's something that we've seen both at a municipal as well as at a national level. Some of the provinces have also talked about going in that direction. And in fact, it was an issue that, you know, the government that's in office today in Ottawa talked about in the last election, last year, about having a national Net Zero emissions building code in place for adoption in 2025.
If I were to look into my crystal ball and look at the future, "sticks" are something that the government can motivate that doesn't cost The Treasury anything. What they have to do when they're setting "sticks" is be fairly confident that the marketplace is going to have an ability to actually get to the bar that's being elevated. And recognizing that sometimes that's going to take a little bit of time. Because what you're trying to do is not really be punitive; what you're trying to do is guide a market in a particular direction to get to a place where you want them to be.
Today, we're seeing a lot of "carrots" go out the door—largely related to the pandemic—so that our economy can rebound. And I suspect we're going to see that the financial—the fiscal ability of governments to spend, that is going to become questionable over time. There's inflationary pressure. If anything, we could see a shift in balance away from financial incentives over the coming years and perhaps more to codes and standards as a way to affect the marketplace in one way.
Tim Coldwell:
Yeah, (inaudible, 12:45) great saying that government can raise the floor, and private industry can raise the ceiling. Umm.
So, we've been talking about what government can do in terms of moving the needle on sustainability. If you're a private owner, a real estate developer, what would you say to that individual around your thoughts on what the role of private business is, in all of this conversation? What do we, as private business owners, what should we really be focused on?
Chris Benedetti:
I love that saying that you just had, in terms of I do think that there is the trend over time that as private business raises the ceiling, it does put pressure on the rest of the market, and certainly government, to raise the floor. So I think that there is a great early-adopter opportunity for businesses to seek out those opportunities to raise the ceiling.
On the flip side, if we think of the floor, or when government is establishing codes and standards, government doesn't have all of the answers. Quite frankly, government needs the input from the private sector to better understand what should that code look like. What is the ability of a particular sector to meet a new requirement when it might come down to a regulatory change that might have an effect on their business?
So that dialogue between, ah, business and government—especially when we get into the establishing of what are the right codes and standards to pursue but, also, how best can funding instruments be used to affect the kind of change that we want to see in the marketplace—it's so important that the two are talking to one another, without that there's the chance that either one of them is going to get it wrong.
When we think about Net Zero, and when we think about, you know, the—what some have characterized—what I would characterize as one of the fights of our generation, which is to really combat climate change, we're really putting the emphasis of both the "carrots" and the "sticks."
Tim Coldwell:
Should businesses wait for government to force them to do something?
Chris Benedetti:
No. Early adopters have a lot of opportunities—not just in terms of engaging to ensure that the codes and standards that are being contemplated are focused in the right areas, to make sure that the funding instruments are, ah, tailored in the right way to create the kind of change and create the kind of activity that you want to see in the marketplace. But quite often, if the entities are kind of waiting for the "sticks" to come bearing, you're losing out on some of those incentive opportunities that might arise. And you're also quite often in, ah, not a very good position to adapt quickly to change when that change actually comes about.
So the environment around these things is not static. And we would never recommend that business be static either. We know where the future is going. Be an early adopter.
Tim Coldwell:
Let's go back to, you know, the example I used earlier about an owner who wants to retrofit that 1980s-era building. They can't make the numbers work. They just can't rationalize a financial solution to this. What's your one piece of advice for that person?
Chris Benedetti:
I would say that really understanding the financial gap that exists, and whether or not that is something that could be supported through an existing funding instrument that exists. So there is a bit of work there that obviously is needed, but I would say don't get limited by the lack of accretive value in terms of undertaking some of those technology improvements or some of those building envelope improvements. There are a plethora of different funding incentives that are currently available.
And you know what? We've had a lot of experience where if they don't exist but if there is a public goodwork that's achieved as part of the undertaking, talk to government, talk to various funding agents, because quite often it's specific projects, and not there being a very well-formed program to enable them, that often helps to inform how those funding programs can change or the evolution of the next funding program, ah, that could be tailored and made so that that specific building improvement, ah, could be justified and could be made eligible for support.
So it is an ongoing kind of a perpetual dance that's going on in terms of, you know, every quarter it seems like new funding programs are coming out, new instruments are coming out. And it's important to stay on top of all of these.
Tim Coldwell:
So when we zoom out, what's the societal cost of not retrofitting? What do you think that looks like?
Chris Benedetti:
Take, for example, you know, an anchor tenant in a town or in a city that has been involved in an industrial process like steelmaking, using older technology, conventional technology. What we see is that as markets are valuing more things like energy efficiency, reducing carbons, getting to Net Zero, quite often those are going to be some of the things that are used to assess productivity and competitiveness. That facility might drop off in terms of from first or second quartile to a lesser quartile. They're no longer eligible for new investment in that asset. And over time it creates a very, ah, precarious situation for the ongoing, ah, nature of that business.
So. I think what we often see is that in order for businesses to be sustained, and in order for businesses to be able to invest in new assets, new technologies, ah, new training, new skill sets to enhance their competitiveness—not only here in Canada but, quite frankly, across borders and around the world—it is imperative that, ah, companies continue to evolve or else, quite frankly, they're going to get left by the sidelines.
[music]
Tim Coldwell:
I love to hear that energy retrofitting is a top priority for Canada—and that the money is out there, it's just a matter of finding it. And who doesn't want free money? Especially money that will be good for our planet and your pockets in the long run.
There's plenty more to come in this series. So if you like what we do, tell a friend about the show. In the next episode, we're taking a grittier look at the construction sector's carbon footprint, and how to tackle it. So make sure you're subscribed on your favourite podcast app.
Building Good is a Vocal Fry Studios production, supported by Chandos Construction and Bird Construction. The executive producer is Jay Cockburn. Our associate producer is Kattie Laur, with production assistance from Jessica Loughlin. I'm Tim Coldwell, thanks for listening.
Back to podcasts