Understanding embodied carbon w/ Luka Matutinovic
Date Published:
March 10, 2022
A huge chunk of a building's emissions are baked into the fabric of the building itself. Even if its operations are net zero, the building itself might not be. This is called embodied carbon, and to truly get to net zero the industry needs to address this blind spot. That's one of the things Luka Matutinovic works on with his company Purpose Building. Luka's going to help us figure out how we do it for the rest of our buildings too.
Jen Hancock:
From Building Good, this is "Zero by Fifty," a series about how the construction industry is breaking ground on its path to Net Zero. I'm Jen Hancock.
[music]
Jen Hancock:
Throughout my day, I'm used to taking small, conscious steps toward sustainability. I try to shut the lights off behind me. I'll even reach for a sweater before I reach for the thermostat. But I can't help but wonder if these things really make a difference. I'm only one person. If efforts toward Net Zero aren't unanimous, can we even get there?
[music]
Jen Hancock:
This idea has never been more top of mind for the construction sector. Because buildings make a massive impact on global carbon emissions. And it can't stay that way. These carbon emissions aren't just operational. They're not just coming from things like furnaces and HVAC systems. Carbon emissions are also coming from the building materials themselves—way before the building even exists.
Luka Matutinovic [preview]:Buildings represent, you know, roughly 40 per cent of global energy-related emissions. And of that 40 per cent, nearly a third, or 11 per cent of the total, is estimated to be baked into the material side of buildings.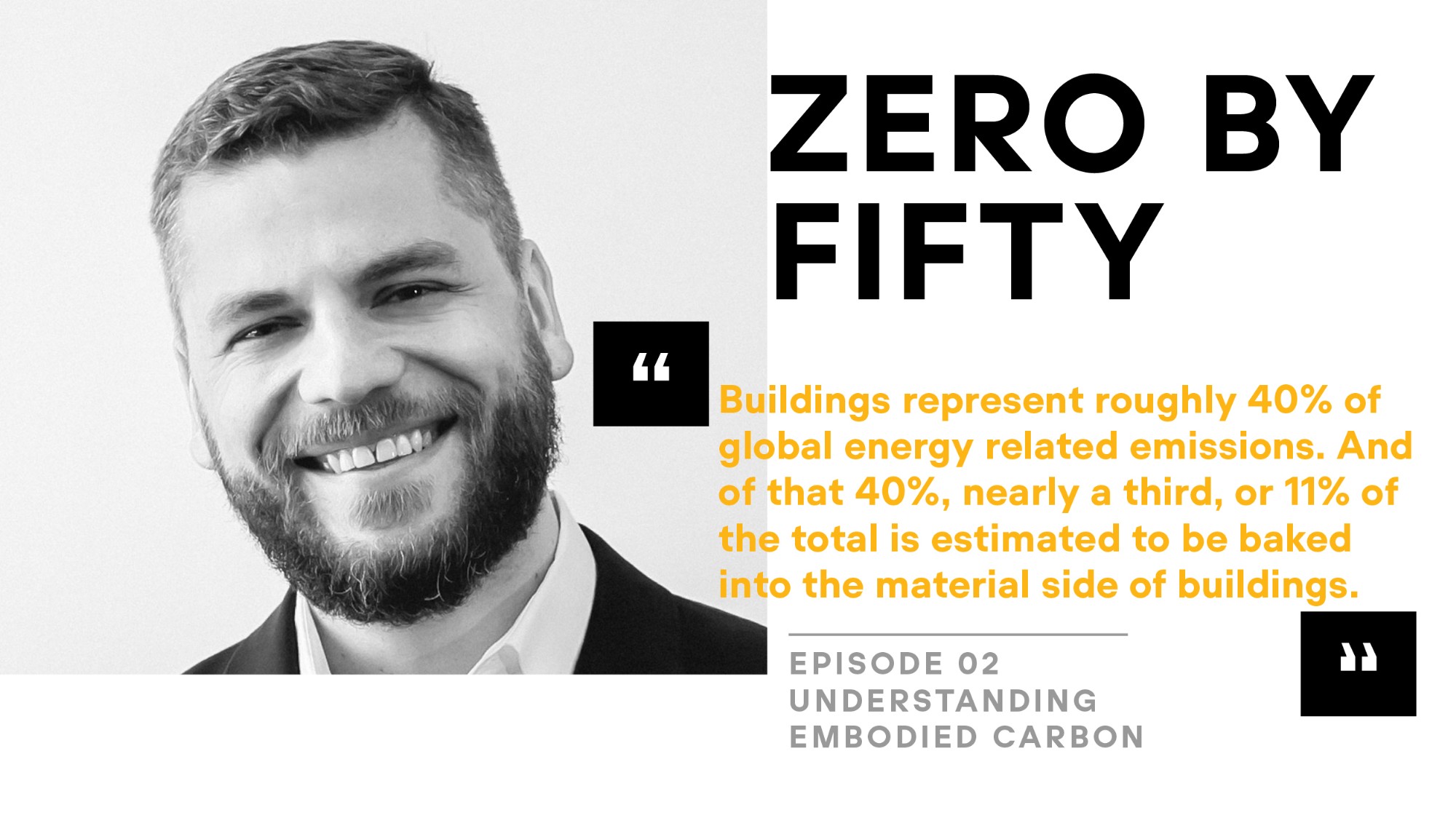 Jen Hancock:
The entire building life cycle is in dire need of a change. And here to lay out the blueprint on what that would look like is Luka Matutinovic. Luka is co-founder and principal at Purpose Building, where he leads a team of building performance experts as they fight to get the industry to Net Zero. They were the people who created the plan that will transition all of Toronto's City-owned buildings to zero carbon.
So the demand is there, but this is so much more than a building or construction decision. To actually get to Net Zero, and in order to have any semblance of collective action across the market, the whole industry needs to change the way they think about carbon—and soon.
Luka Matutinovic:
Carbon is a difficult thing to define. It is, you know, literally very challenging to wrap your hands around a kilogram or a ton of carbon. Whereas, energy is something that is still difficult to visualize and grasp but we have utility bills, we pay for energy. Then it feels a little bit more tangible.
Historically, carbon was not something that we thought about. Energy was. And we developed, as an industry, various metrics to quantify and measure how well buildings perform in terms of energy use, and also energy cost. But decisions largely focused on how to reduce the cost of energy. And so frameworks and certification programs were built around the things that people cared about. And energy cost savings was a metric that, even until very recently, was firmly planted within frameworks like LEED.
Then the conversation started shifting to energy efficiencies. And so now that we have recognized that carbon is the important thing, we are starting to build frameworks and metrics that specifically talk about that. And it is really important because energy efficiency, or energy cost, does not translate to carbon emissions.
Jen Hancock:
And also, I guess, maybe the recognition that the grids across the country are very different in their carbon impact. And so saving energy in Alberta has a larger impact than saving energy, let's say, in Ontario, or B.C. which has a lower-carbon grid.
Luka Matutinovic:
That's exactly right. Energy efficiency tends not to differentiate between the fuel that is used. And it is really the fuel that is used to deliver energy to buildings that is important.
Jen Hancock:
Now just to add another sort of wrench into that. So, we have focused very much, in the last 10, 15, 20 years of discussions, on that performance, operational carbon energy output of buildings—which is very important—but one of the spaces that has been talked about but a lot less is sort of the embodied carbon that goes into materials and buildings. If you had to explain "embodied carbon" simply to someone, how would you do that?
Luka Matutinovic:
Operational carbon is what we have been focused on. And "operational carbon" is just all of the emissions associated with energy use: the fact that we burn fossil fuels for things like heating; and we use electricity for keeping the lights on. "Embodied carbon" is different in that it represents the emissions associated from the manufacture, transport, and use of building materials. It is typically something that is incurred or emitted before the building is even operational. Compared to emissions associated with energy use that take place over a very long time or the entire life of the building.
Jen Hancock:
So it's kind of the piece that I think about in construction when we design buildings, when you're thinking about the operational, we don't necessarily think about the carbon that's in the materials then, that's locked into that building and what choices we might be making around materials that are higher-carbon versus some that are lower.
Maybe we could just talk for a second a little bit about what kinds of materials in the construction industry tend to be higher-carbon, like embodied carbon, in them?
Luka Matutinovic:
Well, just first, as a way of comparing the two, it is important to point out that buildings represent, you know, roughly 40 per cent of global energy-related emissions. And of that 40 per cent, nearly a third, or 11 per cent of the total, is estimated to be baked into the material side of buildings. It is a huge blindspot in the industry. Not that we didn't focus on the right thing by focusing first on operational emissions—they're very tangible—and now we're at a point where we are recognizing that the picture is not complete. That we haven't looked at the embodied side of things.
We obviously use a lot of concrete—not just in buildings but in infrastructure in general. And the production of concrete, and specifically the use of cement, has a huge impact on the embodied carbon of the built environment. It is probably the single biggest driver of embodied emissions. And it has less to do with where we're doing these things and more to do with how: where those materials are being manufactured; and the kinds of energy, and again fuel, that is being used in that manufacturing process.
So carbon is definitely number one. And metals and glass and very high-energy products tend to sort of be trickling down that list.
[music]
Jen Hancock:
All of the things you just listed—metal, glass, concrete—they're the most common building materials. We don't build without them. So it's complex. That's why, if it was easy everyone would be doing it, no problem.
And another term that has been coming up: the idea of circular economy. It's really thinking about materials from start all through the life of as they get manufactured, put into a building, and then when we take that building can some of those things be reused and how can we integrate them back into the process. This idea of creating sort of this cradle-to-grave, kind of it's a circle. We can put things back into service again. Would you say that's, you know, fairly accurate when we think about circular economy in that it's the overarching umbrella conversation we need to be having?
Luka Matutinovic:
Yeah, I think that's the right way to look at it. And embodied carbon typically stops at the end of a building lifespan. And end-of-life carbon is exactly what you mentioned: what happens to those materials after the building has reached its end of service life, and things like demolition and disposal. We are even further behind, or not as far ahead, in having those kinds of conversations.
So when words like "sustainable" and "ecological" come to mind, nature is a circular economy; there is no waste in nature. Every product, or every byproduct, or every process is an input to something else. And this is not how we think about the built environment.
And so sometimes some of these frameworks, because they draw neat boxes and boundaries around how we quantify things, neglect to consider what happens after the fact. So you start to see conversations around designing for flexibility or adaptability, and then ultimately actually designing for disassembly and reusing those things.
And that comes up really quite often when we talk about re-development versus new development. And re-purposing buildings as opposed to just tearing them down—that is easy, we know how to do that very well. We don't know how to fully re-purpose materials or buildings.
Jen Hancock:
Absolutely. That's definitely emerging right now.
Much of the industry focuses on kind of technology solutions, design solutions as keys to solving Net Zero. But I think you're passionate about sort of some bigger-picture thinking when it comes to solving carbon. Where do you go when you think about what's going to make a huge difference for Net Zero and circular economy thinking, going forward?
Luka Matutinovic:
I think there's been a lot of focus on technology and technical solutions. And that is certainly a necessary pre-condition of this conversation but it is not sufficient. What I've spent time reflecting on, recently, are all of the other things or all of the other decisions that get made in delivering a building. And design and technology are actually a fairly small part of that. Procurement and getting the building built are a huge part of it. As is how that building is ultimately sold or put to market.
So there are supply chains that sometimes make decisions or steer us toward certain decisions. There are models of how we work together or how we collaborate as designers in delivering solutions. And that, I think is where, for me, most of the excitement is. It is trying to re-imagine what collaboration and what procurement looks like in order to find ways to deliver better outcomes.
Jen Hancock:
So when you talk about accelerating change, it's looking at the process. Because we have some of the tech solutions already, we have some of that. We actually need to change the process for how we do our work.
Luka Matutinovic:
That's right. Both the process and how we make decisions. You know, right now all of the leaders in the market recognize that a low-carbon future is where the world is headed. But the problem is, their climate models and their financial models are telling them two very different things. They want to do the right thing but their own decision-making processes and the overall supply chain is not incentivizing them toward those solutions.
[music]
Jen Hancock:
So if an owner comes to you with either a building or a portfolio of buildings and says they want to, or they want to think about Net Zero but they're not sure where to get started, how do you—how do you start with them?
Luka Matutinovic:
Yeah, I think a lot of it is really it starts by listening and trying to understand why is it that they're interested in doing this. And sometimes it's surprising that when you ask that simple question, the kinds of answers that come out and how that changes or influences how you approach the problem.
So, you know, there is increasing investor or tenant demand. There are people that have always been doing it for altruistic reasons. There is a huge flow of capital in the market now that is being increasingly tied to sustainability performance, and more specifically to carbon.
So a lot of it is trying to understand the why. Then also to understand how they go about, typically, approaching any kind of problem or any kind of decision; and who are the various players. How a building goes from inception to actually being operational.
You know, we spend a lot of time visioning and helping people understand that, you know, there are these different definitions of Net Zero, and there is a difference between energy and carbon. And a lot of that is very formative. It's really trying to build a common language around what the desired outcomes are. Are you interested in getting a certified building and a plaque on the wall? Or do you ultimately just care about reducing carbon?
Jen Hancock:
I'm just curious. When you're having those conversations, do you find clients are looking at risk? Is that—how much is risk part of the conversation? So not just like risk now but like what is the risk in 10, 15, 20 years, 30 years. How much are people looking at risk?
Luka Matutinovic:
There are various lenses of risk. People in B.C. that have unfortunately had to deal with a heat dome know all too well that there could be a physical—an actual physical risk to buildings and to people. There's regulatory risks; financial risks; disclosure risks. There's growing awareness of these risks. There's a growing desire to quantify them, to try to avoid them if possible, or in most cases mitigate them.
But again we start butting into existing processes and models that maybe don't have an investment horizon that goes out far enough to capture what might happen in the future. So, we know where the climate is headed, and we have a sense of where things like carbon pricing is headed. At the point in time in which those things may start to have, you know, significant implications and really start to differentiate between "green" or "brown" assets may be beyond the horizon—financial-planning or decision-making horizon—of even the most informed and interested clients.
Jen Hancock:
So kind of this: "That's a problem for my future self or other future selves." And…
Luka Matutinovic:
(laughs)
Jen Hancock:
Like kicking it down the road, basically.
Luka Matutinovic:
Yeah. The joke is that you can set a commitment that is far enough into the future that you don't have to worry about it, because you'll be retired by then and somebody else will have to figure out what you actually meant when you said, "Net Zero by 2050."
Jen Hancock:
Yep. Those are all things I've been heavily thinking about and weighing lately.
[music]
Jen Hancock:
The City of Toronto, they've kind of got a new Net Zero standard. Practically speaking, kind of what does that mean for designers, developers, contractors—for all of us?
Luka Matutinovic:
So, the City of Toronto did a smart thing by thinking of where they wanted to be in 2030 and then looking back to see how they were going to get there. And they created a new version of the Toronto Green Standard that established levels of carbon and energy performance that get tougher over time. And it created a really neat and predictable framework for people that wanted to think about where they needed to be—both from a regulatory or a personal reason.
And there has been some interesting fallouts as a result of that, in that we are at a point where we're just starting to scratch the surface of the regulations creating problems with how we design buildings, the kinds of solutions that have been typically used. There's lots of examples of where we can still sort of continue with business as usual. But that's about to change as of May, when the Version 4 of the Standard becomes mandatory and the regulations ratchet up.
And Council has recently accelerated the adoption of the Version 5 and Version 6 by a year, respectively, so that buildings that are permitted or that go through site plan approval by 2028—the idea being that they're being delivered by 2030 to the market—are essentially described as near Net Zero emissions.
Between now and that next phase in 2025, we will see a transformational change in the kinds of things that will be needed to get to those levels of performance.
Jen Hancock:
Are there any kind of exciting technologies that you see out there that you see is promising for Net Zero buildings—both either like occupied emissions or the embodied carbon? Anything?
Luka Matutinovic:
There's a few: low-carbon concrete; and trying to create structural, really, building materials. So not just low-carbon concrete but mass timber, in particular, is having a huge emergence as an alternative. And that has all sorts of implications that come along with it.
On the technology side, or in terms of heating and cooling, there are things that are maybe a little bit, ah, new. You know, things like building integrated photovoltaics. We keep getting better and better with, ah, electric heat pumps, and in particular how well they operate when it's very, very cold outside.
But again, I think for the most part we have more than enough technological solutions for getting this done, today. I think the really hard part is figuring out how to make those things work, and how to make them financially successful in a world that still, for the most part, doesn't monetize low-carbon performance.
Jen Hancock:
So on that front then, do you think there's a game-changing process or something we need to be doing to actually be able to integrate all of the existing technology we have, to make it more affordable, to just even get the ideas to the table and figure out how to actually execute on them?
Luka Matutinovic:
Yeah, I think there's definitely things that we've been doing. You know, integrated project delivery comes to mind. What I think can improve the situation is having a forward-enough lens in that you're thinking ahead to things like material selection, things like supply chains, constructability, and the decisions that we make during design are intricately linked to, you know, ultimately those things that happen a lot later on.
So any process or any framework that tries to bridge that gap of time, I think, can deliver better outcomes. It is this idea of understanding what's going to happen in the future and trying to bring that knowledge upfront.
So constructability is one but I would go even further and say that we need asset managers and building operators at the design table, because they will inherit these buildings. And too many times that wisdom is not called upon when we're making decisions upfront.
Jen Hancock:
There's urgency to this conversation. Why should everyone care about the whole picture? Like not just operational but embodied, the whole circular economy. Why do we need to care about this?
Luka Matutinovic:
Why we need to care about it is, we should be leaving this place, ah, better than what we found it. And I go back to my son and the kind of place that he will inherit. And I want that place to be better, more abundant, more generous, healthier, that it rewards the right things in life not the destruction of the planet. And I think everybody kind of gets that. It's translating that into daily life choices. When we get busy and when life just moves very quickly, it's really hard to keep that compass out in front.
Jen Hancock:
Billboard headline: what's your billboard?
Luka Matutinovic:
(laughs a little) Oh, man. I think: "Design like your life depended on it."
Jen Hancock:
"'cause it does," in brackets.
(both laugh)
[music]
Jen Hancock:
Thanks for checking out this episode of "Zero by Fifty," a series by Building Good. There's plenty more to come, so if this episode hit home, please be sure to tell a friend about the show and make sure you're subscribed on your favourite podcast app.
Building Good is a Vocal Fry Studios production, supported by Chandos Construction and Bird Construction. The executive producer is Jay Cockburn. Our associate producer is Kattie Laur, with production assistance from Jessica Loughlin. I'm Jen Hancock, thanks for listening.
Back to podcasts